Meet our Data Solutions Team: A Q&A with Winnie Chan-Louie
She's a Software Engineering Manager at StreetLight (a subsidiary of Jacobs) and is aligned to Jacobs' Divergent Solutions operating unit. Meet Winnie Chan-Louie, who leads a team of software engineers located in San Francisco and Vancouver who develop and maintain the StreetLight transportation planning software platform.
A resident of the San Francisco Bay Area where she lives with her husband, Winnie received a Bachelor of Science degree in electrical engineering and computer sciences from the University of California, Berkeley, and a Master of Science degree in software engineering from Carnegie Mellon University.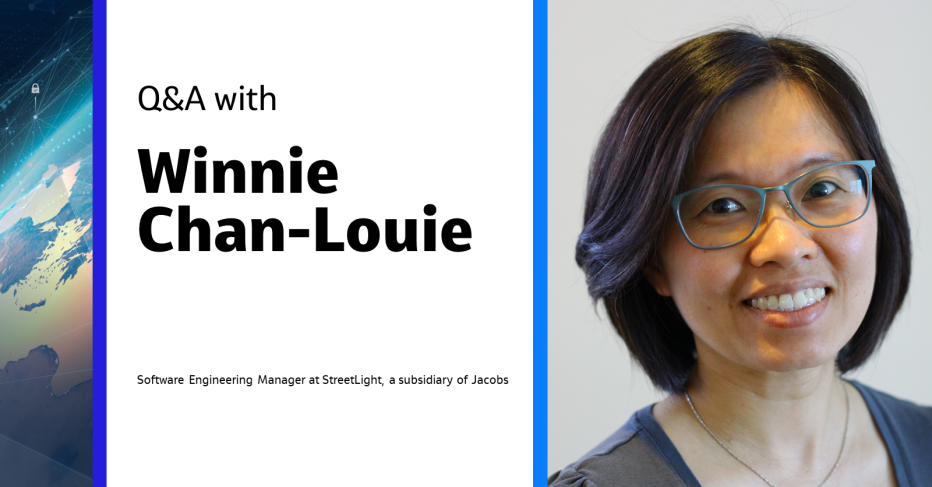 Hi, Winnie. Can you tell us how the work you do is helping deliver Jacobs' strategy?
I'm a senior software manager for StreetLight's WebApp team. Our StreetLight InSight ® product helps clients use big data to help with data-driven decision making and increased accessibility for transportation analytics.
As a software manager, what is your role like?
My role is overseeing features development and new data integration on the StreetLight InSight platform, and coordinating with other StreetLight teams such as product management, data science, QA and operations, to ensure the product release is on schedule. I also assist the product support team to provide mitigation when any technical issues are identified on production.
What excites you about being part of the Divergent Solutions team?
I'm passionate about driving features development from spec to implementation, to finally deploy it on production for customers to use. These features enhance the StreetLight InSight platform to help optimize transportation analysis, and create a more connected, sustainable transportation system.
Can you tell us about a project you've participated in that you're especially proud of? 
As an early developer of the StreetLight team, I'm proud to see how our platform has grown, from version 1.0 to now 10.9 and ongoing. From the early days when users could only download the resulting data as a .CSV file, to now: a platform that provides full interactive visualizations. 
Can you share a time when you delivered something for a client that exceeded their expectations?
I help a lot of internal stakeholders to gather data for various analytics on the platform usage. One of these tasks was to help our StreetLight CEO Laura Schewel to gather all the zones created in the InSight platform for the past 12 months and their locations. The result data set was ready within a day. Laura used the data to produce an impressive animation and presented it at the last in person all hands meeting. 
What do you see as the top 2-3 benefits that data solutions can provide to clients?
Big data can empower clients to make data-driven decisions. StreetLight's data solutions provide attributes that are typically labor intensive to collect, such as vehicle count, travel time and speed. It also increases accessibility of traffic metrics from remote locations.
What is some of the best career advice you've ever received?
"Communication sideways and upward is equally important as communication within the team." Open communication to all stakeholders ensures alignment for a successful product release. 
Join #OurJacobs team
What drives you drives us as we work to build a better world – together. At Jacobs, every day is an opportunity to make the world better, more connected, more sustainable. We're always looking for dynamic and engaged people to join our team. Bring your passion, your ingenuity and your vision.