Meet our Data Solutions Team: A Q&A with Bhargav Ram Channa Reddy
A highly skilled transportation professional with a strongly developed client-first mentality, Bhargav Channa Reddy is a Senior Product Support Engineer for StreetLight, a subsidiary of Jacobs.
After completing his Masters' degree in transportation and urban planning from the University of Toronto, Bhargav worked as a consultant on several transportation and transit planning projects in North America before joining the StreetLight team. Recently married, Bhargav and his wife live in Toronto, Canada.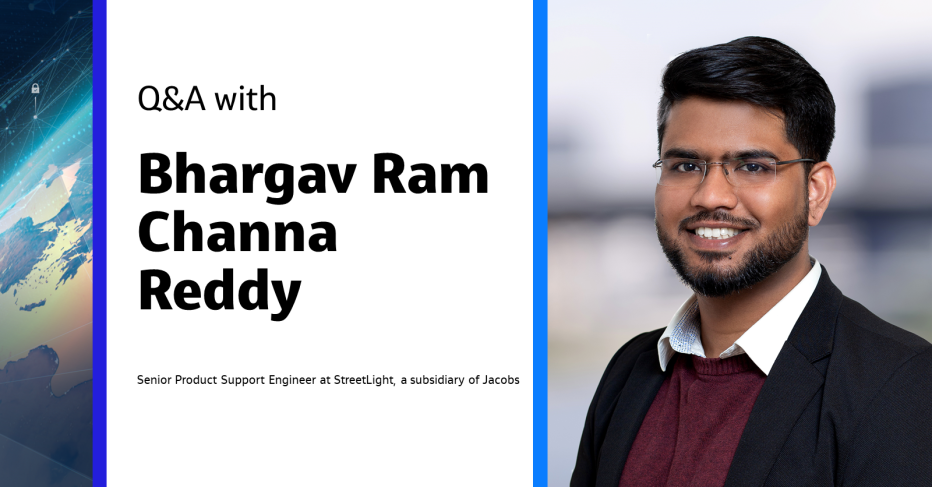 Hi, Bhargav. Can you tell us a little about your role at StreetLight?
I provide after-sales technical support and solutions to our customers and end-users who are experiencing issues with our products. As a technical troubleshooter and customer advocate, I always put customers first and work on delivering solution-based assistance through our products and services.
My role involves delving into the intricacies of our product, investigating technical issues, diagnosing root causes, answering customer questions, gathering critical feedback and documenting issues and resolutions.
What excites you about Streetlight and Jacobs in general, and specifically as part of the Divergent Solutions team?
The mission of StreetLight Data and Jacobs to create more efficient and sustainable transportation systems is exciting because it has the potential to improve the quality of life for millions of people around the world. By leveraging data and technology, we aim to address some of the biggest challenges facing transportation, such as congestion, safety and environmental sustainability.
One of the most exciting aspects of the Divergent Solutions team is its focus on collaboration and partnerships. By bringing together experts from different fields and industries, the team is able to develop more holistic and integrated solutions that address a wide range of engineering problems (including transportation) using data and technology
Can you tell us about a project you've participated in that you're especially proud of? 
Projects that I am always personally proud of are the ones that bring internal efficiencies and make my team better equipped to serve our customers.
While the StreetLight support team is technically strong and has a lot of platform knowledge, not all of us are our core programmers. I built a VBA tool that my team could use to query the backend databases for troubleshooting customer issues. The tool would allow us to create and run custom SQL queries with the click of a few buttons and no programming knowledge needed whatsoever. The tool made our team more efficient by removing some of the dependencies we had on the engineering team and also helped us deliver solutions in a more timely manner.
Can you share a time when you delivered something for a client that exceeded their expectations?
The StreetLight support team believes in delivering excellence to every single customer we work with. One that I can specifically recall is my work with a state's Department of Transportation (DOT). The DOT staff wanted to run a large state-wide origin-destination scan to understand personal and commercial vehicle traffic patterns over time.
The platform back then was not built to handle such large queries in a single analysis. I personally worked with the DOT staff to develop alternate solutions so they could still get the metrics they were looking for. We broke down the statewide scan to more consumable bite-size pieces that were run on the platform and then stitched the data back to create state-wide origin-destination travel patterns over time.
What do you see as the top benefits that data solutions can provide to clients?
Big data can provide valuable insights into transportation patterns and help clients make more informed decisions about how to allocate resources and improve the transportation system.
Traffic analysis: By analyzing data from various alternative big data sources, transportation planners can gain insights into traffic patterns, including where and when congestion occurs. This information can be used to develop strategies to alleviate congestion, such as improving road infrastructure or implementing public transportation options.
Safety improvements: Big Data can be used to identify locations most frequented by Vulnerable Road Users (VRUs) where accidents are more likely to occur, allowing transportation planners to prioritize safety improvements such as adding traffic lights or improving road conditions.
Planning for future demand: By analyzing Big Data over time, transportation planners can identify trends in traffic volume and predict future demand. This information can be used to plan for future infrastructure improvements such as building new roads or expanding public transportation options.
Route optimization: Big Data can be used to optimize routes for commercial vehicles such as delivery trucks. By analyzing data on traffic patterns, road conditions and other factors, transportation planners can identify the most efficient routes and make recommendations to drivers and logistics companies.
What is some of the best career advice you've ever received?
Be a lifelong learner! Take advantage of opportunities to learn new skills, and continually improve your knowledge and abilities. This will keep you competitive in your field and open up new opportunities for advancement.