Company overview
Across our company, across our offices, across the world, we're continually challenging today to reinvent tomorrow.
At Jacobs, we make the world smarter, more connected and more sustainable.
Challenging today is our response to the increasing complexity our world is experiencing.
It calls on us to join forces, putting our knowledge and imagination together to reinvent the way we solve problems and shape the next generation of innovative solutions.
Reinventing tomorrow is our promise and an invitation to raise the bar in everything we do.
From the brilliant solutions we create with our clients, to the open and inclusive culture we create for our people. From the positive difference we make in our communities, to the added value we deliver to our shareholders.
Our values
We do things right.

From the way we operate our business, to the work we perform with clients and other organizations, we continue to look at ways we can make a positive environmental, societal and economic difference for our people, businesses, governments and communities around the world.

We challenge the accepted.

We push beyond our boundaries and innovate to deliver for today and into tomorrow. We don't just ask 'What If?' or 'How Might We?', we act to turn ideas into reality and drive value through innovation.

We aim higher.

We take on some of the world's biggest challenges, bringing a different way of thinking to everything we do, challenging the status quo and questioning what others might accept.

We live inclusion.

We put people at the heart of our business. We embrace all perspectives, collaborating to make a positive impact. Through an unparalleled focus on inclusion with a diverse team of visionaries, thinkers and doers, we build trust – in each other and across our company.
"Together, we are building a new Jacobs; inclusive of diverse people, capabilities and perspectives. We are winning in the marketplace, capturing attractive growth opportunities for complex work we are uniquely positioned to perform."
55

k

talent force

$

14

B

annual revenue

$

2.5

B

in client savings

40

+

countries
Creating a safer, secure and healthier future
As global challenges to our security, wellbeing and ability to operate evolve, we stay focused on managing HSE and security risks effectively and leveraging our Culture of Caring℠ to deliver the best outcomes for our people, the environment and our company.
Our new BeyondZero® strategy continues to drive a safer, more secure, healthier, and more resilient future and we are maturing our business continuity program to assure business delivery and resilience in an ever-changing operational environment.
Our new global wellbeing strategy integrates physical, mental, financial, social and workplace wellbeing for Jacobs employees and their families. The strategy includes Jacobs' One Million Lives, developed in collaboration with global mental health professionals, to provide a free mental health check-in tool with a resources website that enable users to check their own mental health and access proactive strategies for personal mental health development.
Tackling the climate challenge
From the way we operate our business, to the sustainable solutions we co-create with clients and partners, we continue to look at ways to make a positive environmental, societal and economic difference for businesses, governments and communities around the world. 
In FY21, we launched Jacobs PlanBeyond℠ 2.0 — our enhanced sustainable business approach that propels the integration of sustainability throughout our operations and client solutions in alignment with the UN SDGs.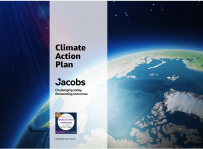 Jacobs' new Climate Action Plan lays out our next phase of climate mitigation and adaptation commitments, which build on the progress we have made since the release of our initial plan on the 50th Anniversary of Earth Day in 2020.
Our new, ambitious climate commitments include:
Ensuring every project becomes a climate response opportunity
Achieving Net-Zero greenhouse gas emissions across the value chain by 2040
Maintaining carbon neutrality status and 100% low-carbon electricity for our operations
We are proud to be the first consultancy and one of the world's first companies with net-zero targets approved by the Science Based Targets initiative. We are proud to have reduced our carbon emissions by 45% since 2019. We are proud to procure 100% low-carbon electricity for our operations.  And we are proud to be a carbon neutral organization.