Meet our Data Solutions Team: A Q&A with Christy Willoughby
As the Senior Manager of the Data Science team at StreetLight, a subsidiary of Jacobs, Christy Willoughby oversees the creation of data products and metrics that support the StreetLight InSight® platform.
The metrics they create can be used to derive insights into the travel patterns of vehicles, bicycles, pedestrians and transit.
A resident of California, Christy lives with her spouse and two young daughters, and she has been enjoying the great vistas from the Jacobs San Francisco office.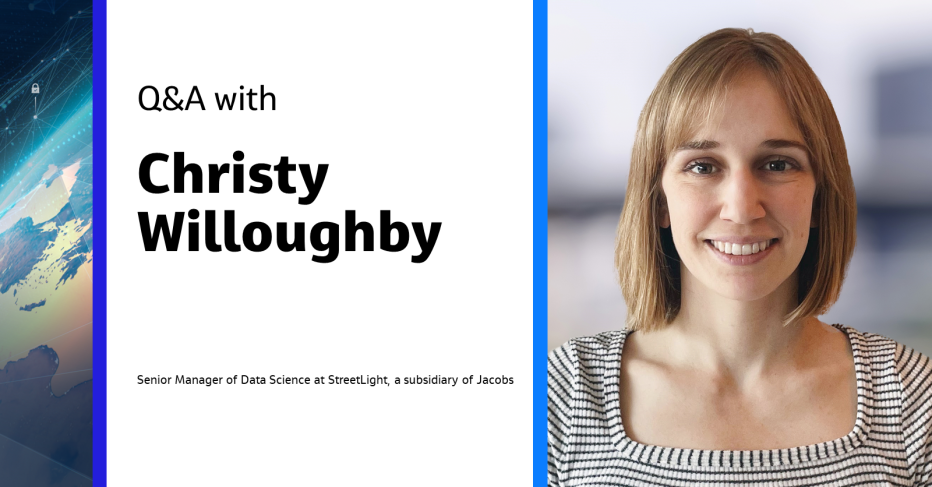 What excites you about Streetlight Data/Jacobs in general, and specifically as part of the Divergent Solutions team?
I'm passionate about data-driven decision making and the climate green tech space, and I believe in building safer, greener and optimized transportation networks for communities. Jacobs has a global reach and proven history of building high-impact infrastructure. As part of the Divergent Solutions team, StreetLight's offerings can further amplify the success of ongoing projects. 
Can you tell us about a project you've participated in that you're especially proud of? 
One of the many projects we have at StreetLight includes building a historical repository of modeled traffic volumes for every road across the U.S. and Canada. This baseline metric can provide a foundation for a multitude of derived insights, such as estimated vehicular emissions, but it can also uncover changes in the activity and movement of travel patterns over time. 
At StreetLight, we take time to rigorously test our metrics and establish acceptable error metrics before we deliver insights to customers. We see it pay off, as customers frequently are impressed when their own validations of our data excel. We see this not just with our traffic volume metrics, but with our turning count movements, speeds, etc.
What do you see as some of the top benefits that data solutions can provide to clients?
When making transportation decisions, clients may benefit from data to help them design a roadway system, for example. This may be typical speeds of vehicles, traffic routing behavior or even aggregate demographic information for the travel patterns. But this type of information can require time and labor to deploy custom mechanical sensors or to set up traveler surveys. Our data solutions provide visibility into large scale trends that can be otherwise difficult to observe and measure. 
What is some of the best career advice you've ever received?
In my career, I've appreciated advice to work wholistically and mindfully. To me, this means approaching problems strategically and being intentional of where focus and work is and isn't needed. It means emphasizing 'working smarter' instead of 'harder'. It also entails prioritizing wellness, because productivity follows from a healthy body. 
You might be interested in...