Meet our Data Solutions Team: A Q&A with Katherine Cuedek
The youngest of seven siblings, you might say that Jacobs' Katherine Cuedek learned at an early age the value of studying and analyzing human behavior. This affinity serves her well both in her role as a Deputy Program Manager for Jacobs' USCENTCOM J2 Intelligence Support Contract, as well as a positive mental health advocate for her fellow colleagues.
A native of Buffalo, New York, as a young woman Katherine would find herself attending the American Military University, where she graduated Cum Laude. This led to a career in the U.S. Army, where her travels around the globe convinced her that she was made for warmer climes. Now she calls the tropical environs of Saint Petersburg, Florida home, where she lives with her two cats.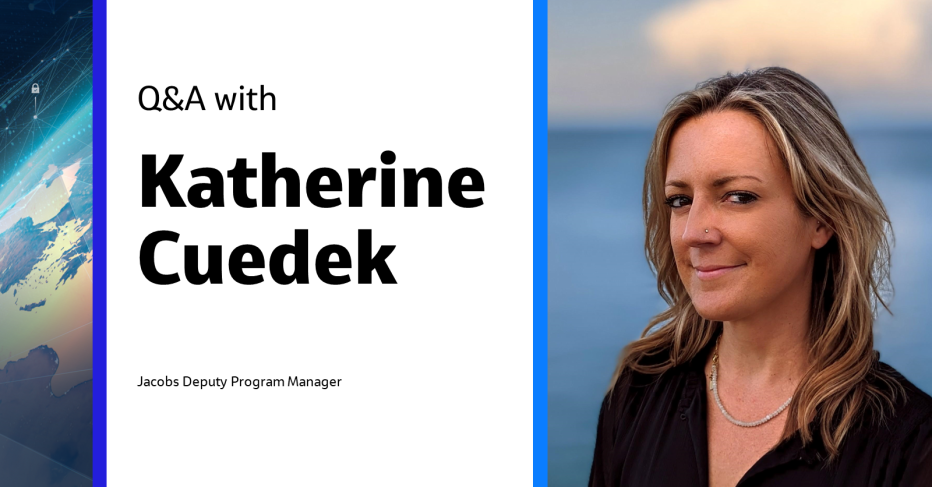 Hi, Katherine. Can you tell us how the work you do is helping deliver Jacobs' strategy?
The work I do supports our data solutions accelerator, with a special emphasis on national security. I'm a deputy program manager for the USCENTCOM J2 Intelligence Support Contract that supports the USCENTCOM Intelligence Directorate (J2) in performing consolidated intelligence analysis and support activities. This support is primarily focused on providing the USCENTCOM Commander, the USCENTCOM HQ staff, subordinate Service/functional component, joint HQ staffs and our foreign partners with tailored intelligence needed for joint planning, operations and assessments.
What excites you about Jacobs, and specifically as part of Divergent Solutions (Jacobs' digital solutions operating unit)?
I am excited about the culture of Jacobs and feel there is a genuine interest in the wellbeing of the workforce. It is exciting to witness the evolution and be a part of the growth of Divergent Solutions. I am also excited to be a part of a team that expresses true interest in diversity and innovation as it affords the opportunity for us to learn from each other with varying perspectives and unique capabilities.
Can you tell us about a project you've participated in that you're especially proud of? 
Last year I became a Positive Mental Health Champion (PMHC) within Jacobs wellbeing program. The training and resources not only helped me personally, but also motivated me to assist others in need and to ensure they are aware of Jacobs' resources, as well as the availability of external resources to manage mental health issues whether for themselves or for their loved ones. It is a truly rewarding program that is helping break the stigma around mental health support.
Can you share a time when you delivered something for a client that exceeded their expectations?
Before I became a deputy program manager, I was an all-source intelligence analyst for over 20 years. Beyond the numerous rewarding, yet challenging deployments to the Middle East, stressful combat environments and countless hours separated from family, it has been my pleasure to serve in and out of uniform supporting our nation's defense. But one of my most rewarding accomplishments was a critical paper that I authored that was briefed directly to the Special Assistant to the President for the President's Daily Brief.
What is some of the best career advice you've ever received?
I had a close friend tell me when I was deciding which career path to walk down that no matter what I did, I should pick the hardest job in order to stand out and excel, and to challenge myself. I believe it is important to remind yourself that it is okay to say no if you are overwhelmed and don't be afraid to ask for help. We are all human, not superheroes, and asking for help and/or collaboration is also more rewarding than independently working to solve problems. 
You might be interested in...
Join #OurJacobs team
What drives you drives us as we work to build a better world – together. At Jacobs, every day is an opportunity to make the world better, more connected, more sustainable. We're always looking for dynamic and engaged people to join our team. Bring your passion, your ingenuity and your vision.