Meet our Data Solutions Team: A Q&A with Justin Selking
As a Program Manager responsible for developing innovative, data-driven solutions and analysis to help inform U.S. national security decisions, Jacobs' Justin Selking is playing a role in safeguarding the country's interests and personnel at home and abroad.
Originally hailing from Ft. Wayne, Indiana, where he would end up attending Indiana State University, Justin's career journey eventually found him at The Buffalo Group, a leading cyber and intelligence solutions provider that was acquired by Jacobs. A resident of Virginia where he lives with his wife, Maribeth, the couple happily have their hands full in raising their three daughters.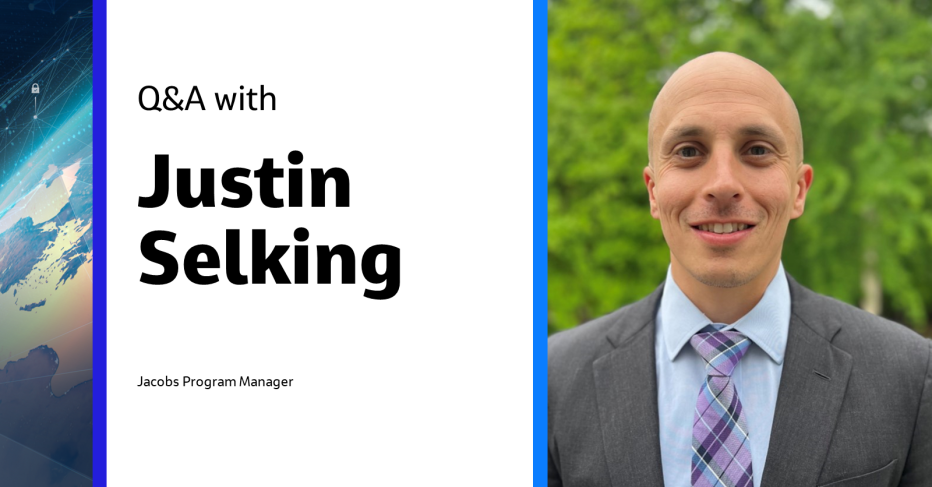 Hi, Justin. Can you tell us how the work you do is helping deliver Jacobs' strategy?
Coming from the Buffalo Group acquisition, what excited me was the opportunity to collaborate, leverage and learn from other areas of expertise within Jacobs. Now part of the Divergent Solutions team, I'm excited to see and be part of the advancements in cyber, intelligence and data solutions, solving our client's most challenging problems.    
Can you tell us about a project you've participated in that you're especially proud of? 
There are so many great projects that I have had the opportunity to be part of and am working on now. However, rather than a single project, what I am proud of are the innovative methods the team I have worked with for the past several years has taken to solve our clients' most challenging and demanding problems. This team has taken an approach to application development and data collection, analysis and visualization that our client has never experienced, providing solutions to long-standing challenges.
Can you share a time when you delivered something for a client that exceeded their expectations?
In response to the client's office space being shut down due to COVID-19, we developed a comprehensive telework program that enabled our clients and employees to continue to provide mission-critical support. Part of this program was a tailored application we designed, enabling an efficient and user-friendly process for data collection and allowing the team to track training, tasks, work completed and total time spent on projects. We further leveraged data visualization applications to enable program management and our client to gain insights into the outcomes of the hundreds of thousands of hours of work completed.
What do you see as the top benefits that data solutions can provide to clients?
Data solutions can provide insights that can help drive innovation and empower our clients to make necessary decisions and solve problems. Over the last several years, we've leveraged and developed several applications and data-driven solutions that have enabled the enhancement of production, increased efficiency through the automation of routine tasks and communication, and made sense of large, complex and unorganized datasets, allowing our team to develop solutions and our client to gain insight into opportunities they previously did not know existed.
What is some of the best career advice you've ever received?
I've been very fortunate to have the opportunity to work with many great leaders while with The Buffalo Group, Jacobs and in the military. In the years working with those individuals, I've learned self-awareness is critical for growth and is one of the most important traits you can have as a leader. Self-awareness helps leaders recognize strengths/weaknesses and forecast challenges, but most importantly it enables leaders to create a culture within a team that places people first and promotes well-being, encouragement and professional development.
You might be interested in...
Join #OurJacobs team
What drives you drives us as we work to build a better world – together. At Jacobs, every day is an opportunity to make the world better, more connected, more sustainable. We're always looking for dynamic and engaged people to join our team. Bring your passion, your ingenuity and your vision.