Cigre International Symposium 2023
See you at the Cigre International Symposium 2023

We're motivated by the limitless applications of clean energy solutions on your projects and in our world –  taking complex grid, resiliency, security and decarbonization goals and solving them in ways that positively impact our communities.
Our transmission and distribution team works collaboratively across multiple geographies and sectors, turning transformational ideas into safe, intelligent solutions to create a cleaner energy future.
Jacobs has been delivering energy and power solutions globally for some of the most iconic storage, reliability, network support, transmission and generation projects.
Our strength is in our knowledge of power systems, grid scale network planning, integrating battery storage and network reliability, and direct experience working for major utilities, market operators and developers. Jacobs global energy and power team totals 900+ engineering and advisory professionals, providing engineering and advisory services to clients with assets spanning a broad spectrum across the industry.
Fun facts
45

%

Amount emissions need to be reduced by 2030 to reach the Paris Agreement

7.1

TW

Clean energy capacity needing to be installed by 2030 to meet the Paris Agreement

110

Combined years of experience of our Jacobs attendees at the Cigre Symposium

1.3

K+

Number of delegates attending the Cigre International Symposium
Check out our recent insights
Transforming Substation Sustainability: Smart Strategies to Enable our Energy Transition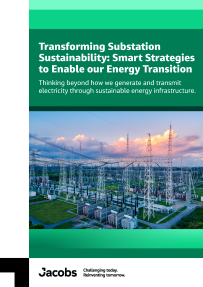 Regulators and governments will likely mandate emission reductions for energy infrastructure assets. Utilities need tools and strategies to implement sustainable solutions for substations to ensure communities have uninterrupted electrical service.
Aligned with our Climate Response accelerator, we've curated a suite of sustainable substation solutions that can be used by utilities globally as they build their own 'Substation Sustainability Toolbox.'
Think beyond how we generate and transmit electricity by checking out our recent insights paper.
Meet our team attending the Cigre International Symposium 2023
Lara Kruk, Jacobs Substations Technical Director, Melbourne, Australia

Lara has 20 years of experience working on transmission projects across Australia, New Zealand, the United Kingdom, Iraq and Libya. Lara is a solutions innovator and is currently leading the implementation of a client's first digitized substation using IEC 61850. She's also author of the recently released Transforming Substation Sustainability: Smart Strategies to Enable our Energy Transition paper and is developing a toolbox for sustainable solutions for substations.

Freddie van der Linde, Jacobs Director of High Voltage, Transmission and Distribution, Cardiff, United Kingdom

Freddie is a power systems and engineering professional with 32+ years of experience. He's worked on power system planning projects in Europe and South Africa and has a keen interest in network and system innovation. He works as a design engineer, leading and carrying out feed-in tariff (FEED) and detailed design for extra high voltage (EHV) transmission projects.

Carl Parlongo, Jacobs Global Solutions Director Energy Transmission and Distribution, Perth, Australia

Carl supports successful technical delivery of Transmission and Distribution (T&D) projects and services across Jacobs' global business. His remit also includes driving innovation, fostering connectivity and attracting and maintaining technical talent. Carl is also responsible for business development for a number of T&D and power clients and gets involved in larger T&D opportunities and work programs.

Rex Inger, Jacobs Geographic Manager Transmission and Distribution APAC Energy and Power, Auckland, New Zealand

Rex is the Asia Pacific Geographic Manager for Transmission and Distribution. He has 17+ years of experience and manages a team with a technical breadth extending across all aspects of T&D from substations, transmission lines, cables and industrial/infrastructure power through to major HVDC/HVAC interconnectors, offshore grids and specialist electrical studies.

Daniel Stafford, Jacobs Senior Power Engineer, Melbourne, Australia

Daniel Stafford has been working as Substation Engineer in the utility industry for five years. Daniel's primary role is lead secondary engineer across multiple substation projects, with a focus on renewable energy grid connections for up to 500kV networks. For the last four years Dan has been an active member of CIGRE B3 (Substations) Australian Panel and the CIGRE NGN. Dan has authored several CIGRE papers and made technical presentations to global audiences.

Gian Moffa, Jacobs Senior Cable Engineer, Adelaide, Australia

Gian is a Chartered Engineer with more than six years of experience in full life-cycle cable projects for voltages up to 330kV including initiating, planning, design, site delivery, civil construction, cable installation, testing and commissioning. He is the Jacobs Panel Representative for the CIGRE B1 (Insulated Cables) Australian Panel, and a member of the B2/B1 joint working group "Transition facilities between overhead and underground lines."

Lester Lee, Jacobs Section Leader, Transmission Lines and Cables APAC, Kuala Lumpur, Malaysia

Lester leads the transmission lines and cables team for the Asia Pacific region, with more than 16 years of experience in transmission lines and the power industry. Lester enjoys developing the team, focusing on maintaining a high level of service to our base load utility clients and growing our capability in large transmission interconnectors (including subsea cables).
Connect with us at Cigre International Symposium 2023
Stop by and visit booth 2 and 3