Meet Lara Kruk
Melbourne, Victoria, Australia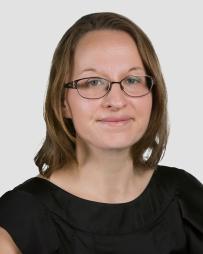 Whether it's developing virtual transmission lines or implementing sustainable solutions for substation infrastructure, Jacobs Substations Technical Director, Asia Pacific, Lara Kruk, is committed to helping clients respond to the rapid pace of change caused by the energy transition. With a career spanning two decades working on transmission and utilities projects across Australia, New Zealand, the United Kingdom, Iraq and Libya, Lara has undertaken a diverse range of technical and management roles.
Lara supports the pivotal role Jacobs plays in addressing the global climate emergency. She actively advocates for new technologies or different construction methodologies to reduce CAPEX by assisting renewable developers in making their projects viable and helping to increase the renewables percentage in the generation mix.
Just like our Boldy Moving Forward Strategy, Lara is harnessing the collective power of Jacobs to find the best solutions for building sustainable substations, creating a better future today for everyone. Lara provides a holistic approach to sustainable substations, tapping into the Jacobs network to get insights on sustainability best practice from other sectors and applying it to substation infrastructure.
Lara has extensive experience in electrical design as both designer and owner's engineer on various multi-disciplinary projects including brownfield substation extension and equipment replacements, large transmission network augmentations, greenfield terminal stations for renewable energy connections such as wind, solar and battery energy storage systems and HVDC interconnectors.
Lara's career began working as a graduate on Basslink, the high voltage direct current (HVDC) connector between Victoria and Tasmania where she was involved in the design of the secondary systems. She then solidified her experience in the U.K. where she spent eight years working for an engineering consulting firm on a wide range of projects including a 275kV GIS substation, 275kV underground cable works in support of the London Olympic village development, a 275kV cable cooling project, travelling to Germany for busbar protection testing and to Korea to provide training on U.K. transformer requirements to manufacturers.
"I love coming up with new and innovative ways of doing things and helping our clients respond to the challenges caused by climate change."
Lara returned to Melbourne and joined Jacobs in 2014. She started as a senior protection engineer moving to substation team lead and in more recent times became a principal protection engineer. Technical leadership is a perfect fit for Lara, she loves getting the opportunity every day to make positive and groundbreaking changes for clients on a variety of projects across Asia Pacific.
Lara is one of the many thousands of Jacobs employees committed to addressing the climate emergency in both their personal and professional lives. Since 2014, Lara has been involved in projects involving greenfield terminal stations for renewable energy connections such as wind, solar and battery energy storage systems. As part of Jacobs' team, she supported the connection of 2.1GW of renewables in Victoria. In her role on these projects, she was involved in the identification and development of several projects associated with the Victorian Government's Renewable Energy Zone Development Plan, which aims to unlock 10GW of new renewable energy capacity in Victoria. She's currently the technical manager responsible for the development of transmission options to support offshore wind connections in Victoria.
In addition to being involved with projects connecting clean energy to the transmission network, Lara promotes the use of innovations that lead to more sustainable installations and practices. This includes alternative supplies to diesel generators, non-SF6 gas switchgear (electrical equipment and systems that do not use sulfur hexafluoride [SF6] gas as an insulating and interrupting medium), recycled concrete fill and the use of crushed rock pavement in place of concrete. She's currently working on a research and development project that involves the digitization of a substation, which will provide significant sustainability benefits including 12,000 kg of copper cabling no longer required to be transported or installed on-site.
Get to know Lara
12

K

kilos of copper cabling no longer required as the result of innovations used for digitization of a substation

24

countries visited. Did we mention that Lara loves to travel?!

400

books on Lara's bookshelf
Lara is one of the few women working on the transmission and distribution side of the industry. She's grateful for some amazing male mentors to-date and the acceptance and positive experience she's had across her career. More recently Lara's realized not all women in the industry are as lucky as her. She knows they haven't worked as part of inclusive teams and the reality is there are still biases, often unconscious along with societal and cultural norms that can impact the opportunities that women have or think they can have in the industry. This has underlined to Lara the importance of sharing her experiences with others and advocating for ways of working and training and development that supports women in the industry. In 2021 Lara was highly commended by Consult Australia in the Champions of Change – Female Leadership award category. in recognition of the work she has done to challenge the accepted and pave the way for future female leaders. As a woman, Lara believes she can bring a different point of view and way of thinking to projects because she knows diverse teams lead to innovation, and having different perspectives can lead to better decision making and outcomes.
At home Lara is doing her part to minimize her family's impact on the environment – her two daughters have zero waste school lunches, in warmer months they walk to school rather than drive, and whenever she can, Lara will catch a train rather than drive. She has home grown fruit and vegetables and she limits meat consumption and food waste. When her family renovated their home, they replaced all their windows with double glazed windows and insulated the walls and roof to reduce the use of their heating and cooling systems. Later this year Lara is very excited to be acquiring her first electric vehicle!
In her spare time Lara is an avid reader and snowboarder. She cherishes time with her husband and daughters. They enjoy holidays away with their most recent trip being a week at the snow where Lara's youngest made the big switch from "two planks to one" from skis to snowboard.
You might be interested in...