Meet Freddie van der Linde
Cardiff, Wales, U.K.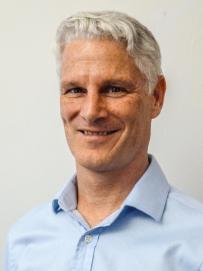 Throughout his career, Freddie van der Linde has learned that delivering at scale requires a completely different mindset and sense of urgency in the race to develop power systems fast enough to allow decarbonization of our economies and communities.
Today, as Jacobs Director of HV Electrical Transmission and Distribution and Market Solutions Lead, Freddie acknowledges that achieving decarbonization goals requires specialism, but also requires multi-faceted experience to anticipate the impact of dramatic changes that are needed as a result of climate change and are occurring out of necessity.
Freddie is a power systems and engineering professional with over 32 years of experience. He has worked on power system planning projects in Europe and South Africa with a special interest in network and system innovation. He also works as a design engineer, leading and carrying out feed-in tariff (FEED) and detailed design for extra high voltage (EHV) transmission projects. His wide-ranging project experience includes battery energy storage systems (BESS) and renewable generation for traditional and innovative applications, supporting regulators on innovation, and network surveys for the impact of gigawatt (GW) scale connections on U.K. & Ireland transmission and distribution systems. Recent projects include the integration of GW scale developments, combining generation, demand and energy storage. Freddie also has specialist capability in the design of earthing systems.
Freddie recognizes that the challenge decarbonization poses to power system development will require us to go well beyond being 'more efficient' systems. He's focused on developing solutions for our clients to help with this rapid transformation.
He always wanted to be an engineer. University was very expensive in his home country of South Africa and he realized early on that a bursary or scholarship was his best pathway into university. In South Africa that meant working for the mines or Eskom — the national power company. Freddie ended up with the latter. Freddie's forever grateful to his parents for instilling him with the confidence to earn the bursary, a gift he only came to value later in life.
"The two things that have had the greatest impact on my career are curiosity about all aspects of our industry and fabulous mentors and role models. The former has led to wide-ranging experience within the power sector (including a spell in academia) and the latter has instilled in me a discipline of always developing as an engineer, ensuring I bring value to what I do, and never forgetting my privileged position and the duty to give back to the power community."
After attending university, Freddie's early career was involved in the mass electrification of a city in South Africa. This has similar parallels to what he's helping our clients deal with today, as they face the challenges of scaling up delivery, except this time in countries that would consider themselves developed.
There's a number that keeps Freddie awake at night. It's four trillion. That's the amount of money the International Energy Agency (IEA) currently estimates needs to be poured into the global energy system on an annual basis to keep global warming within 1.5 degrees Celsius of pre-industrial times. The current global spend is $1.6 trillion so the $4 trillion has a cumulative effect for every year the target is not met.
To minimize his climate emergency-related insomnia, Freddie is doing everything he can in his personal life to reduce his carbon footprint. He's a keen cyclist and has invested in an electric bicycle for longer trips. He has an electric vehicle. He tends to choose vacations where he can travel by train — an easy and scenic option from his hometown of Cardiff in Wales, United Kingdom. He's skipping a couple of meat-based meals per week and recently had his home fitted with a heat pump.
Originally from South Africa, Freddie moved to the U.K. 25 years ago with his wife and 18-month-old daughter. They settled in Cardiff completing their family unit with the birth of their son soon afterwards. In his spare time, Freddie loves to stay active enjoying a variety of outdoor sports including running, snowboarding, surfing and cycling. He enjoys time spent at his surfing shack in Pembrokeshire, Wales, where there's excellent surf for nine months of the year and few surfers crowding the waves. There's one small catch though, you need to be willing to embrace the cleansing sea temperatures of 55-60 degrees Fahrenheit.
Get to know Freddie
4

T

The amount of money required according to the International Energy Agency that needs to be pumped into the energy system each year to keep global warming within 1.5 degrees Celsius of pre-industrial times

1.6

T

The current amount of money spent globally per annum on the energy system

25

years spent in the U.K. Freddie is based in Wales and now supports Wales over South Africa in rugby
You might be interested in...