Grand Central Madison
Transforming the United States' busiest commuter railroad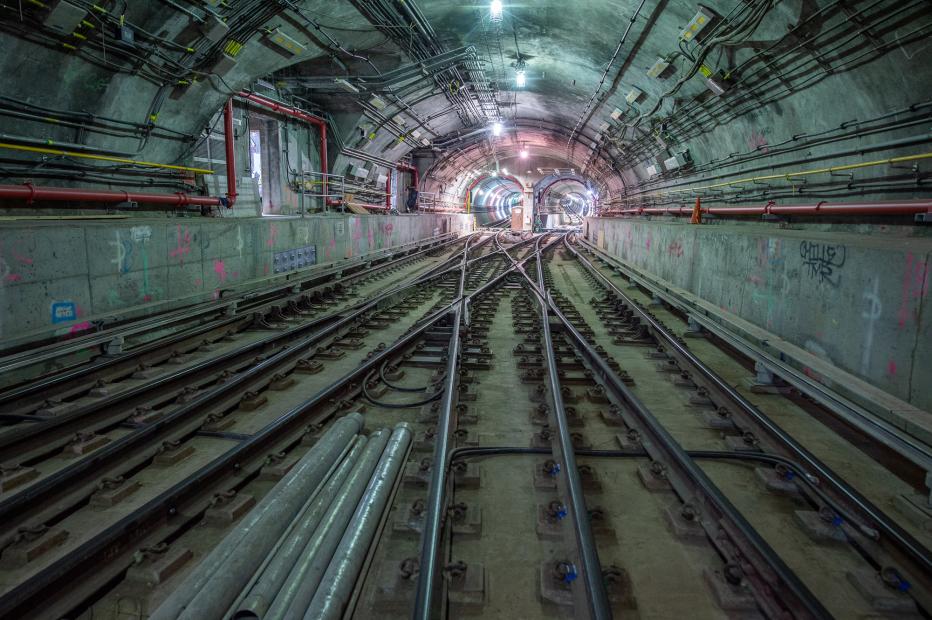 The Metropolitan Transportation Authority's (MTA) Grand Central Madison (formerly East Side Access) program in New York is its largest capital project and the first expansion of the Long Island Rail Road (LIRR) in over 100 years.
The ambitious transit project modernizes and strengthens the regional rail network, delivering greater connectivity to support Long Island's rapidly growing population and giving LIRR riders faster access to the East Side of Manhattan. The project, which opened to the public in January 2023, eases congestion and dramatically reduces commute times for New York City rail users.
This transformational program is one of the biggest transportation infrastructure projects to be completed in North America in recent history, with work spanning three boroughs, including eight miles of tunneling works in Manhattan and Queens; 40 miles of new tracks; a new terminal under Grand Central Terminal; and a new rail yard in the Sunnyside Yard in Queens.
8

miles of tunneling

40

miles of new tracks

40

minutes saved through reduced travel time

162

K

passengers per day benefitting
Jacobs supported streamlined delivery as Project Management Office (PMO) partner. With a complex web of deliverables and interconnected dependencies, a key element of our role was the integration of over 15 systems contracts, from traction power to signaling.
Our team of experts helped oversee and support numerous components of the program, including the boring of nearly eight miles of railroad tunnels in Manhattan and Queens; the laying of 50,000 feet of track; the building of a new terminal under Grand Central Terminal and the testing and commissioning of the systems that will work in unison. In addition, extensive infrastructure work included the construction of new ventilation buildings and substantial surface works, as well as the modernization of the busiest passenger train interlocking in the U.S., Harold Interlocking.
"We're proud to support the MTA in the delivery of the biggest transportation infrastructure project currently being implemented in North America. It's set to dramatically reduce commute times for New Yorkers and will play an important part in the region's economic recovery."
A key element of Jacobs' role is the delivery of the CO8 traction power substation located in Queens. The prefabricated modular substation was fully built and installed offsite and delivered to the site in 22 sections to reduce disruptions for rail users, with assembly subsequently completed in just seven days.
The new tunnel and track system increases the LIRR's capacity into Manhattan and shortens the travel time for approximately 162,000 commuters travelling from Long Island and eastern Queens by approximately 40 minutes a day. It also eases congestion on the city's trains and subways, especially around the neighboring Pennsylvania Station.
The new terminal, which has eight tracks and four passenger platforms, is able to accommodate eight trains at a time, enabling service for up to 24 trains during peak hours. Located directly below Grand Central Terminal, the new Grand Central Madison concourse provides 350,000 square feet of new space, including over 25 retail store fronts and multiple entry and exit points to Grand Central Terminal and street level.
Jacobs has significant global experience in bringing large-scale transport infrastructure programs to fruition. Partnering with Metrolinx, we're managing one of the most ambitious public transit undertakings in Canadian history to better serve and connect a vibrant metropolis that's growing by an average of 100,000 people annually.
When it comes to designing investible infrastructure that addresses the big issues we face in the world—unprecedented urbanization, catastrophic climate threats and both human and natural resources constraints, there's no partner more capable than us – after all, Engineering News-Record named us the No. 1 Firm on their Top 500 Design Firms list for the fourth consecutive year.
We're reimagining an infrastructure future that delivers more for society, not only in terms of fiscal responsibility, but also in measures of community wellbeing, public safety, business productivity and quality of life—the ultimate outcomes that infrastructure programs are meant to serve.
"Grand Central Madison is a transformational project that will significantly strengthen the regional rail network, delivering faster commutes, fewer delays, greater reliability and more options for passengers."