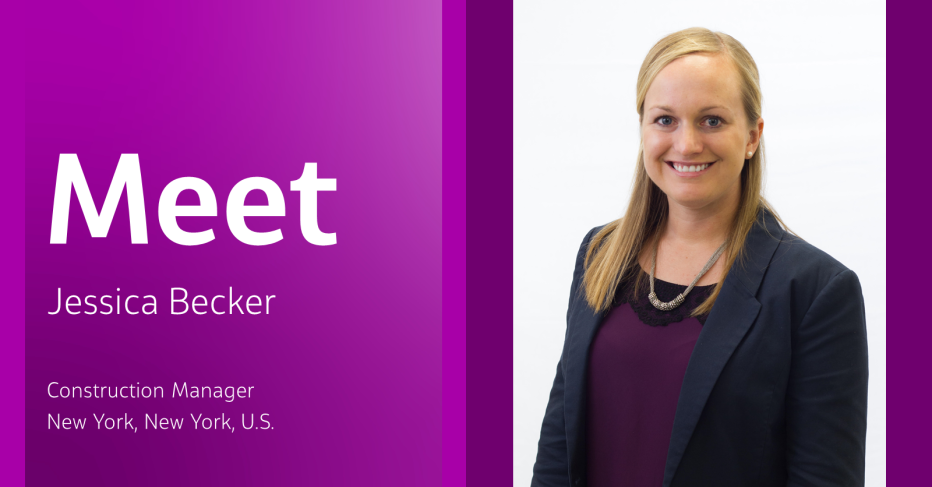 Jessica supported Jacobs' role as Project Management Office (PMO) partner on New York's Grand Central Madison project for almost 12 years. The project is set to transform the busiest commuter railroad in the U.S. She has watched the project evolve from the initial tunnelling works underneath Grand Central Terminal, to putting marble on the walls of the new 350,000 square-foot passenger concourse, right through to the testing of the fire alarms.
As Construction Manager, Jessica's responsibilities have spanned the project, including the excavations of caverns under the busy streets of Manhattan, the buildout of a rail transit tunnel approach structure and most recently, overseeing the Long Island Rail Road (LIRR) Terminal's vertical circulation elements to ensure the efficient movement of people. In addition, Jessica supported Jacobs' role as PMO partner, coordinating more than 15 active systems contracts (which cover 29 critical systems including power, tunnel ventilation, signal systems and traction power), to ensure the streamlined delivery of the project. In preparation for Grand Central Madison's official opening to the public, Jacobs had a pivotal role in testing all these systems and ensuring that everything is running to program.
20

years of ongoing project work

3

boroughs of New York covered by the project

15

+

active systems contracts managed to ensure seamless project delivery
"Grand Central Madison is a megaproject, one of the largest ongoing construction projects in North America, with a complex program of 15+ contracts, and 20 years of ongoing work. It spans three boroughs of New York, and is located in the heart of Manhattan, more than 140 feet below Park Avenue and the historic Grand Central Terminal. One of the biggest challenges is the elaborate coordination required amongst contracts and making sure the overall program schedule is continually updated, so that the critical path can be examined and pushed from all levels. Coming out of the pandemic, the opening of Grand Central Madison is set to help the city thrive again. For working parents like myself, there are huge time-savings on the commute from Long Island, letting parents get home earlier to have dinner together or to attend their kids' soccer games."
As part of a team delivering one of the most important projects in New York, Jessica is proud to recall the benefits Grand Central Madison will deliver for the entire New York region. These include shorter commutes to and from Long Island, faster connections to JFK airport, open space in Penn Station to support the further expansion of the MetroNorth Railroad and increased movement options throughout Harold Interlocking, the busiest rail interlocking in the country.
When she isn't managing the construction of megaprojects, Jessica loves to travel (in non-COVID times) and has been able to explore 34 countries to date.
You might be interested in...