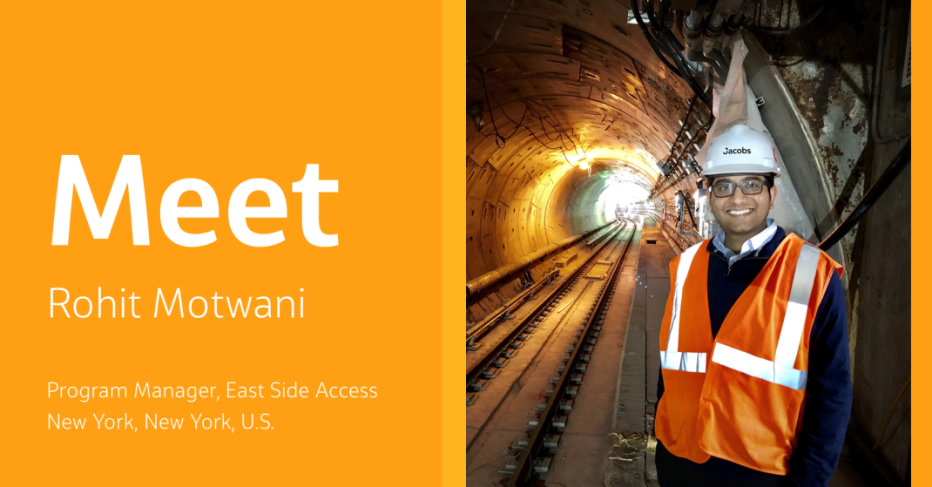 Rohit Motwani, program manager at Jacobs, compares his role on North America's largest transportation infrastructure project to that of a compass. Rohit is part of a team tasked with integrating all components of this vast and complex project, to support the official opening of the transformed Long Island Railroad in December 2022.
A program manager and civil engineer with eight years of experience in the delivery of commercial and major transportation projects, Rohit's current focus is on supporting New York's Metropolitan Transportation Authority with the completion of its East Side Access public works project in New York City.
Rohit is part of the program management team, trusted with managing the construction program to deliver the project on time and on budget through integrating all contracts and stakeholders. His role requires him to accurately assess the program's direction and to co-pilot any necessary changes in its direction. This involves working closely with the construction management team to test systems and to identify and solve the program's most critical problems.
The sheer scale of the $11 billion project, with the program divided into over 50 packages, has required meticulous coordination and interface management with other contractors, as well as the ability to pivot the program at a moment's notice.
"Many of the challenges we've faced on East Side Access have strong reference points to Jacobs' other major capital projects across the world, so we've been able to harness that knowledge and our global workforce to give us a significant head start in solving those problems. Seeing actual trains successfully operate on the East Side Access tracks is a defining moment for the project team, having spent years and months building the system that supports it."
As the project moved into systems-focused construction and testing the program team sought out innovative delivery methods, including prefabrication and modular construction, to further reduce passenger disruption. The C08 Traction Power substation was delivered to site in 22 sections and assembled on-site within a week.
More recently a significant milestone for Rohit's team, who were instrumental in the planning and execution of test train activities, was the recent commencement of train testing on the Long Island Railroad using passenger rail cars. This included the testing of all related rail infrastructure, including power, signal and track systems.
Aside from Rohit's passion for engineering vast infrastructure programs, his talents include flying. One of his childhood dreams was to become a professional pilot but as time progressed his passion for engineering took precedence. Many years later he had the chance to take to the skies over Long Island and enjoyed the feeling of being in the cockpit - he says it gave him a unique experience and perspective. Rohit hopes to earn a license and to continue flying in his spare time.
$

2

BN

of work managed on the project

6

active contracts managed to deliver the project on time and on budget

3

project-related awards received

162

K

commuters to benefit from faster commutes