Meet Dr. Richard Crowder
Leeds, England, U.K.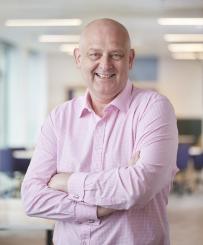 Jacobs Director, Water & Environment Dr. Richard Crowder is an internationally recognized flood risk management professional with more than 25 years of experience.
His history in the industry is one of innovation and doing things differently. He is a business leader with experience spanning research, innovation, project delivery, client management, sales, and operational management. Richard is known for taking on challenging projects and using innovation and digital delivery to solve problems and deliver projects in new and more efficient ways. This covers the full range of flood risk management disciplines including appraisal, environmental services, engineering design, asset management and hydrological and hydraulic modelling.
He joined Halcrow (now Jacobs) in 2002 and has held senior leadership roles including Regional Business Development Director (Europe) for the water sector, and framework manager delivering engineering and environmental services to the Environment Agency (England). He is currently part of Jacobs' Water Catchment Management leadership team responsible for Growth, the Director responsible for Jacobs family of flood products, and the Framework Director leading Jacobs contract with the Environment Agency to deliver flood mapping and modelling services. 
You might be interested in...