Meet Gwen Clavon
Herndon, Virginia, U.S.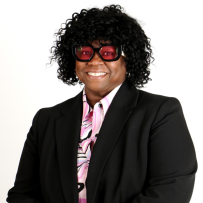 Even as a child, she had a passion for computers and technology.
Gwen Clavon will tell you she was one of those kids who was constantly taking things apart to understand how they worked, which eventually led her to daisy chaining together her first computer set-up from various machines because she needed more storage space. Naturally, she pursued computer science among her college coursework, but she also studied political science, which allowed her to combine two great passions – technology and security.
17

years spent supporting the Central Intelligence Agency

14

years as a U.S. government employee

10

years spent on a client site

7

business enterprises she's operated in her life
Thanks to her technical prowess and willingness to explore new opportunities, after college Gwen embarked on a computer nerd's dream career trajectory. Along the way, she has served as a civilian computer specialist for the U.S. Air Force, eventually becoming the tech advisor to that military branch's chief information officer; she programmed at the National Science Foundation Network (NSFNet) team in collaboration with Tim Berners-Lee, Vint Cerf and Stephen Wolff; she sat on the architecture team of the CIA's chief information officer and built geospatial tools; she was responsible for building out the software architecture for the Center for Mission Innovation; and she made career stops at several small and large companies as well, eventually becoming the chief operating officer of a startup cybersecurity company. Now, she leads Jacobs' Cyber & Intelligence Solutions business unit, where all of the disciplines she has acquired along the way come together in one world-class vocation.
"I can see myself in every aspect of this business, including sitting on the customer side, supporting the Department of Defense and the Intelligence community, and supporting technologists, program managers and project managers," says Gwen. "I've thought to myself, there's no better way to come into an organization that's focused on disruption, innovation and technology than to be in the position where I've touched every aspect of the business from some level throughout my career."
"I get excited when I hear about what our teams are doing. I get excited when I think about the possibilities of the technology that Jacobs has bought and the solutions that the people here have already defined and built for their customers."