Meet our Data Solutions Team: Getting to Know Gwen Clavon
From precocious child business impresario to a computer whiz who worked with the likes of Tim Berners-Lee, Jacobs Senior Vice President and General Manager, Cyber & Intelligence Solutions Gwen Clavon's had an accomplished career that has ranged from start-ups such as BlackLynx to big corporations such as EDS and Raytheon, as well as the U.S. government.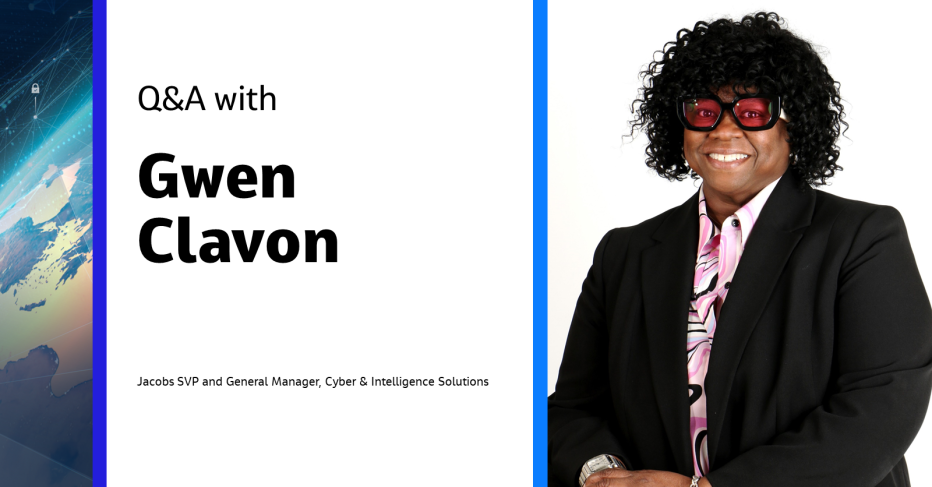 Let's meet the remarkable woman who leads our cyber and intelligence business:
Hi, Gwen. Can you tell us a little bit about your role within Jacobs' Divergent Solutions unit, and how your career journey prepared you for it?
This job is a culmination of almost everything I've done in my career, especially from the cyber and intelligence perspective. I've been the Chief Operating Officer of a startup company, and I've run large programs in small and large companies; I've been a government employee for 14 years; and I've worked as a developer, a network engineer, a systems engineer, and a systems architect. I did geospatial tools. I sat on a customer site for over ten years. I was also the tech advisor to the U.S. Air Force Chief Information Officer for two years.
I came to Jacobs through the BlackLynx acquisition, and what really excited me was the treasure trove of data that Jacobs has built up over 75 years from transportation and critical infrastructure, to water and water treatment projects. All of it creates unique data solution offerings.
I can see myself in every aspect of this business, including sitting on the customer side, supporting the Department of Defense and the Intelligence community, and supporting technologists, program managers and project managers. I've thought to myself, there's no better way to come into a newly formed organization that's focused on disruption, innovation and technology than to be in the position where I've touched every aspect of the business from some level throughout my career.
I get excited when I hear about what our teams are doing. I get excited when I think about the possibilities of the technology that Jacobs has bought and the solutions that the people here have already defined and built for their customers.
Why did you choose a career in STEAM? What appealed to you?
My mother wanted me to be a doctor because my mother is a nurse practitioner and she has a PhD in educational leadership. I have a brother and sister, but my parents thought I'd be the one of the three of us to go to medical school, because I was the geek of the family. However, in junior high I had daisy-chained two computers together ("my first computer") because I needed more storage space. I've always been a tinkerer and I've always taken things apart, but my dad's thing was, "You're going to sit there until you put it back together and it works the way it did when you took it apart." I've always had this thirst for understanding how things work. This led me to pursue computer science among my coursework in college.
After graduation, I worked at a bank in Florida and was in a management training program there. I wanted to come back to Maryland, however, where all my friends were, so I ended up getting a job with the U.S. Air Force as a civilian. I went in at the time as a computer assistant where I learned different systems. Eventually, I left the Air Force as a computer specialist and went over to the National Science Foundation where I worked in the computer and information science and engineering (CISE) division. I worked there for another seven years and left there as a program director in their science and engineering division.
While there I got to work on the National Science Foundation Network (NSFNet) team with Tim Berners-Lee, Vint Cerf and Stephen Wolff. It just fueled everything that I loved about technology. I was making webpages on the NSFNET when webpages weren't cool, but I ended up leaving there because I was offered a job by a company to build an application for the U.S. Army. I worked there for two years and have been a government contractor ever since.
As part of that journey, I spent seventeen years supporting the CIA, doing geospatial tools and a host of other things. I wrote some applications for them around content management that I'd done in a previous life and ended up on their CIO's architecture team supporting their geospatial tools. I then worked for the Center for Mission Innovation (CMI.) I helped build out a couple of facilities for them and built out the software architecture for CMI. I then ended up working as the Director, Information and Secure Communications at Blackbird Technologies. This all led me eventually to an opportunity to work with Doug Wolfe at a company called BlackLynx, which eventually led me to Jacobs.
We understand that you've had the entrepreneurial bug from an early age. Can you tell us a little bit about that?
I've probably run seven businesses since I was a little kid. I've always had the entrepreneurial spirit, which I got from my dad who had his own business. For instance, I had a vending business before I could even see over a countertop. This was before Costco was a thing. I had a wagon, and my dad would take me around town to visit my customers to drop off supplies for the machines and collect money. I kept a little ledger, and my dad actually charged me gas money to take me to the places where my vending machines were and to the store to re-up my supplies.
I learned very early on that love is love, but business is business. My dad loved me, but he was like, "This is business." I say all that to say I've always had a heart for entrepreneurs, and so I mentor and work with a lot of startups to share what I've learned. They pitch to me a lot. I've had enough experience in this space, and they know my integrity means everything to me. Who I am is exactly who I'm going to be. It's not about money for me. My name means more to me than any dollar figure that anybody can throw at me.
I love being in a position where I can help other people. I've got a master's degree in information systems management, and I've got an MBA, but I tell people all the time that I am overeducated for the work that I do. I believe that there are a lot of people out here who are way smarter than I am who have no degrees at all. Everybody has value, and everybody brings a different perspective to the same problem.
I'm all about getting different voices and different people to weigh in on things that they've never even thought about before. Once you throw it out there, they will give you insights that you would've never thought of yourself because you're not a graphic designer, or you're not a psychologist, or you're not a warehouse worker. Regardless of what the problem is, you're still coming at it from a different optic. I like talking to people about some of the hardest problems who don't have a stake in it, or who don't know the stake that they have in it.
I'm on the board of a couple of Christian-based nonprofits because I want to give back and make an impact any and every way I can. I focus especially on those organizations where I can use my business and tech savvy to help them be successful at their mission to serve the community.
About the interviewee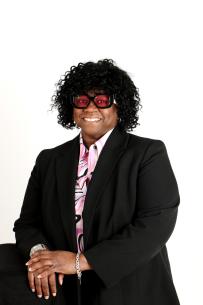 As Senior Vice President and General Manager of Jacobs' Cyber & Intelligence Solutions, Gwen Clavon is charged with growing our cyber and intelligence business by delivering mission-critical solutions across the Defense and Intelligence communities in line with our mission to position Jacobs as the leading global provider of data and secure solutions. She will also be instrumental in driving connectivity and collaboration across Divergent Solutions and Jacobs' lines of business.
Join #OurJacobs team
What drives you drives us as we work to build a better world – together. At Jacobs, every day is an opportunity to make the world better, more connected, more sustainable. We're always looking for dynamic and engaged people to join our team. Bring your passion, your ingenuity and your vision.