STEAM Volunteering: Kara Connon's Story
Volunteering on the job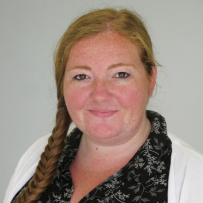 As part of our Boldly Moving Forward Strategy, we're focused on intentionally building deep, trusting relationships for our people and nurturing our inclusive culture, including in how we approach wellbeing. 
Wellbeing is foundational to everything we're able to do and accomplish. We continually evaluate our wellbeing programs and benefits to best support our people – and we're sharing stories of how these programs and tools are helping each of us individually be at our best, so we're able to do more – together.
In this feature, we connected with Jacobs STEAM Lead for Europe Kara Connon to see how paid volunteer time is helping her make a difference for the next generation.
Featured benefit: 
Four hours of paid volunteer time
What prompted you to take advantage of this benefit? 
I have always been passionate about working with students – positively impacting their lives and teaching them about career opportunities within science, technology, engineering, arts and math (STEAM.) This paid volunteer time allows me to do that as part of my job.
How did it help? 
This time not only allows me to engage with students face-to-face and virtually, but also allows me to support Jacobs' incredibly ambitious target to achieve 50,000 STEAM volunteering hours by 2025 as part of our Boldly Moving Forward strategy.
What did you like most? 
Using and tracking your four hours paid volunteer time is very easy with our global giving and volunteering program, Collectively℠.
Are you still using this benefit? 
In my role at Jacobs, I'm lucky enough to get paid to focus on STEAM engagement, but I encourage all others to take advantage of this time.
What do you want others to know? 
Jacobs provides each employee with four hours a year of paid STEAM volunteering time, refreshing annually. All volunteering time can be tracked on Collectively – not just the paid four hours!
"If we all took advantage of this offer to work directly with students, imagine the impact we could make on young peoples' lives across the world."
Wellbeing at Jacobs
At Jacobs, the wellbeing of our people is fundamental to our success. When we're each able to be well, our collective power is limitless.
A world where you can is only achievable when we're each functioning at our highest abilities. We can't be our true selves, get our work done, and develop and grow unless our ideal states of being are sustained. We embed wellbeing into all, so we're able to deliver on our purpose – today and into the future.
You might be interested in...
Join #OurJacobs team
What drives you drives us as we work to build a better world – together. At Jacobs, every day is an opportunity to make the world better, more connected, more sustainable. We're always looking for dynamic and engaged people to join our team. Bring your passion, your ingenuity and your vision.