One Pass: Lainie Harber's Story
When you're at your best, we are too.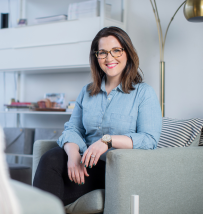 As part of our Boldly Moving Forward Strategy, we're focused on intentionally building deep, trusting relationships for our people and nurturing our inclusive culture, including in how we approach wellbeing. 
Wellbeing is foundational to everything we're able to do and accomplish. We continually evaluate our wellbeing programs and benefits to best support our people – and we're sharing stories of how these programs and tools are helping each of us individually be at our best, so we're able to do more – together.
In this feature, we connected with Senior Manager, Global External Communications, Strategy & Corporate Campaigns Lainie Harber to see how she's prioritizing her personal fitness goals with a new Jacobs' wellbeing benefit.
Featured benefit: 
One Pass, a subscription fitness and wellbeing program that's designed around personal fitness goals.
What prompted you to take advantage of this benefit? 
I always believe in taking full advantage of my total rewards package and when Jacobs rolled out One Pass, I thought it was far too beneficial to pass up.
How did it help? 
My family is pretty active, and we had a variety of gym/studio memberships and through One Pass we were able to streamline memberships as well as our finances. After we signed up, we saved about $100/month and have access to even more fitness resources.
What did you like most? 
I like the variety of workouts that I can get through One Pass and at a better rate than I was paying before. And I also like that Jacobs supports me in my total wellbeing – I know that exercise helps keep me focused and happy both at home and at work.
Are you still using One Pass?
I am and I'm still really enjoying it. Through One Pass I'm able to have a weekly blend of HIIT, yoga, Pilates and cycling all for one fixed rate that works for me.
What do you want others to know? 
The sign up was easy and chances are that through One Pass members will pay less and get more for their fitness needs.
"When I think about my total rewards package from Jacobs, I'm glad that there is a strong wellbeing component of resources that are useful and realistic for my life – both physically and mentally. I'm very happy with One Pass and appreciate the variety and affordability it brings to my fitness routine."
Wellbeing at Jacobs
At Jacobs, the wellbeing of our people is fundamental to our success. When we're each able to be well, our collective power is limitless.
A world where you can is only achievable when we're each functioning at our highest abilities. We can't be our true selves, get our work done, and develop and grow unless our ideal states of being are sustained. We embed wellbeing into all, so we're able to deliver on our purpose – today and into the future.
You might be interested in...
Join #OurJacobs team
What drives you drives us as we work to build a better world – together. At Jacobs, every day is an opportunity to make the world better, more connected, more sustainable. We're always looking for dynamic and engaged people to join our team. Bring your passion, your ingenuity and your vision.