Meet our Data Solutions Team: A Q&A with Shawn Makarsky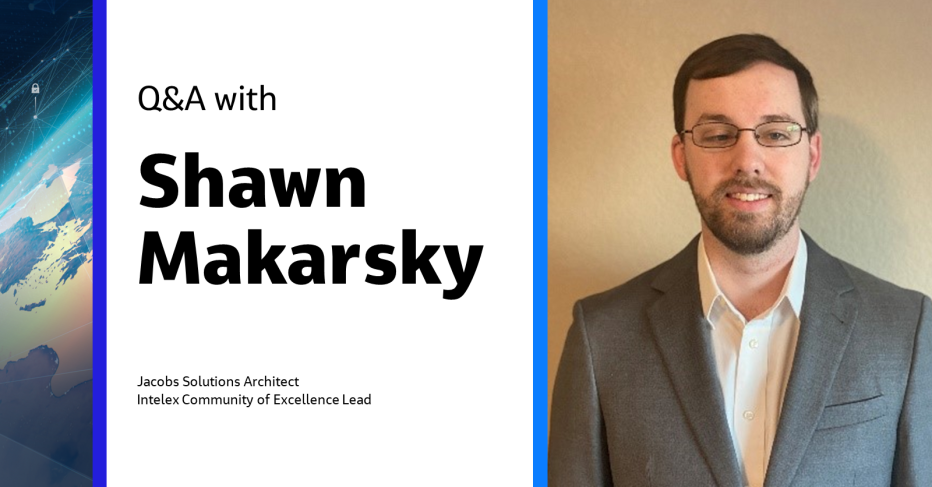 A member of Jacobs' Environmental, Health, & Safety Information Management (EHS IM) team, Shawn Makarsky serves as the Solutions Architect & Intelex Community of Excellence (CoE) Lead. In his role, he is responsible for focusing on Jacobs' Intelex practice, one of the enterprise software platforms with which we have a long-standing working partnership, in the form of configuring, troubleshooting and maintaining various applications that we have developed for our clients.
A resident of Colorado where he lives with his wife Chelsea and their dog, Ollie, Shawn is a graduate of the University of Colorado – Denver, where he received his MBA. Before that, he attended Rensselaer Polytechnic Institute (RPI) in New York, where he received his Bachelor of Science degree in chemical engineering.
Hi Shawn – can you tell us how the work you do is helping deliver data solutions for our clients?
Within the EHS IM domain, we are frequently dealing in information and tools that directly impact our end users' health and personal safety. As such, it is important that the solutions we produce are not only effective in addressing the immediate need but also incorporate sustainability to their scope such that they can grow and adapt with the client over time. It is our intent that the solutions we build will help to drive our clients further up the data maturity curve, allowing them to realize not only efficiency and consistency improvements but also programmatic step changes through more data-driven insights. Whether it's through centralizing a client's incident reporting and investigation process or integrating originally disparate health sampling systems, we are creating tools to help better protect and support our clients' most valuable resource, their employees.
Can you tell us about a project you've participated in that you're especially proud of? 
Recently, I worked on a project with a long-standing client wherein we were tasked with revamping their existing risk assessment tool to better align with a new process. This really made me proud of the team and the group that I work with. The application itself was not an overly complicated or extensive build but the parts of it that brought me the most pride were the smaller pieces that we implemented that I believe will have a lasting impact on the client. Specifically, it was subtle but incremental changes to our normal configuration process that help to drive sustainability of the system while also adding to the user experience. These changes have since developed into new best practices within our larger group that can now be applied with other clients and applications as well.
Can you share a time when you delivered something for a client that exceeded their expectations?
I recently worked on a project in which the client was seeking to implement a pair of applications for managing their industrial hygiene and occupational health programs across the company. Having no such digital solution for these programs previously, the client's initial intent was to employ an out-of-the-box solution for this effort, accepting that it "wasn't exactly what [they] wanted but it was better than what [they] had."
Through the course of requirements gathering and conversations with users following initial testing of the application, our team identified significant differences between the client's processes and those of the software, noting that these would likely impact the overall adoption of the tool. As such, the team devised a new approach, revamping the out-of-the-box offerings to more directly meet the client's needs. We subsequently eliminated a large volume of unneeded configuration that otherwise would have created confusion for end users, and we did so without adding budget to or delaying the project. The final product received glowing reviews from the client as it provided a more personalized and effective tool for managing their programs.
What do you see as the top benefits that data solutions can provide to clients?
For most of our clients, the key indicators and data points needed to succeed in their respective businesses are already being captured in some way. The issue though is that these data points are frequently disconnected and scattered, be that across multiple disparate systems or in large piles of paper records. Through the implementation and integration of different data solutions with our clients, we are helping to centralize and standardize critical work practices that in turn aid in driving more data-supported decision-making processes as the information needed to make these decisions are now more readily available.
In addition, data solutions also aid in reducing individual and business-wide risk through more effective and efficient communications. By centralizing company processes and data collection efforts, our clients are able to more directly share unique learnings in a way that then allows the company to leverage best practices while in turn addressing process bottlenecks and safety concerns.
What is some of the best career advice you've ever received?
You are where you are in large part because of the people around you. We cannot do it all alone, and as such it is important to recognize the impact that others have and will continue to play on our personal development and success. Likewise, it is also important to continue to grow each of our own personal networks as these are the people who we can seek out in both our highest and lowest of times.
Join #OurJacobs team
What drives you drives us as we work to build a better world – together. At Jacobs, every day is an opportunity to make the world better, more connected, more sustainable. We're always looking for dynamic and engaged people to join our team. Bring your passion, your ingenuity and your vision.