Meet our Data Solutions Team: A Q&A with Brandon Alexander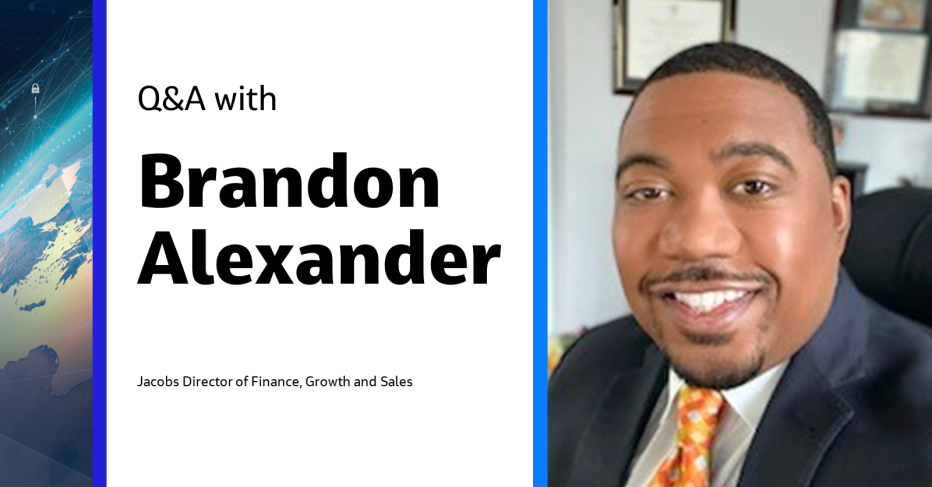 A key player on Jacobs' team, Brandon Alexander serves as a Director of Finance, Growth and Sales focused on overseeing business operations and analytics, as well as providing extended support for key strategic initiatives and projects related to mergers and acquisitions, corporate venture capital and financial analytics.
Born in Alexandria, Virginia where he currently resides his wife, Amber and their two daughters, Riley and Rhyan (ages seven and four, respectively), Brandon is a graduate of the University of North Carolina where he earned a degree in economics. He subsequently attended Georgetown University, where he graduated with an MBA in finance.
Hi Brandon – can you tell us how the work you do is helping deliver data solutions for our clients?
We're supremely focused on growing our current business by deepening relationships with our core clients as well as expanding our reach into new revenue streams. This mean identifying where there are opportunities to deliver solutions and products within adjacent markets that have natural alignment with our capabilities and leveraging our solutions across Jacobs' lines of business. A big push this year centers on driving integrated solutions across Jacobs where we can provide clients with additional data solutions or enhance the joint offering we can provide. Looking ahead, we're hoping to leverage significant FY23 investment in client-focused resources to coalesce around our most critical clients where we see significant opportunities to deliver cutting-edge solutions.
Can you tell us about a project you've participated in that you're especially proud of? 
The ability to participate in the stand up and growth of our Divergent Solutions unit has been especially rewarding. It's a special opportunity where in many ways we've embedded a startup company inside of a larger organization. I work with a diverse group of exceptionally talented colleagues, and the past 18 months is illustrative of the way we can focus, bring creativity to complex challenges and deliver outsized results. If we continue to remain agile and focused on client outcomes, I see nothing but great things in our future.
Can you share a time when you delivered something for a client that exceeded their expectations?
The clients in my current role aren't external customers, but rather the senior Jacobs leadership I support daily. I try to add value by being prepared and willing to offer different perspectives as we collaborate to achieve our goals. We focus on revising the way we approach sales by implementing a relationship-based sales model centered around understanding our clients' biggest challenges so that we can bring innovative solutions and shape opportunities around our data solutions capabilities. We aim to develop enduring client relationships with expanded opportunities to grow the business.
What do you see as the top benefits that data solutions can provide to clients?
At its core, data solutions are about managing the complexities around Big Data. We live in a connected world where many of the industries we serve are undergoing a digital transformation. Our clients need solutions that leverage Big Data, machine learning and artificial intelligence to quickly translate enormous quantities of data into meaningful insights. Jacobs' sweet spot in this space is at the intersection of data and security where a significant portion of services and products we offer are directed at ensuring the networks and infrastructure undergirding our most critical industries are insulated against intrusion. Additionally, we combine our unique data platforms and domain expertise across several market verticals to aid infrastructure planning, construction and O&M, all of which drive significant savings to our clients' bottom lines.
What is some of the best career advice you've ever received?
I've had several great mentors at Jacobs who consistently pushed that I need to be the voice and architect of my own career path. In a company the size of Jacobs, there are so many different possibilities but it's also easy to get lost. You must be intentional about communicating your interests to your leadership so that you can get exposure to the opportunities and training that will help you with that next step in your journey.  
Secondly, my mentors stressed how important it is to be a continuous learner. This expands beyond structured learning to acquire personal skills, but also encompasses learning your business, being curious about changing market conditions and new technologies, and even the movements of our competitors. It continues to shape my ability to adapt to challenges and explore new perspectives to achieving our goals.
You might be interested in...
Join #OurJacobs team
What drives you drives us as we work to build a better world – together. At Jacobs, every day is an opportunity to make the world better, more connected, more sustainable. We're always looking for dynamic and engaged people to join our team. Bring your passion, your ingenuity and your vision.