Meet our Data Solutions Team: A Q&A with Chisomo Lungu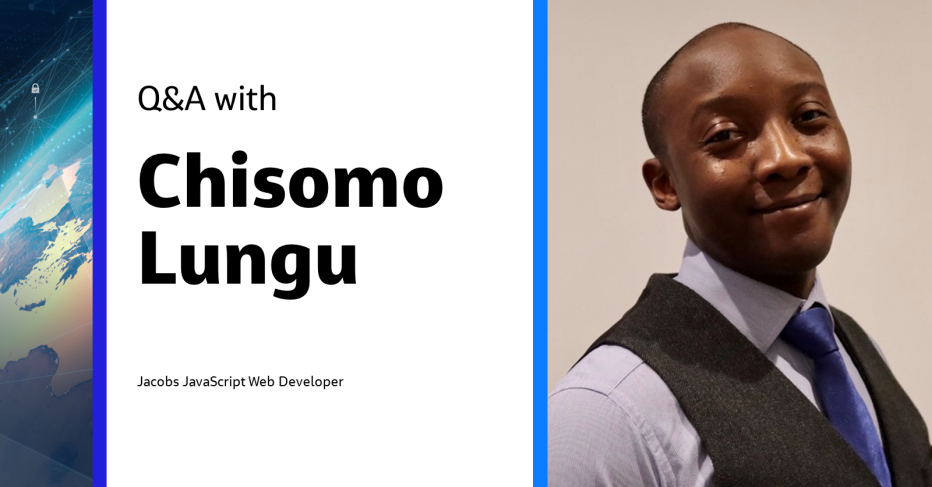 As a JavaScript Web Developer at Jacobs, Chisomo Lungu's role primarily involves working with cutting-edge web technologies to build and enhance the company's internal software projects. With a keen sense of aesthetics, a user-focused mindset, and an eye for detail, he works on leveraging React, TypeScript, Node.js, and other related technologies to ensure Jacobs delivers the best possible software solutions for the business.
Originally from Zambia and currently residing in South London, United Kingdom, Chisomo is a proud alumnus of Staffordshire University where he completed his BSc Honours in information systems management.
Hi Chisomo – can you tell us a little bit about yourself?
I come from a large family of seven, with three sisters and three brothers. I believe this has shaped my ability to work effectively in teams, which is a crucial aspect of my role at Jacobs. In my leisure time, I enjoy philosophy, playing strategic games like chess, keeping fit and traveling, which allows me to meet new people and experience different cultures. These activities sharpen my mind, broaden my perspective and fuel my creativity in my professional role.
Can you tell us how the work you do is helping deliver data solutions for our clients?
As part of the Divergent Solutions team, my work focuses on implementing data-driven solutions to transform our clients' businesses. I've contributed to developing impactful software solutions such as Velocity and Flood Modeller. These software packages leverage the power of data to optimize the design of cycling infrastructure and flood systems, respectively. The ability to apply my skills to such crucial issues as climate change (a cause I deeply care about) is one of the reasons I am passionate about my role at Jacobs.
Can you tell us about a project you've participated in that you're especially proud of?
I take pride in my contribution to Velocity. Building the front-end application from scratch using React allowed me to play a significant role in shaping the software's overall user experience. Moreover, knowing that this project is contributing to the fight against climate change adds a layer of satisfaction to my work. I am excited about the future possibilities in our field, especially in incorporating advancements in AI into our projects.
Can you share a time when you delivered something for a client that exceeded their expectations?
While working on the Velocity project, we delivered a product that not only met the client's specifications but also presented innovative features they hadn't anticipated, significantly enhancing their productivity.
What do you see as the top benefits that data solutions can provide to clients?
1. Informed decision-making: Data solutions help clients understand their business environment better by providing real-time insights, thereby enabling them to make informed decisions.
2. Operational efficiency: By automating routine tasks, data solutions can greatly enhance operational efficiency.
3. Risk management: Data solutions can help identify and mitigate potential risks, contributing to more secure and robust business operations.
What is some of the best career advice you've ever received?
One piece of advice that has profoundly influenced my career journey was a saying my father would often remind me of in our native Nsenga language: "Sukulu sisila." Translated to English, it's a call to never stop learning. This wisdom has kept me open to new technologies, tools and methods in the rapidly evolving field of web development. It resonates with the Jacobs value of constantly challenging the accepted and the curiosity that drives our company's spirit of innovation. It's the reason I am dedicating my time and energy to learn more about AI, attending meetups and finding ways to incorporate these advancements into our work.
You might be interested in...