Meet our Data Solutions Team: A Q&A with Cole Sims
He's a senior software engineer at Jacobs, whose current focus is on data engineering for Department of Defense clients. Meet Cole Sims, who shares with us his experiences working on an innovative decision management suite project and his thoughts on the power and efficacy of data solutions.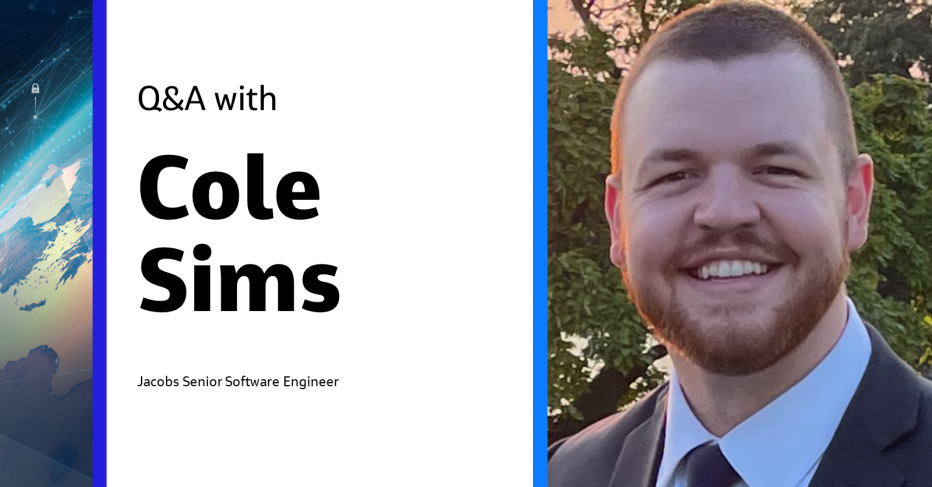 Hi, Cole. Can you tell us how the work you do is helping deliver Jacobs' strategy?
I'm excited about Jacobs' focus on innovation and creating a smarter and more sustainable future. The dedication throughout the company to aiming higher and pushing the boundaries of technology and its integration into every aspect of our society aligns closely with my own values and goals. Being part of a team that is working towards this sort of progress is fulfilling and very motivating. I appreciate that I get to contribute my skills and expertise in pursuit of this goal, as it allows me to be a force for positive change in the world. Specifically, within Divergent Solutions my work directly relates to our Data Solutions growth accelerator – I am excited to be a part of the team delivering next-generation cloud, cyber, data and digital solutions to our clients and customers. I think the way that we collaborate with other corporate functions and lines of business and the way that we pursue strategic alliances in pursuit of this allows us to broaden our scope and thus broaden our impact.
Can you tell us about a project you've participated in that you're especially proud of? 
I had the honor of working on a team to develop a decision management suite for the highest levels of leadership in the Air Force. As a key member of the team, I played a crucial role in integrating data from multiple source systems within the Air Force to create a visualization that allowed the Chief of Staff and his colleagues to make informed decisions based on their custom metrics and priorities. I was responsible for ensuring that the suite met all of the client's requirements, while also being intuitive and user-friendly. I am especially proud of the lasting impact that this project will have, not only on global force management but also on the health, mental health and safety of our Airmen.
Can you share a time when you delivered something for a client that exceeded their expectations?
In a previous project, I was tasked with helping to create a state-of-the-art decision management suite. To ensure that the end users were pleased with the result, I created entire data pipelines from scratch, involving numerous source systems and varied, complex logical transformations. I also developed intuitive user interfaces and front-end actions that exceeded the client's expectations. The project was a success, and it was a humbling experience to be able to contribute to such a critical project. I am grateful for the opportunity to have exceeded my client's expectations.
What do you see as the top benefits that data solutions can provide to clients?
Data solutions are focused on deriving insight, making predictions or generating new information based on existing data. The value that we can provide to clients through data solutions is largely in how we take these applications of data and leverage their environment, goals or other factors to provide a useful solution that provides value for our clients. I believe that three benefits our clients can gain from our data solutions are making smarter decisions, evaluating the state of existing systems and providing augmenting data for training or simulation purposes.
When we combine the existing data, be it past or present, with the business rules from a client (such as reducing cost, increasing efficiency or maximizing output), we can help inform them as to which decisions would achieve these goals in the best way possible. We can even allow them to evaluate multiple options and weigh these trade-offs against each other.
Our clients may also be interested in evaluating the state of an existing process or system that they have in place. In this case, our data solutions can provide an avenue for them to understand the intrinsic details of that system – what the most important factors are, what the causes of different events or outcomes are or how to make these more efficient or optimal. This can help improve well-established processes and systems, avoiding the difficulties of switching or changing processes and systems entirely.
Lastly, many of our clients are interested in using data for simulations, whether it be pilots, business leaders or operators on the ground or in the field. These users would benefit greatly from a broader array of data to train against, whether that is a simulated situation, series of events, or audio/visual cues, as in the case of the pilot. We can provide these synthetic situations by analyzing the current data that the customer already has and producing synthetic, varied training data, allowing them to become more experienced in situations with fewer consequences. This can greatly improve decision making and even health and safety in a wide variety of industries and use cases.
What is some of the best career advice you've ever received?
Don't be afraid to take on assignments that stretch your abilities or that others might shy away from. The experience and knowledge gained from challenging assignments can help you stand out in your field, build your reputation and open up new opportunities.
Join #OurJacobs team
What drives you drives us as we work to build a better world – together. At Jacobs, every day is an opportunity to make the world better, more connected, more sustainable. We're always looking for dynamic and engaged people to join our team. Bring your passion, your ingenuity and your vision.