California Dreamin': Q&A with Geographic Operations Manager, Scott Jones
Meet Scott, our California Geographic Operations Manager who manages the region and connects directly with staff and client activities, sector strategy development and project execution. His collaborative style and industry knowledge allow him to develop teams to execute projects that exceed client expectations.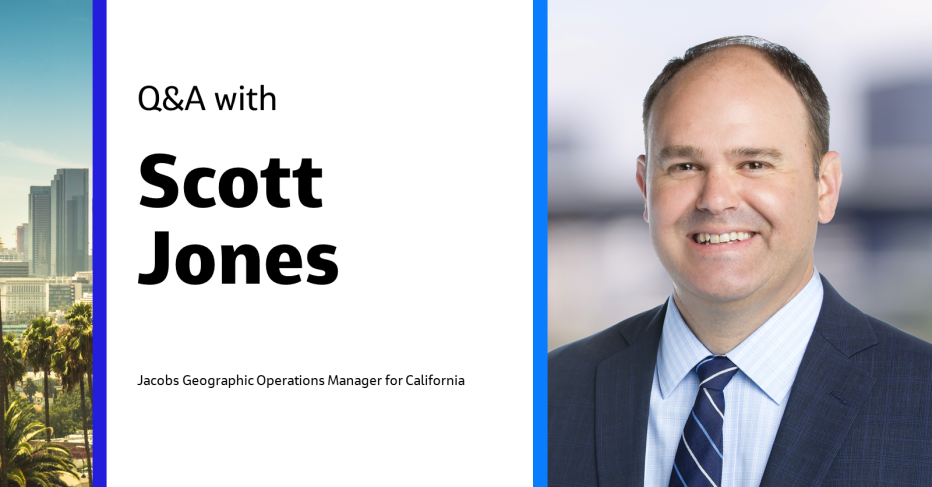 You're the Geographic Operations Manager for California. What excites you about your role?
Wow – where to start? There are so many amazing and important initiatives going on in California right now. The whole state is alive with game-changing projects and that is particularly true in southern California. First off, many of the projects which our teams support significantly impact our communities and their resiliency, and improve the state's wellbeing. What excites me the most is to see our amazing staff thrive in responding to these difficult problems to improve where we live. Second, the size, scale and importance of major infrastructure projects continue to grow like never before. It is fun to be able to respond to these with the resources of the firm like no others out there. Also, being able to work with some of the best minds in the industry. Our California team is stacked with talent and the depth of their expertise always fun to advance to the industry.
Tell us about a pivotal project at Jacobs and its impact on the community. Can you share a story?
I could name a few but let me focus on the resilience efforts of what we are doing up north for the San Francisco Waterfront. We are supporting the city as they prepare for sea level rise and the protection needed to reduce the impacts of future earthquakes. It's a significant project because of the multiple layers of importance – protecting the people and city infrastructure from these future events while creating a solution that connects people to the beautiful waters of the bay. The program will protect jobs downtown and historically underserved communities to the south. This project's scope is significate because of the number of people, buildings, and critical infrastructure items under consideration. Our Jacobs team is working with the city to look at all the angles necessary to create an elegant and effective solution. We look forward to translating the experience we have gained here to other key coastal cities that could be facing the same challenges.
What is Jacobs currently doing to deliver a more connected, sustainable world in the western region?
I think you can start and end that question around water availability in California. We are helping to protect this important natural resource through many key projects up and down the state. Our team is active as the Executive Design Manager for the Delta Conveyance project that ultimately connects clean water from northern to southern California.  It is considered an essential climate adaptation strategy and will protect the future of our water supply in California. Another example would be our role to design and deliver the advanced treatment project for the DC Tillman facility. This project will purify more than 15 million gallons of water per day. Think about that number! We believe "every drop of water matters" and this project will help address potential water shortages in the future.
Can you dive into the exciting growth opportunities in the western region and more specifically in California?
I am particularly excited about the clean energy focus that abounds in the state. Look at what SoCal Gas is doing with the Angelus Link project to bring clean hydrogen to southern California or the offshore wind effort to capture this renewable energy is outstanding. Jacobs is poised to help with projects like these and will be a driver of our growth. These clean energy sources will help us change our future transit options as we phase out the internal combustion engine across our community buses, transit and automobiles. Smart transportation planning is another area that our team is focused on growing. StreetLight is a software platform that we can offer the industry actual count data that can help planners make the right decision to shape transportation efficiency and convenience into the future.
Where do you see the largest challenges for California?
For our industry, one of the largest challenges California faces is having enough talent to deliver the projects currently in play. Engineers, planners and architects have so many options and directions that they can take their careers now, particularly in California when you factor in the technology sector. Affordable housing is another issue. It is a real challenge to keep that talent you have here for the long term. Fortunately, our Jacobs platforms give us access to talent across America and the globe. This gives us an edge as we look to deliver for our clients.  
"There are so many amazing and important initiatives going on in California right now. The whole state is alive with game-changing projects and that is particularly true in southern California. "
You have served in leadership for Building Owners and Managers Association (BOMA) International. Why is this organization so important to you?
BOMA, International is an amazing organization that connects and advocates for real estate of all types around the world. My involvement started 20+ years ago with a "polite nudge" from a mentor to get involved and over the years one thing led to another getting me more involved in the leadership track. I have had the good fortune to have served at the local, regional and internal levels in different positions. The capstone for me was to serve as the CEO and Chairman for BOMA International's 17,000 members in 2019-2020. Of course, you might recall COVID-19 broke out across the country during the spring of 2020. It was such a challenging time for so many different reasons, and I was humbled to provide leadership that connected members where they could share best practices around the latest city approaches and how to approach the evolving pandemic in those early days. I'm excited to continue to support BOMA as a Fellow and continue to lean in on sustainability and similar topics to help advance the industry.
People would be surprised to know that…
I grew up in New Orleans. There is so much to love about that city. Obviously, it has some amazing food… so often, you'll find me cooking traditional recipes for the family. My favorite thing to do is to go fishing. If I took off my shoes, my toes might be webbed from all the time I spent on the water growing up.
If you aren't working, what would we be most likely to find you doing?
Most of my friends and colleagues know that I love to play golf, but they might not know that I love being handy or fixing things. Maybe it is the mechanical engineer in me, but I really enjoy figuring out how things work and then repairing them. It can be anything really from a home improvement project, car repair or something mechanical to get back to work. The bigger the better… though because it is not my day job, please don't put me on a deadline.
What's something that you would like to become more proficient in and why?
I suppose right now, I'm most interested in the merger of technology and our engineering craft. I'm curious how we could utilize some of these exciting artificial intelligence (AI) tools to enhance what our team is already doing. Certainly, it could lead to some exciting solutions and perhaps even faster results for some of the main tasks that our operations teams face.
On my California team, we sponsor innovation grants where our team gets to explore a "bright idea" they have on company time. It has created some exciting concepts that we are working on developing that involve vegetation management to prevent forest fires or to create clean hydrogen production that can accompany the sewage treatment plant processes.
What advice would you give to young professionals? 
The young professionals that are coming into the industry are well-prepared in so many ways. They are impressive. The piece of advice that I would give would be to just say "yes" when presented with an intimidating role or challenge to tackle. My most exciting growth came after saying yes to roles that really took me out of my comfort zone. No doubt it comes with hard work, and you might not think you are ready, but the growth could just put your career in the right direction.
What do you enjoy most about being part of #OurJacobs?
I've enjoyed being part of Jacobs for my entire career – that is unique these days. The talent in this company is just amazing. I honestly believe we can access an expert in anything you could imagine in a simple chat or two. I've been afforded to see that firsthand traveling the world in support of clients. I also like to believe that we set the standard for creating an inclusive culture. The positive vibe of our California team projects is proof that our staff brings their whole selves to work/
About the interviewee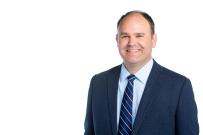 As the California Operations Manager, Scott Jones guides Jacobs' growth in the region with a focus on the Buildings and Infrastructure practice. In his role, he and his 800 staff support major projects across California and beyond. Scott's key responsibilities include employee well-being, forecasting, business growth, sales support, project performance and operational profit/loss for the $400 million dollar region.
Scott manages the region, hands-on traveling to connect directly with staff and client activities, sector strategy development or project execution as necessary. His collaborative style and knowledge of the firm also allow him to develop teams to execute projects at a level that exceeds client expectations.
A practiced professional with 27 years of experience in the field, Scott has overseen a variety of delivery models from traditional design, design-build, at-risk construction, program management and operation management for a wide variety of client types. With decades of experience supporting various clients, he is a proactive problem solver and an effective communicator focused on the client's need for responsiveness and flexibility, particularly on large, complex projects.
He is married and a proud father of two daughters.
Join #OurJacobs team
What drives you drives us as we work to build a better world – together. At Jacobs, every day is an opportunity to make the world better, more connected, more sustainable. We're always looking for dynamic and engaged people to join our team. Bring your passion, your ingenuity and your vision.