OneWorld Employee Network: Firoozeh Arjmand's Story
Finding a sense of belonging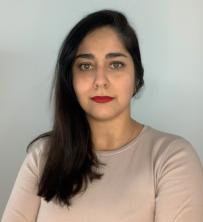 As part of our Boldly Moving Forward Strategy, we're focused on intentionally building deep, trusting relationships for our people and nurturing our inclusive culture, including in how we approach wellbeing. 
Wellbeing is foundational to everything we're able to do and accomplish. We continually evaluate our wellbeing programs and benefits to best support our people – and we're sharing stories of how these programs and tools are helping each of us individually be at our best, so we're able to do more – together.
In this feature, we connected with Proposal Manager Firoozeh Arjmand to see how she found a sense of belonging with our OneWorld employee network.
Featured benefit: 
OneWorld Employee Network
What prompted you to take advantage of this benefit? 
I'm originally Iranian and moved to Italy in my twenties and now I live in Germany, I love new cultures and am always looking to learn about history, new traditions and even new languages.
Working in an international team needs cultural intelligence (CQ.) And OneWorld is all about training and building that trust, respect and appreciation within our employees. All cultures are respected in our organization, and we are working towards creating an environment where everyone feel that they belong to it.
How did it help? 
My communications skill got much better, thanks to GlobeSmart and OneWorld's vision and mission I know how to respect other cultures and how to approach people from different part of the world. Also, I was able to introduce my culture to other people here and that makes me feel that I do belong in this organization and everyone knows where I come from.
What did you like most? 
Working with new people, learning about new cultures and being part of inclusion & diversity implementations. But the most fantastic thing I love about my role as one of OneWorld's Global Communications Co-Chairs is when people come to me and say how much they appreciate us introducing their traditions to a broader group and giving them the opportunity to talk about their traditions.
Are you still part of the network?
Yes, I'm still in the OneWorld Global Communications Co-Chair position. It is a 2-year, voluntarily assignment and I'm closing the first year soon. But I've been a member of OneWorld since 2020. I encourage Jacobs employees to join this network because it is a place for everyone and all cultures.
What do you want others to know? 
OneWorld is collaborating on several important initiatives within Jacobs where you can get involved:
GlobeSmart, a very useful online cultural awareness tool that we recommend all teams use on their projects to improve cultural acumen.
Best practices to working with an international team and GID (our Global Integrated Delivery centers), showcasing successful projects and promoting the best tools and software available in Jacobs.
Partnering with Talent Acquisition on the Jacobs Go! program in 2023.
Building cultural intelligence through our global and regional events like celebrations for Diwali, Ramadan and everything in between; our popular "One Planet, Many Cuisines" cookbook; and more.
"Culture is the foundation of how we think, behave, and react, our cultural intelligence journey begins with understanding of our differences. By considering different viewpoints, you will discover endless ways of working together."
Wellbeing at Jacobs
At Jacobs, the wellbeing of our people is fundamental to our success. When we're each able to be well, our collective power is limitless.
A world where you can is only achievable when we're each functioning at our highest abilities. We can't be our true selves, get our work done, and develop and grow unless our ideal states of being are sustained. We embed wellbeing into all, so we're able to deliver on our purpose – today and into the future.
You might be interested in...
Join #OurJacobs team
What drives you drives us as we work to build a better world – together. At Jacobs, every day is an opportunity to make the world better, more connected, more sustainable. We're always looking for dynamic and engaged people to join our team. Bring your passion, your ingenuity and your vision.