Meet our Data Solutions Team: A Q&A with JD Evans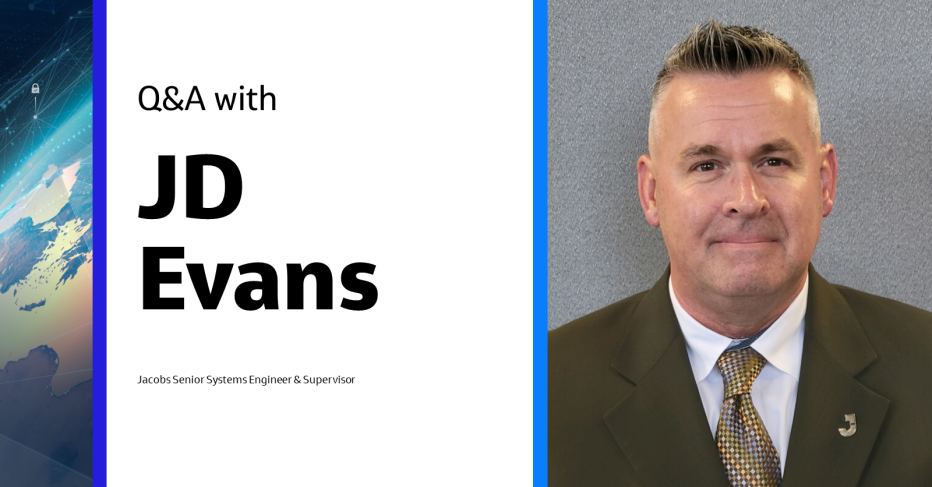 Though he's retired from the United States Army, JD Evans continues to serve the nation's military by supporting the branch's Information Technology systems in support of Army training programs, specifically as the regional manager of one of Jacobs' task orders for the U.S. Army.
A resident of Belton, Texas, JD and his wife Shannon (a volunteer and moderator for an animal-focused charity) are the proud parents of three children: oldest son Brandon, an IT professional focused on resolving computer vulnerabilities at a national organization; daughter Taylor, a straight A student at Texas Tech who'll be graduating this year; and youngest son Austin, who is finishing his last year of high school before also attending Texas Tech. 
Can you tell us how the work you do is helping deliver data solutions for our clients?
My work at Jacobs is to determine what questions need to be asked to meet a task and then subsequently finding those answers. Within the activities associated with project compliance and deliverables, the execution of those efforts identifies a need and then crafts what that solution might look like. To verify that deliverables meet customer specification, I apply knowledge management experience that will ensure the five pillars of information assurance (confidentiality, integrity, availability, authenticity and non-repudiation) are met and can provide dividends long after the question was asked and then answered.
Can you tell us about a project you've participated in that you're especially proud of?
I feel ecstatic about the possibilities when I have helped on a contract proposal that Jacobs wins. Knowing that Jacobs has been entrusted to deliver solutions for a customer need is a very proud moment. I also feel especially proud of Jacobs and the employee support I have helped deliver to my teammates on the Task Order for the U.S. Army. When we recruit for Jacobs, we like to tell our new hires, 'This will not be the last job you hold, but we want it to be the last time you look for employment.' As a unified team we enjoy 'buy-in' to the processes that will translate as a series of wins for our Army clients' training mission. By the end of the project each member of the team has an enhanced set of skills to be applied to the next effort.
Can you share a time when you delivered something for a client that exceeded their expectations?
I worked on a project to deliver knowledge management improvements for an Army contract that improved our clients' understanding of user and administrative insight to guide software development efforts. I delivered a documented explanation of how instruction sets were interpreted, which in turn allowed the software developer and documentation teams to adjust their Agile Project Management approach. The net result was an increased rate of successfully applying lessons learned in a formal classroom to a field environment. Based upon my recommendations, the Communication and Electronics Command (CECOM) of the U.S. Army implemented the following:
A dedicated DCGS-A centric helpdesk.
Worldwide Maintainer access to report and review similarly reported issues.
Enhanced use of web user interfaces for Special Operational Forces as a measure to mitigate asymmetrical communication and share information across dissimilar information platforms.
What do you see as the top benefits that data solutions can provide to clients?
Jacobs brings a tremendous amount of experience to bear for the benefit of the customer. For the benefit of all parties, we take the time to review if the datasets or samples collected are of sufficient size and composition to support the results or trends identified. Before Jacobs will declare a trend, the data and the processes associated with the data analysis are reviewed for accuracy. Accurately interpreting the data often results in a cost savings for the customer. A secondary benefit of a stringent data analysis process is often feedback that helps the customer determine whether resources can be reallocated to provide additional benefit and/or cost savings.
What is some of the best career advice you've ever received?
When there is no wind, row!
Join #OurJacobs team
What drives you drives us as we work to build a better world – together. At Jacobs, every day is an opportunity to make the world better, more connected, more sustainable. We're always looking for dynamic and engaged people to join our team. Bring your passion, your ingenuity and your vision.