Meet our Data Solutions Team: A Q&A with Bob Taylor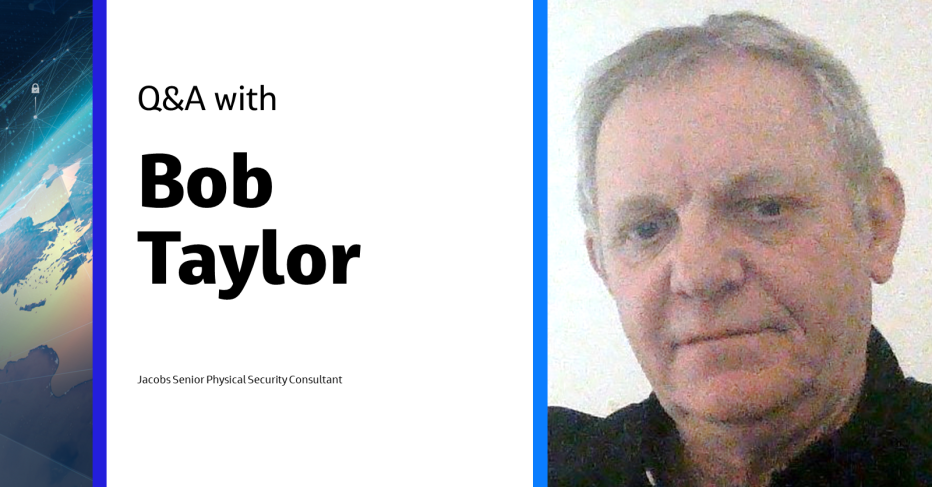 As a Senior Physical Security Consultant for Jacobs, Bob Taylor is currently working on two major refurbishment projects within Devonport Royal Dockyard, Plymouth. Specifically, his role is that of the principal security design manager, ensuring both projects adhere to both Ministry of Defence and Critical National Infrastructure security requirements. He also has a role at RAF Lakenheath as the security and logistics manager, a role he has held since 2019.
An alumnus of West Sussex Agricultural College, Brinsbury, Bob and his wife Carol have five adult children, ranging in ages from 39 to 27.
Can you tell us how the work you do is helping deliver data solutions to our clients?
My role centers on 'physical' security solutions. In the case of Devonport, it's all about maritime issues and concerns. With RAF Lakenheath, the focus is aviation related. Both projects are to ensure enduring U.K. and U.S. defense capabilities are provided with the equipment and infrastructure that is required.
Can you tell us about a project you've participated in that you're especially proud of? 
RAF Lakenheath is a role of which I am proud to have been a part of. It was my first role in civilian life after leaving the Royal Air Force. As a team Jacobs (and the wider delivery partner) have embedded well into the project and collaborated across all partners, building excellent relationships with both the client and contractors.
In 2021, I introduced the project to the use of What3Words, a commercially available geo location application (that is free to use) that subdivides the globe into 3x3 meter squares. Using this application, we can direct people and services to any given location without further need of identification. In military terms we can get a delivery to a building without the driver actually needing any further information other than three words i.e., 'post.script.wagon'. In this way, we can keep locations and equipment non-descript.    
What is some of the best career advice you've ever received?
The best career advice I have been given is to do your best, be honest and be fair in your dealings with others.
You might be interested in...
Join #OurJacobs team
What drives you drives us as we work to build a better world – together. At Jacobs, every day is an opportunity to make the world better, more connected, more sustainable. We're always looking for dynamic and engaged people to join our team. Bring your passion, your ingenuity and your vision.