Meet our Data Solutions Team: A Q&A with Deepak Ambalakandi
Based in Mumbai, Jacobs Associate Director Deepak Ambalakandi leads the Digital Factory team in India. The Digital Factory is a house of professionals who are contributing to the next phase in Jacobs' evolution as a digitally powered provider of wholistic solutions across several verticals.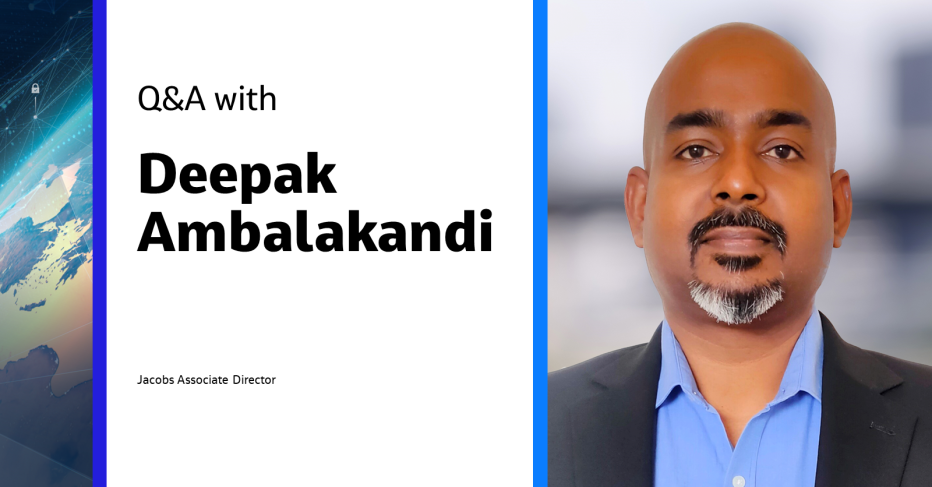 Hi, Deepak. Can you tell us a little about your role at Jacobs?
I am the Digital Lead for the India Global Development Center. In this role, my primary focus is on building a digital technology and innovation hub that works for the global needs across Jacobs. Approximately 90% of our work is dedicated to product build (development and enhancements) and run (support and maintenance.)
While we began the journey with other parts of the organization, we're now excited to be supporting the new Divergent Solutions business unit in areas like StreetLight and beyond in other areas of the world like the Asia-Pacific. The key skills that my team possess are around software development, DevOps & SRE, data engineering and analytics, geospatial development, test, and agile (product management, business analysts, scrum masters) as part of the wider Digital Factory technology talent.
What excites you about Jacobs' strategy, and specifically as part of the Divergent Solutions team?
The digital teams in Jacobs are truly helping to transform the company's 75 years of immense engineering industry domain expertise into digital products and solutions. With the formation of Divergent Solutions, we are pushing ourselves to bring back answers to the question, "What can Jacobs offer clients around digital, more so than being just a traditional engineering company?" I am super exited to be a part of the team who is transforming the engineering industry, in ways similar to what has happened across the rest of the wide variety domains and landscape in the last 10 to 15 years.  
Can you tell us about a project you've participated in that you're especially proud of? 
I can't pick just one, because there are so many exciting things my team is a part of. For instance, we are a part of multiple product squads (InVu, Aqua DNA and Track Record), and we have a team helping develop a pricing calculator solution for StreetLight.
We also have people working on some of Jacobs' internal products (such as PlanCheck, Flood Platform and Kahua.) In addition, we are involved on Jacobs' design automation and the data analytics offerings, as well as consultative billable work. It's just a great time to be at Jacobs.
Can you share a time when you delivered something for a client that exceeded their expectations?
One of the primary expectations of my role was to build and grow the digital Global Development Center team in India, a technology innovation hub. I firmly believe that we met global demands and managed to fulfill the resource needs quickly, in some instances in less than two weeks' time. Our successful growth from zero to about 30 professionals in one year, with some encouraging customer feedback, speaks for the momentum we brought in.
What do you see as the top 2-3 benefits that data solutions can provide to clients?
There are a few that come to mind. For instance, the geographic information systems product and solutions from Jacobs helps our infrastructure clients to analyze structural, environmental and social vulnerabilities, to have a one-stop solution for asset and project management. Additionally, our data-driven insights and solutions help customers get in-depth understanding, historical data, current market trends and tailored models in sectors like transportation and energy. Lastly, some of our data science and predictive analytics solutions help our clients to save significantly on their maintenance project expenditures.
What is some of the best career advice you've ever received?
I have been lucky to have worked with some great leaders, such as Brijesh Vats, Tim Mchugh and Nitin Kansal. What I've learned at Jacobs that is especially applicable for the kind of role that I am playing is to leverage, capitalize and advocate for the great culture of the company. It's the backbone of our sustained business, and it contributes to our growth and our ability to attract the great talent we have in India. People are the core of our business. As a people manager, I've learned it is important to invest time in their wellbeing, to listen and help them on their career growth and aspirations. By doing this, you can produce a highly productive team whom you can lean on.
You might be interested in...