Jacobs Women's Network: Deja Spigner's Story
Finding a sense of belonging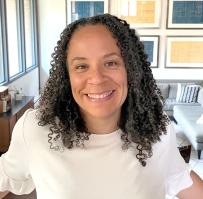 As part of our Boldly Moving Forward Strategy, we're focused on intentionally building deep, trusting relationships for our people and nurturing our inclusive culture, including in how we approach wellbeing. 
Wellbeing is foundational to everything we're able to do and accomplish. We continually evaluate our wellbeing programs and benefits to best support our people – and we're sharing stories of how these programs and tools are helping each of us individually be at our best, so we're able to do more – together.
In this feature, we connected with Lead Account Strategist Deja Spigner to see how she found a sense of belonging with our Jacobs Women's Network
Featured benefit: 
Jacobs Women's Network (JWN)
What prompted you to take advantage of this benefit? 
I joined our local network in Philadelphia, Pennsylvania, U.S., to network with other women in the office and to explore issues specific to women at Jacobs. Through that network, I was able to become a part of the global steering committee, supporting then leading communications and events.
How did it help? 
It helped in numerous ways: 1) I expanded my network, meeting some great people at Jacobs; 2) I gained a more global perspective of the company, learning about challenges for women around the world; 3) I interfaced with key leaders, gathering great insights along the way; and 4) I found an outlet for expressing my values.
What did you like most? 
I've met so many colleagues who care about the world beyond themselves and I am regularly inspired by their efforts and energy.
Are you still part of the network?
Yes, I'm the current Global Communications & Connections Lead for JWN.
What do you want others to know? 
You don't have to be a woman to contribute to the JWN, you just need to care about the women in your life and want to make the world better for them.
"You can have a rewarding career at Jacobs without ever getting involved in the Women's Network or another network, but it won't be as much fun!"
Wellbeing at Jacobs
At Jacobs, the wellbeing of our people is fundamental to our success. When we're each able to be well, our collective power is limitless.
A world where you can is only achievable when we're each functioning at our highest abilities. We can't be our true selves, get our work done, and develop and grow unless our ideal states of being are sustained. We embed wellbeing into all, so we're able to deliver on our purpose – today and into the future.
You might be interested in...
Join #OurJacobs team
What drives you drives us as we work to build a better world – together. At Jacobs, every day is an opportunity to make the world better, more connected, more sustainable. We're always looking for dynamic and engaged people to join our team. Bring your passion, your ingenuity and your vision.