Harambee Employee Network: Omarlie John's Story
Finding a sense of belonging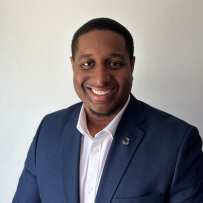 As part of our Boldly Moving Forward Strategy, we're focused on intentionally building deep, trusting relationships for our people and nurturing our inclusive culture, including in how we approach wellbeing. 
Wellbeing is foundational to everything we're able to do and accomplish. We continually evaluate our wellbeing programs and benefits to best support our people – and we're sharing stories of how these programs and tools are helping each of us individually be at our best, so we're able to do more – together.
In this feature, we connected with Civil Engineer Omarlie John to see how he found a sense of belonging with our Harambee employee network.
Featured benefit: 
Harambee Employee Network
What prompted you to take advantage of this benefit? 
Several things prompted me to be a part of Harambee. First off, the literal meaning of the word Harambee- "working together in unity" and the network's tagline "Black. Engaged. Empowered." I wanted to be surrounded by others who not only looked like me but had a growth mindset and wanted to excel in their professional world while making an impact on others in and outside of Jacobs!
How did it help? 
Harambee has given me the ability to bring my passion for helping people into the workspace. I've done this through community outreach programs, recruiting events, resume and mock interview sessions both with internal and external candidates. I've also been stretched beyond my comfort zone by taking on leadership roles within Harambee and in my geography due to the encouragement and support of my Harambee family.
What did you like most? 
Harambee has been a safe space where I can be myself.
Are you still part of the network?
Yes, I currently serve as Global Membership Co-Chair alongside Ella Murphy for the Harambee employee network.
What do you want others to know? 
Everyone should take advantage of Harambee whether you're Black or an ally as we work together in unity to make an impact and real change in our culture and business at Jacobs and the communities we serve! 
"I wanted to be surrounded by others who not only looked like me but had a growth mindset and wanted to make an impact on others in and outside of Jacobs!"
Wellbeing at Jacobs
At Jacobs, the wellbeing of our people is fundamental to our success. When we're each able to be well, our collective power is limitless.
A world where you can is only achievable when we're each functioning at our highest abilities. We can't be our true selves, get our work done, and develop and grow unless our ideal states of being are sustained. We embed wellbeing into all, so we're able to deliver on our purpose – today and into the future.
You might be interested in...
Join #OurJacobs team
What drives you drives us as we work to build a better world – together. At Jacobs, every day is an opportunity to make the world better, more connected, more sustainable. We're always looking for dynamic and engaged people to join our team. Bring your passion, your ingenuity and your vision.