Fertility Healthcare and Family-Forming Benefits: Sarah Shanahan's Story
Supporting our people and their families to be at their best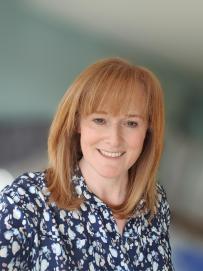 As part of our Boldly Moving Forward Strategy, we're focused on intentionally building deep, trusting relationships for our people and nurturing our inclusive culture, including in how we approach wellbeing. 
Wellbeing is foundational to everything we're able to do and accomplish. We continually evaluate our wellbeing programs and benefits to best support our people – and we're sharing stories of how these programs and tools are helping each of us individually be at our best, so we're able to do more – together.
In this feature, we connected with Director of Operations Sarah Shanahan about her experience with Carrot Fertility (Carrot), our partner for global fertility healthcare and family-forming benefits.
Featured benefit: 
Carrot, our partner to bring free and inclusive fertility healthcare and family-forming benefits to our teammates globally. This tool allows our people the opportunity to virtually chat with experts, explore educational resources, find a vetted provider and use employer-sponsored funds to pay for certain benefits. We're providing support for understanding fertility health, adoption, assisted reproduction, pregnancy, surrogacy, menopause, low testosterone and more.
What prompted you to take advantage of this benefit? 
Services for sound advice for women as they experience peri menopause and menopause are at best patchy and at worst totally absent. Services are usually excluded from private healthcare schemes, making it tough to get access to good advice and support. The 70 symptoms of this phase of life can be overwhelming and regularly lead to women feeling they have no option but to give up their career.
How did it help? 
Accessing a Carrot advisor provided instant, qualified advice, guidance and support. The tool signposted me to further practical sources of medical intervention. In my experience, this kind of personal input and time is not available through regular healthcare channels.
What did you like most? 
The sense of having a trusted advisor to walk alongside me, listen, hear me and validate my thoughts and experiences. Through this benefit, I gained reassurance and a clear path forward.
Are you still using Carrot?
Having established contact, I know that if I need to at any time, I can reach out again to follow-up on the session and to seek additional help.
What do you want others to know? 
There is no need to suffer in silence. This kind of advice and support can be life-changing in terms of your career and your homelife. Talking to someone who is truly an expert, has the time to listen and consider your situation in full, and point you to the right medical input in a timely manner, makes life easier.
"Reproductive health can have significant emotional and physical impact on anyone, at any stage of life. Access to timely, expert advice can literally be the difference between surviving and thriving."
Wellbeing at Jacobs
At Jacobs, the wellbeing of our people is fundamental to our success. When we're each able to be well, our collective power is limitless.
A world where you can is only achievable when we're each functioning at our highest abilities. We can't be our true selves, get our work done, and develop and grow unless our ideal states of being are sustained. We embed wellbeing into all, so we're able to deliver on our purpose – today and into the future.
You might be interested in...
Join #OurJacobs team
What drives you drives us as we work to build a better world – together. At Jacobs, every day is an opportunity to make the world better, more connected, more sustainable. We're always looking for dynamic and engaged people to join our team. Bring your passion, your ingenuity and your vision.