Enlace Employee Network: Manuel Calderon's Story
Finding a sense of belonging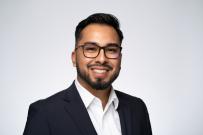 As part of our Boldly Moving Forward Strategy, we're focused on intentionally building deep, trusting relationships for our people and nurturing our inclusive culture, including in how we approach wellbeing. 
Wellbeing is foundational to everything we're able to do and accomplish. We continually evaluate our wellbeing programs and benefits to best support our people – and we're sharing stories of how these programs and tools are helping each of us individually be at our best, so we're able to do more – together.
In this feature, we connected with Community Relation and Engagement Lead for North Texas Manuel Calderon to see how he found a sense of belonging with our Enlace employee network.
Featured benefit: 
Enlace Employee Network
What prompted you to take advantage of this benefit? 
Enlace along with the rest of the Jacobs Employee Networks (JENs) have been a great resource from the start of my career at Jacobs as it was a great transition from college. Since I've always been involved in extracurricular activities, joining a company with strong employee resource groups was essential to creating an environment in which I could grow and thrive.
How did it help? 
Enlace has given me a voice from the start of my career, showing that Jacobs offers leadership positions to all of our employees from the start of their careers. Also, most importantly to me, it gave me a community of like-minded individuals with similar upbringings and understand the unique challenges we face as Latinos.
What did you like most? 
To me, the sense of belonging and community is what I like most along with the education and commitment to our Latino communities. From day one, everyone within Enlace was extremely welcoming and clear that we all had the same mission in mind. When I wanted to start doing more STEAM outreach events, Enlace was key for supporting this and was a great network to meet others to bounce ideas with.
Are you still part of the network?
Yes, I now serve on the global leadership team as the Sustainability Committee Co-lead along with Yari Escobar.
What do you want others to know? 
The main aspect that I want others to know about is that no matter where you come from, how you identify, or what career goals you have in mind you have a place here at Jacobs and you will also have a platform where your voice will be heard. However, it all begins with you being engaged with the JENs and other many amazing programs Jacobs offers.
"Inclusion not only nurtures diverse voices but also develops extraordinary leaders. At Jacobs, our employee networks play a pivotal role in unlocking the leadership potential within each of us."
Wellbeing at Jacobs
At Jacobs, the wellbeing of our people is fundamental to our success. When we're each able to be well, our collective power is limitless.
A world where you can is only achievable when we're each functioning at our highest abilities. We can't be our true selves, get our work done, and develop and grow unless our ideal states of being are sustained. We embed wellbeing into all, so we're able to deliver on our purpose – today and into the future.
You might be interested in...
Join #OurJacobs team
What drives you drives us as we work to build a better world – together. At Jacobs, every day is an opportunity to make the world better, more connected, more sustainable. We're always looking for dynamic and engaged people to join our team. Bring your passion, your ingenuity and your vision.