Careers Network: Amanda Roach's Story
Finding a sense of belonging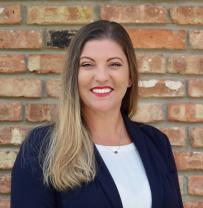 As part of our Boldly Moving Forward Strategy, we're focused on intentionally building deep, trusting relationships for our people and nurturing our inclusive culture, including in how we approach wellbeing. 
Wellbeing is foundational to everything we're able to do and accomplish. We continually evaluate our wellbeing programs and benefits to best support our people – and we're sharing stories of how these programs and tools are helping each of us individually be at our best, so we're able to do more – together.
In this feature, we connected with Organizational Change Management Lead Amanda Roach to see how she found a sense of belonging with our Careers employee network.
Featured benefit: 
Careers Network
What prompted you to take advantage of this benefit? 
I desired more out of my career at Jacobs. I had heard the term 'agile careers' a lot and thought the network would be a great avenue to learn and grow, while possibly helping others do the same.
How did it help? 
In my year as a Chapter lead for North Texas-Oklahoma, I was able to engage with many leaders and people across the business which grew my knowledge of Jacobs, identify areas for personal development and make some key mentoring connections (both as mentor and mentee) that have started to propel my career.
What did you like most? 
It's an ongoing endeavor, but I have enjoyed getting to host sessions with people from all walks of the business and getting opportunities to really be myself, be inquisitive, and show others that agile careers are possible, and I think highlighting that your career journey is what you make it.
Are you still part of the network?
Yes! I was recently appointed as the new term Global Chair along with my two counterparts, Samantha O'Farrell and Anna Gudowska. Pretty excited!
What do you want others to know? 
Dive in, meet new people and just DO. Do anything. The only way people will know you want a new role or are interested in something different is if you tell them. Give people a reason to remember you. It only takes a tiny mustard seed to grow into something big.
"It only takes a tiny mustard seed to grow into something big."
Wellbeing at Jacobs
At Jacobs, the wellbeing of our people is fundamental to our success. When we're each able to be well, our collective power is limitless.
A world where you can is only achievable when we're each functioning at our highest abilities. We can't be our true selves, get our work done, and develop and grow unless our ideal states of being are sustained. We embed wellbeing into all, so we're able to deliver on our purpose – today and into the future.
You might be interested in...
Join #OurJacobs team
What drives you drives us as we work to build a better world – together. At Jacobs, every day is an opportunity to make the world better, more connected, more sustainable. We're always looking for dynamic and engaged people to join our team. Bring your passion, your ingenuity and your vision.