Prism Employee Network: Vigor Lam's Story
Finding a sense of belonging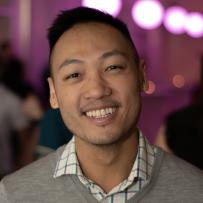 As part of our Boldly Moving Forward Strategy, we're focused on intentionally building deep, trusting relationships for our people and nurturing our inclusive culture, including in how we approach wellbeing. 
Wellbeing is foundational to everything we're able to do and accomplish. We continually evaluate our wellbeing programs and benefits to best support our people – and we're sharing stories of how these programs and tools are helping each of us individually be at our best, so we're able to do more – together.
In this feature, we connected with Project Engineer Vigor Lam to see how he found a sense of belonging with our Prism employee network.
Featured benefit: 
Prism Employee Network
What prompted you to take advantage of this benefit? 
When joining Jacobs back in December 2021, I knew I wanted to be part of a smaller (but also large) community of LGBTQ+ professionals across the globe that were building community both online and in different regions/states. I was fortunate to know a fellow Prism member (Daniel Souza) prior to starting at Jacobs. He got me plugged in immediately!
How did it help? 
At my former company, there weren't employee network groups dedicated to identities (e.g. racial, gender/sexuality) – so it was important for me to join a company that believes in this type of community and providing space for these respective identities. In joining Prism, I immediately felt connected to our global firm – from chatting with our Global Co-Chairs in the U.K./U.S. to the Americas Chair in Canada, knowing that this community exists, and what our JEN is advocating for in regions on behalf of colleagues that don't feel as safe to be themselves, is so powerful.
What did you like most? 
I love connecting with the colleagues I wouldn't be able to interact with on a daily/weekly/monthly basis otherwise because they are in different regions and business units. The leaders of Prism truly care for our wellbeing and helping members live authentically in and out of work.
Are you still part of the network?
Yes! I currently serve as the Americas Engagement Lead – so I'm supporting our Americas region to create external partnerships with other firm's LGTBQ+ employee network groups, as well as LGBTQ+ organizations. One of the main organizational relationships I've helped cultivate is with BuildOUT, an industry association focused on connecting small/local LGBTQ+ firms with architecture, engineering and construction firms like Jacobs.
What do you want others to know? 
Being part of a global company there are so, so many opportunities at Jacobs! Be open and learn about all the different communities and groups we have (e.g. Jacobs Employee Networks, Communities of Practices, business units, regions.) Seek and reach out to colleagues in a common interest/regional area and connect. Also, know that Jacobs has so many great leaders who want you and our company to grow!
"Being part of a global company there are so, so many opportunities at Jacobs!"
Wellbeing at Jacobs
At Jacobs, the wellbeing of our people is fundamental to our success. When we're each able to be well, our collective power is limitless.
A world where you can is only achievable when we're each functioning at our highest abilities. We can't be our true selves, get our work done, and develop and grow unless our ideal states of being are sustained. We embed wellbeing into all, so we're able to deliver on our purpose – today and into the future.
You might be interested in...
Join #OurJacobs team
What drives you drives us as we work to build a better world – together. At Jacobs, every day is an opportunity to make the world better, more connected, more sustainable. We're always looking for dynamic and engaged people to join our team. Bring your passion, your ingenuity and your vision.