Prism Employee Network: Rose Lew Tsai-Le Whitson's Story
Finding a sense of belonging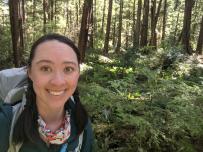 As part of our Boldly Moving Forward Strategy, we're focused on intentionally building deep, trusting relationships for our people and nurturing our inclusive culture, including in how we approach wellbeing. 
Wellbeing is foundational to everything we're able to do and accomplish. We continually evaluate our wellbeing programs and benefits to best support our people – and we're sharing stories of how these programs and tools are helping each of us individually be at our best, so we're able to do more – together.
In this feature, we connected with Project Manager and Senior Biologist Rose Lew Tsai-Le Whitson to see how they found a sense of belonging with our Prism employee network.
Featured benefit: 
Prism Employee Network
What prompted you to take advantage of this benefit? 
I identified as queer long before I joined Jacobs and before I felt comfortable being open in a professional setting. I joined initially as a she/her, with the idea that I would be able to connect with other queer people at work, help with inclusion at work if the opportunity seemed "right," and to learn from others.
How did it help? 
Two of my major inspirations were seeing my work colleagues Brooke O'Neill and Tess Amen step up to lead our local chapter of Prism, Jacobs' employee network for LGBTQ+ people and their allies. As someone who identifies as part of the LGBTQ+ community, I find Prism empowers me to be my authentic self and to take an intersectional view of inclusion, where I can be an ally to other people of color and use my identity to help advocate for queer people like me within those communities. 
What did you like most? 
I love how Prism provides community by hosting both joyful events like the comedy showcases balanced with serious conversation about how to navigate challenges at work like getting family planning benefits or both a safe space to discuss scary events, like transphobic legislation sweeping over the U.S.
Having recently joined the nonbinary club officially, I can also say without a doubt that my interactions with Prism over the last six years definitely played a role in crystalizing my feeling like I am "queer" enough, and that even though I present as femme, I can still be nonbinary – in my head, I've only ever been a person. Thank you, Prism for playing a part in my personal journey, whether you knew it or not!
Are you still part of the network?
Yes!
What do you want others to know? 
The Prism community is fabulous! Without Prism, there is a non-zero chance that I would have left Jacobs many moons ago.
"Together we can make the world a better place for people of any race, gender identity, sexuality or ability. At the end of the day, we are all people looking to thrive. If we participate in society, I feel we are bound by our social contract to lift up the most impacted of us, including consideration of our individual self and as best we can in our work and in our day-to-day personal lives."
Wellbeing at Jacobs
At Jacobs, the wellbeing of our people is fundamental to our success. When we're each able to be well, our collective power is limitless.
A world where you can is only achievable when we're each functioning at our highest abilities. We can't be our true selves, get our work done, and develop and grow unless our ideal states of being are sustained. We embed wellbeing into all, so we're able to deliver on our purpose – today and into the future.
You might be interested in...
Join #OurJacobs team
What drives you drives us as we work to build a better world – together. At Jacobs, every day is an opportunity to make the world better, more connected, more sustainable. We're always looking for dynamic and engaged people to join our team. Bring your passion, your ingenuity and your vision.