Meet Susan Moisio
Aurora, Indiana, U.S.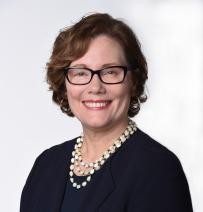 As Jacobs Global Water Market Director, Susan Moisio leads our team of more than 9,000 visionaries and doers to develop innovative, sustainable and comprehensive solutions for tomorrow. She is an advocate for the OneWater approach, with no new water on Earth, communities cannot afford to waste this precious resource.
Susan and the team of technologists she leads are committed to providing clients world-leading technical and environmental expertise to address complex challenges across drinking water, wastewater, desalination, conveyance and flood control challenges with Jacobs' OneWater approach to water management.
Named one of the top 40 influencers in the water industry by Global Water Intelligence (GWI), Susan is also the go-to person for wet weather and conveyance solutions. She works tirelessly to share her expertise as a mentor within Jacobs as well as by giving back to the water industry.
"A one water approach opens our teams to view all water as a resource, not as stormwater, wastewater, drinking water or water for industry but as one water; we really start to innovate when we engage with digital, health or the environment teams. From the largest water supply project in California to overflow control in London to total water management in Singapore, with a one water mindset, our teams work to protect and give communities, industries and regions access to the resource they need to flourish and expand."
Susan is a technology fellow and a 30+ year member of the Water Environment Federation (WEF), past Chair of WEF's Collection Systems Symposium, Technical Practices Committee and the recipient of the WEF and Ohio Water Environment Association's Golden Manhole Awards for service – a testament to her background and expertise in the field.
Susan has gained significant industry experience serving as the Conveyance Senior Technical Consultant for the Miami-Dade County Water and Sewer Department Ocean Outfall Legislation Program - a $5.7 billion, 11-year program to eliminate all wastewater discharge to the Atlantic Ocean by 2025; Baton Rouge's $2 billion Wet Weather Program, Las Virgenes Pure Water Program and the Northern Kentucky $100 million SSO Tunnel.
Internationally, Susan is well recognized for her work on the Thames Tideway Tunnel Program in London, U.K. – an iconic program that will reduce overflow into the Thames River; as well as her involvement in VCS's integrated CSO model which includes Odense, Denmark's collection system, combined and storm, river and treatment works.
Now with 34 years of experience in wet weather management, Susan remembers how it all got started.
Right out of college, she accepted a position with the Cincinnati Metropolitan Sewer District, as an engineer in the wastewater collection division – the division responsible for collecting all the wastewater for 3,000 miles of sewer in the Cincinnati Metropolitan area.
In the 16 years Susan spent working in Cincinnati's Wastewater Collection Division, she gained invaluable knowledge and hands-on experience in hydraulic modeling, SSES studies, rehabilitation projects, emergency response and combined sewer overflows and sanitary sewer overflows operation and management that prepared her for a career move to the consulting industry.
On Miami's Ocean Outfall Legislation Program, Susan learned about climate change impacts, developing a one water approach to solving problems which she brings to the Las Virgenes Pure Water Program. The Pure Water Program develops a full water cycle approach to water supply and improving water quality.
Susan is a life-long learner, never afraid to try something new and always willing to step out of her comfort zone. She's humble, gracious and kind and leads by example. She recognizes that she can learn from people at every level of the organization and works to give her team the opportunity to shine. Susan's passion for her work, the industry and her dedication to her staff has led to Jacobs' No. 1 industry rankings by several third-party organization. Under Susan's leadership, Jacobs has been named the No. 1 trenchless engineering firm for the past five years, and she has spearheaded the team's focus on the many innovations in this field.
Her commitment to making the world a better place by protecting the environment is the underlying driver for her dedication to this industry and what inspires her innovation in her work and leading her team to develop the solutions for tomorrow.
34

+

years of experience in wastewater, sanitary sewer systems and combined sewer overflows

2019

the year she was named to GWI Magazine's Top 40 Water Technology Power List

1.5

K+

abstracts reviewed for WEFTEC while serving on the Program Committee

200

trees planted this year on the Moisio Farm in Indiana
More from Susan
Featured content
Listen: Susan guests on Jacobs Inflection Points podcast