Meet Katie Godfrey
London, England, U.K.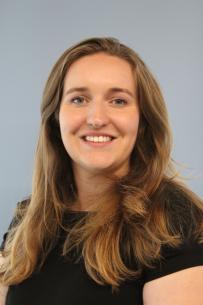 Katie Godfrey attended the University of Cambridge where she earned a Bachelor of Arts and Master of Engineering in chemical engineering and biotechnology. After graduating in 2015, Katie joined the business development team at a rail transport company before joining Jacobs in 2019.
As Principal Consultant in Jacobs' Strategic Consulting team, Katie works with transport clients on projects spanning smart cities to mega projects for airports on whole-of-industry's strategy right down to the small toll routes. She is currently working with Great British Railways on their 30-year strategy for the U.K. rail industry.
One of the ways that Katie seeks to create value for her clients is by challenging assumptions and introducing different ways of thinking in order to set a new vision and deliver transformational change. In particular, she is incredibly passionate about how the built environment effects the people that live in it, and this shines through in the way she approaches projects.
"Transportation is a great example because its sole purpose is to move people from one place to where they want to be. The question is, how can we make sure that is as easy as possible, and that it serves the whole of society? For me, delivering inclusive infrastructure starts with the project teams which should reflect the communities we work in. We need both diversity of people and diversity of thought within our leadership and delivery teams to deliver the best outcomes to our clients and to society."
When not working, Katie can usually be found doing something physically active. She enjoys playing rugby, cycling, hiking and weightlifting and is a committed coach for her local Under15's girls rugby team. She is also an amateur wine buff and holds a WSET Level 3 Award in Wines.
Things to know about Katie
1200

number of cows on the dairy farm where Katie grew up

98

miles

the length of the West Highland Way she hiked in 2019

4

the number of times she has broken her nose playing rugby
On being part of the #OurJacobs family
Jacobs' focus on inclusion and diversity in the workplace and the support for people to bring their whole self to work is one of the things Katie appreciates most about being part of Jacobs. On joining Jacobs, she says:
"Rail can be very male dominated industry so, initially when I joined Jacobs, I was just pleased to be part of a team that was roughly half women. Now, I love how open and accepting everyone is. I never expected to feel comfortable coming out at work, and now I'm happy and very open being a gay woman within Jacobs."