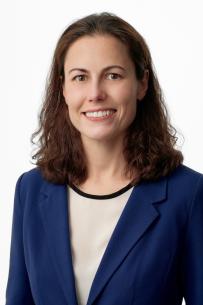 As a dochitect – that's a doctor + architect – Dr. Diana Anderson is triple board-certified as an internist, geriatrician, and a healthcare architect.
With this unique worldview, she pushes the norm by rethinking hospital design with a mindset of how to improve patient and staff environments, and overall wellbeing by utilizing research and clinical data. And here at Jacobs, she's a key health and hospitals infrastructure advisor.
She earned her Bachelor of Science in architecture and Master of Architecture from McGill University, Montreal, Canada, before pursuing her Doctor of Medicine from the University of Toronto, Canada. She completed her internal medical residency training at New York-Presbyterian Hospital, Columbia University Medical Center.
Dr. Anderson has worked on hospital design projects globally and is widely published in both architectural and medical journals, books and the popular press. She also completed her geriatric medicine fellowship at the University of California, San Francisco and an advanced fellowship in geriatric neurology and research at the Veterans Affairs Medical Center in Boston. She is currently an Assistant Professor of Neurology at Boston University.
"Alongside design, medicine had always appealed to me as a humanistic field and offered an opportunity to help people in the most vital aspect of their lives – their health."
She is the recipient of an Alzheimer's Association Clinician Scientist Fellowship award to study how the homes and communities of older adults can affect cognitive, social, and mental health. Her hybrid career model integrates clinical practice alongside design research and project work to improve patient experience and public health. As a past Fellow at the Harvard Medical School Center for Bioethics, she also explores space design and ethics.
Dr. Anderson is the Co-Founder of Clinicians for Design (CfD), an international network of leaders which seeks to inspire and accelerate the design of environments and systems. CfD offers a unique forum for clinicians to apply their insights and experience in "design thinking" that serves medical practice, and the evolution of policies that will enhance patient and provider outcomes to help shape the future of hospitals, medicine and healthcare. She is also in the process of developing and growing the Mass General Brigham (MGB) Health Design Lab, based in Boston. The lab's mission is to leverage the collective intelligence of clinicians and designers to solve healthcare's greatest challenges, advancing the interface between healthcare and design across four domains: Research, Education, Practice, and Policy.
In 2018, she was recognized for her contributions to the field by the American Institute of Architects' Academy of Architecture for Health U40 List of Healthcare Design's Best under 40. More recently, Dr. Anderson was elected to the Council of Fellows by the American College of Healthcare Architects' Board of Regents, an honor held for those that exhibit and represent the highest standards of the health design profession.
Get to know Diana
500

+

Diana Andersons on LinkedIn, but only one Dochitect

1

cat, named Madison

5

K+

followers on her @dochitect handle

7

cities lived in (Montreal, Toronto, Houston, Brisbane, New York, Boston and San Francisco)

100

km

farthest distance cycled (from Brisbane, Australia to the Gold Coast)