How Will COVID-19 Change Healthcare Design?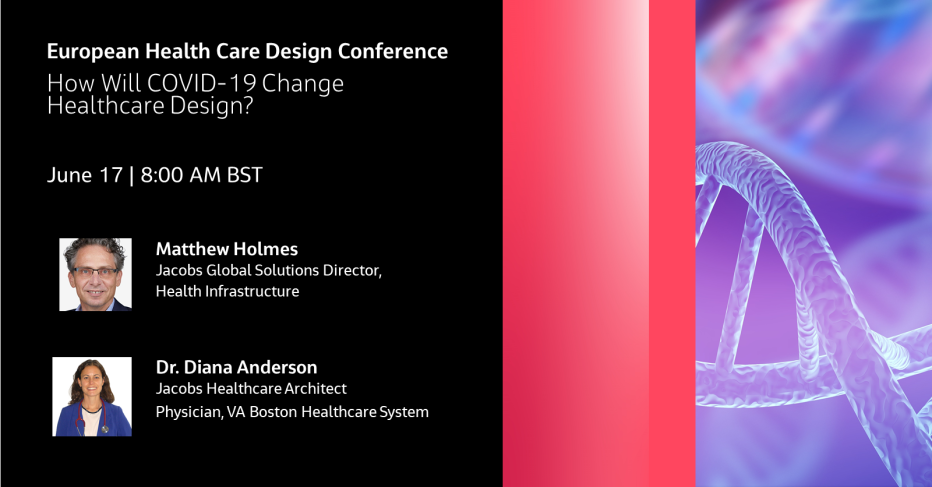 How and where we access health care is changing rapidly due to the pressures COVID-19 has brought to bear on our health services globally. One of the changes has been in health facility design, according to Jacobs' Director of Health Infrastructure Matthew Holmes and Healthcare Architect and Physician Dr. Diana Anderson.
The two will join the annual European Health Care Design Conference for a virtual presentation based on their paper, "How will COVID-19 change healthcare design?", published in Design Museum magazine.
Ahead of the presentation, which will be part of the June 17th session on "Pandemic resilience: design strategies and response," Diana and Matthew share their thoughts on how COVID-19 has and will continue to shape healthcare design:
"The pandemic has made it clear that our current healthcare facilities were not necessarily designed or configured to support increased patient volumes," shares Diana, who in addition to her role at Jacobs, is also a practicing physician at VA Boston Health System. Some hospitals were faced with crisis such as shortages of Intensive Care Unit (ICU) spaces, which led to Jacobs, in partnership with the World Economic Forum, Massachusetts Institute of Technology and others designing a project to convert shipping containers into plug-in ICU pods to treat intensive-care patients.
"These makeshift solutions brought to the forefront unforeseen design issues during a time of crisis," adds Matthew. "Most likely, redefining the future of health care may include a mixed, distributed model consisting of central headquarters workspaces, with dispersed hubs and centers coupled with remote, virtual work. This model may allow for easier staff and patient access, flexible working, and organizational resiliency, so healthcare facilities can be prepared for the next emergency or pandemic."
Organized by Architects for Health and SALUS Global Knowledge Exchange, the European Healthcare Design 2021 Congress & Exhibition will be held virtually from June 14-17, 2021. Architects for Health was formed in 1992 as a nonprofit organization for architects and others interested in the design and planning of healthcare facilities. SALUS is a global media, publishing, research, events and training organization with a vision to improve human and planetary health by design.
Can't make it to the event? Find out more about Jacobs' health market and solutions on jacobs.com.