Thought Leadership
Feb 1, 2023
Jacobs AgilePod®-26: Innovation Takes to the Skies
Jacobs' Director of Airborne Programs, Dr. Anthony DeLuca showcases high-flying innovation in the following piece about Jacobs' AgilePod®-26, a standards-based multi-mission pod designed to carry Intelligence, Surveillance, and Reconnaissance (ISR) and Over The Horizon (OTH) communications payloads, capable of being flown on Defense Department patrol class and civilian derivative aircraft.
The U.S. Department of Defense (DoD) has a well-documented history of delivering critical technological advancements to our warfighting heroes, shaping the course of modern warfare since the early 20th century. The United States has unrivaled intellectual capabilities to solve evolving and challenging operational problems.
The nature of the government's system of checks-and-balances, however, has resulted in delivering new technologies and weapon systems over-budget and often late to need. This is because the defense acquisition system is comprised of a highly regulated procurement, development, test and qualification process designed for large generational procurements that expect levels of quality necessary to deliver decades of service. Regrettably, the acquisition process is not terribly responsive to other needs with less stringent requirements and more urgent delivery.
The Jacobs AgilePod®-26 (AP-26) attempts to address the problem of long acquisition and fielding timelines and cost prohibitive procurements. The Jacobs-designed AgilePod will cut years off the DoD airborne sensor payload integration and certification acquisition timeline and will aggressively eliminate cost prohibitive aircraft certifications – it is a true capability delivery model.
A persistent impediment that airborne store designers must account for when introducing a new capability to the military flight community is obtaining an airworthiness certification (AWC). The AWC process has matured and evolved since the beginning of armed aerial combat to minimize operational risk and avert mishaps to protect the aircrew and the aircraft. Though it is a necessary and critical process, it is also a time consuming and expensive process that can take several years to complete.
A question we often get asked is, "What is the process to go from an 'idea' to a fielded solution after the warfighting community establishes a new requirement or identifies a capability gap?"
The most traditional approach is for the developer to work with combatant air commands to build interest and sponsorship by demonstrating how their product can meet outstanding requirements or fill existing capability gaps; get customer buy-in to staff their needs through the complex DoD acquisition system; and work with the budget system to build a multi-year funding profile to initiate a program to field a new airborne capability. 
Typically, that process is repeated for every new sensor payload, aircraft modification or weapon system on every different airborne platform. Since every airplane is designed for different missions and produced by a handful of prime contractors, a custom-tailored integration solution must be developed for each different platform or variant, and a custom AWC process developed for each. This creates a vicious loop of engineering design, numerical analysis, test article production, engineering ground tests, flight test, data analysis and certification before final certification is tendered to initiate limited article production and capability delivery to the warfighter.
Applying agility to the process of operationalizing relevant, functional and desirable tech-insertions requires incorporating agile acquisition and engineering principles from the beginning of the requirements generation process. The Air Force Life Cycle Management Center (AFLCMC) is attempting to create that sort of dynamic acquisition responsiveness through its family of AgilePods (Jacobs was a key developer of the concept dating back to the original AgilePod effort with the Air Force Research Lab.)    
Three relevant problems Jacobs is assisting the Air Force to answer are:
How can the DoD deliver an airborne capability to the aircrews without redesigning the structure holding each payload?
Can Jacobs simplify, standardize and streamline the process of certifying that external vessel on a group or family of aircraft today and into the future?
What is the right developmental culture to encourage rapid development of new solutions for problems that are yet to be defined?
Limit reinvention
Jacobs identified that a majority of the repetitive and time-consuming efforts rested in developing unique mounting solutions (whether incorporated internally or externally mounted) for each new payload and for each type of fleet aircraft.
More broadly speaking, if for example the ACME Company developed a novel airborne data and communications system comprised of an antenna, receiver and processer, they would traditionally engage with the different aircraft procurement and sustainment offices and design a custom packaging and integration solution to host that data/comms node on that specific platform.
If that process takes roughly five to seven years to complete before first article testing begins, and there are ten other similar, but different, aircraft types (KC-135, KC-10, KC-46, C-130, C-17, P-3, B-52, etc.), it is easy to see how it could take a few decades to field that initially novel data/comms system across all of the different, but in-class aircraft.
There is a high possibility that data/comms system will be either obsolete or require significant technology upgrades before it is completely fielded. This decision, made early in the acquisition process, inexorably commits the DoD to fielding a single-use installation designed for a single platform. This decision further limits system evolution because these custom installation solutions are generally proprietary, resulting in vendor-lock and expensive lifetime system costs.
Jacobs used a disruptive model mentality in designing AgilePod to be compatible with an entire class of aircraft so that its design was, is and will remain inclusive of ALL the different patrol, refueling and airlift aircraft type, and their variants, equipped with common external stores mounting equipment from the beginning. Jacobs' agile design methodology gives the government maximum payload and aircraft carriage flexibility.
Tying a capability to a single platform and a single proprietary interface, years before adversary capabilities are known and employment tactics are developed, creates a self-induced handicap that limits an originally ubiquitous innovation. Creating a family of payload and platform agnostic stores, right sized for a variety of capability and aircraft classes, Jacobs engineers have developed complimentary external payload solutions that are ready to accept today's and tomorrow's latest airborne payload innovations, greatly increasing the speed between original invention, capability refinement and field deployment.
Simplify certification
Jacobs designed the pod around a class of aircraft, with a structural substantiation package tailored for a wide range of installation and integration configuration options. It is ready to accept SOSA-compliant interfaces, creating a truly collaborative payload ecosphere.
Jacobs' innovative approach created this collaborative payload environment by establishing a minimum set of air worthiness compatibility criteria that set compartment weight, center-of-gravity and mass distribution boundaries, and if payload manufacturers remain within those bounds, the pod and payload retain the original Jacobs air worthiness certification. The Air Force loosely described this concept as a desire to field a multi-functional open standards-based enterprise-level pod to transition into a nomenclatured program of record.
The vision of the entire DoD AgilePod enterprise was to create a family of different sized, open-system, standards-based pods, designed around different aircraft classes, to streamline the path to deliver new innovations at the speed of relevance. If a patrol class aircraft, air refueler, military airlift, civilian derivative aircraft or heavy bomber is equipped with external store suspension equipment rated to 1,500 pounds then it is eligible to carriage a missionized AgilePod-26, creating a true 'Swiss-Army Knife' in the air. If the next revolution in autonomy, machine learning, long range persistent surveillance or airborne satellite communications protocols can be configured to fit in the AgilePod-26 86" L x 26" W x 28" H midbody bay and/or in the additional 11.7 ft3 of  nose and tail volume, and can be kept within the pod's mass and CG bounds, that future system is one of several possible configurations covered by the SEEK EAGLE limited flight clearance request Jacobs submitted for that class of aircraft.
New solutions for undefined problems
Jacobs' AgilePod-26 prototype units #1 (PR-01) and #2 (PR-01, #2) have been delivered to AFLCMC/WING under the AgilePod Enhancement Program (AEP) Phase 2 contract. PR-01 has been fully integrated with the Tactical Edge Networked Targeting at Contested Long Range Environment (TENTaCLE) payload for Air Force Global Strike Command and is scheduled for its maiden voyage mounted on a B-52H with the 49th Test Squadron later this month. Pod #2 is scheduled to be delivered to another payload vendor later this year.
Jacobs has also designed, built and delivered several sets of ground support equipment, spare end-cone sets and internal equipment rack system designed to accept standard 19" sensor equipment throughout the pod. AgilePod-26 was developed using model-based digital engineering following MIL-STD-8591, in harmony with the DoD Digital Engineering Strategy. Jacobs' final act of empowering the warfighter to deliver ultimate flexibility in its open standards design architecture is to deliver its AgilePod designs with Unlimited Data Rights. The company is in the process of readying its partners to accommodate production at scale as multiple large-aircraft communities continue to express interest in adding their requirements to the mix.
Jacobs AgilePod-26 design is ready to tackle the fight of the future by empowering payload designers to concentrate on what they do best—design leading edge capabilities to tilt the scales of conflict in our favor. Jacobs is here to ensure that capability gets integrated and fielded as quickly and as cost-effectively as possible.
About the author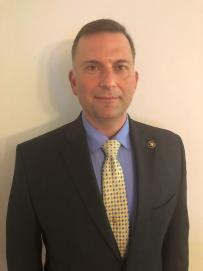 Dr. Tony DeLuca is the Director of Airborne Programs in the Rapid Solutions performance group of Jacobs' Divergent Solutions operating unit. He has over 25 years of engineering, operations and executive leadership experience in both government and commercial capacities across several technology domains. Tony retired from the United States Air Force in the grade of Colonel. During his military career he held several technical, flight test and academic leadership positions in the Air Force and the intelligence community. He served as the deputy Chair of the Department of Aeronautics and Astronautics and later as the Dean of Students at the Air Force Institute of Technology. Tony earned his undergraduate degree in Mechanical Engineering from The U.S. Military Academy at West Point, and obtained an MBA in technology management, an M.S. in aeronautical engineering, and a PhD in aerospace engineering from the Air Force Institute of Technology. Tony is a graduate of the National Test Pilot School and an instrument-rated commercial pilot. He lives in Sterling Heights, Michigan with his wife and family, where he enjoys big game hunting, training bird dogs and coaching high school football at Bay City Western High School. 
You might be interested in...