Q&A: Talking with Yvonne Lynam, Health, Safety & Environment Director for Advanced Facilities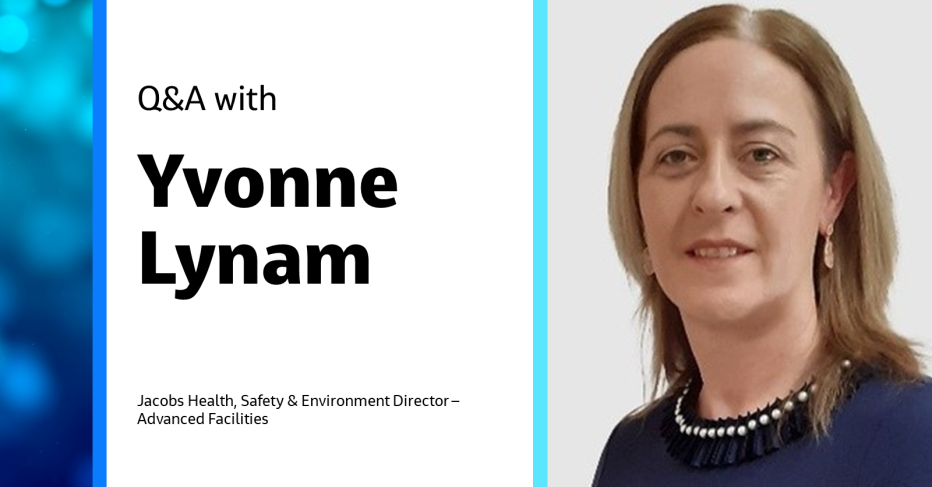 As Jacobs' Health, Safety and Environment (HSE) Director for Advanced Facilities, Yvonne Lynam works closely with HSE, construction and operations teams across the business to standardize global HSE practices. She also partners with BeyondZero teams and Positive Mental Health Champions to continue evolving Jacobs' Culture of Caring. She first joined Jacobs in 2000 and returned in 2012 as an HSE Manager supporting key construction projects in Ireland and Switzerland.
In honor of International Women in Engineering Day, we're connecting virtually with our team of engineering heroes around the world to showcase their careers and how each of them helps Jacobs live up to our promise of Challenging today. Reinventing tomorrow.
For this feature, we talked with Yvonne about her path to a STEAM career, giving back as a mentor, and why everyone around her is a hero.
Tell us a bit about what you're working on these days.
All sorts of things! We have a lot of exciting projects in design and being constructed at the minute, so we're busy ensuring that safety is integrated into each stage of these. There's also lots of work happening in the HSE in Design space as part of our de5ign program, which you will see more of over the coming weeks.
We're also in the process of re-opening some of our offices after the COVID-19 remote working period, so the HSE team has a big part to play in ensuring our workplaces are as safe as can be. There's also an emphasis this coming year on improving training for our people. Lots of diverse topics!
What's your favorite part of your role?
How diverse it is. No two days are the same, which I love. I have a project delivery background, so there's a part of me that will always love getting out to our sites to check in on our people and see what we're doing. Mostly, I love how connected I am to so many people from so many backgrounds – we're all doing different things but working towards the same goal and supporting each other along the way. And on a personal level, I really enjoy passing on my knowledge and experience to others. I wouldn't be where I am if people hadn't seen my potential and given me opportunities. Now it's important that I do the same for others.
We're publishing this article in honor of International Women in Engineering Day and this year's theme is Engineering Heroes. Who are some of the heroes who inspired you to pursue a career in STEAM?
My heroes are the people around me, whether family or work colleagues. If you have an open mind you can learn from everyone.
I started as an administrator on a large pharmaceutical project and, while I enjoyed the work I was doing, I knew I was capable of more. Thankfully a few of my colleagues knew it too, and they encouraged me to go back to college part-time and mentored me as I gained site experience. At the end of the project I had a formal qualification, four years of experience and was on the road to being a fully-fledged HSE professional. If it wasn't for those people I wouldn't have known where to start and with the help of some others I've met along the way I wouldn't have developed to the point that I could fulfil my current role. Not all heroes wear capes – some of them are the people closest to you.
When you think of engineers or engineering as a hero, what does that mean to you?
The industry we work in is full of heroes. We design, build and commission facilities that make a real difference to people and the world around us – whether that's drug manufacturing facilities, infrastructure, water. That's something to be proud of.
And we can't forget all the other great things we do – charity work, environmental and mental health and wellbeing initiatives, embracing inclusion and diversity and standing up for our people and beliefs. These are all heroic in their own way.
If you aren't working, what would we be most likely to find you doing?
I have a seven year old daughter, so most of my free time is spent with her. We love to get outdoors as much as possible, though living in Ireland that's not always helped by the weather! When it's raining, you can't beat a cozy movie day.
When I have a day to myself, I like to combine it catching up with friends and hiking. I walked a section of the Camino de Santiago two years ago and can't wait to be able to travel freely again and do some more.
Most interesting career moment?
It was great to travel to Dallas, Texas in 2019 to represent the Biogen project team when we were awarded a Chair and CEO Safety Leadership of the Year Award. That was a very proud moment for the team.
Most proud career moment?
It's a great feeling when you get to handover stage of a project and know you've played a part in getting it completed safely. Even better in Advanced Facilities because we design and build facilities which will manufacture life-changing products and sometimes life-saving drugs that people will benefit from. This makes me proud to do what I do and spurs me on to keep doing it to the best of my ability.
On a personal level, I am proud when I see someone I mentor doing well. I believe we all have a duty to pass on what we learn to those coming along behind us. It's hugely important for me to do for others what my mentors had once done for me.
What advice would you give to young professionals?
Consider a career in STEAM! There are so many opportunities that you are bound to find something that suits you. And you are never too old to start – girls weren't encouraged to take STEAM subjects or to apply for engineering in college when I left school at 17 and I had no idea what I wanted to do. As a result, I went straight into the workforce while I figured out what interested me on a practical level and then went back to study. It was a great decision for me and is proof that even if you don't initially know what you want to do, there's always time to figure it out!
Embrace what you can bring to the workplace – don't feel pressured to change to fit in to what may be perceived as the norm. Everyone has their own unique traits, experiences and value and we should all be ourselves, whatever that might be. Diversity is important to get all sorts of perspectives and ultimately get the best result.
Take any opportunity to progress and learn, even if it's outside your comfort zone, as that's how you will grow. And, keep an open mind in all situations; remember that there's an opportunity to learn from everyone around you regardless of who they are, what they do or how old they are.
What do you enjoy most about being part of the Jacobs family?
Exactly that! I enjoy that I feel like I am a part of a family – I can be myself, I am heard and my input is valued. And on top of that I have had some great opportunities to work on prestigious projects, to travel and meet so many different people. These all make me a better person.
Join #OurJacobs team
What drives you drives us as we work to build a better world – together. At Jacobs, every day is an opportunity to make the world better, more connected, more sustainable.
We're always looking for dynamic and engaged people to join our team. Bring your passion, your ingenuity and your vision. Let's see the impact we can create, together.