Meet our Data Solutions Team: A Q&A with Sterling Vaughan
Since joining Jacobs in May 2021, Talent Acquisition Specialist Sterling Vaughan has been focused on bringing in top-level cleared IT and Cyber Intelligence professionals for the Mission Assurance and Sustainability (MAS) segment of Jacobs' Divergent Solutions operating unit, which provides IT solutions and support for the Department of Defense.
Get to know Sterling in this Q&A.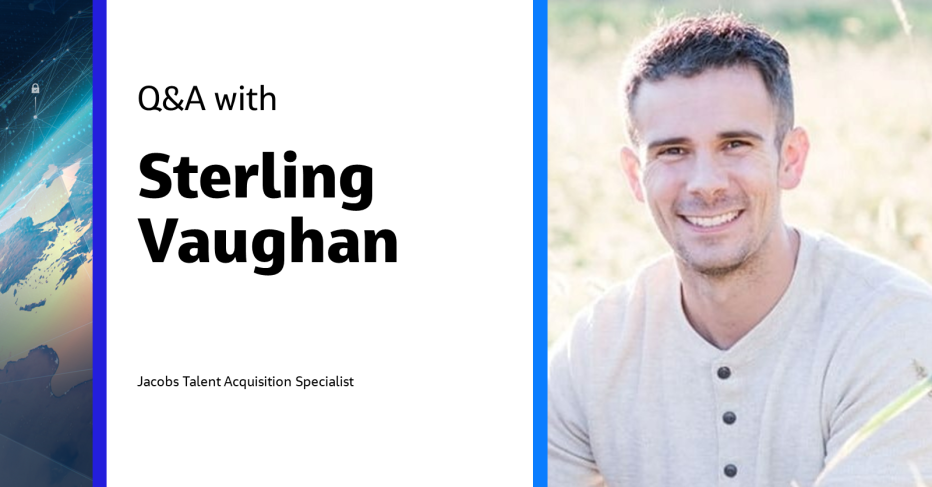 Prior to joining Jacobs, Sterling admirably served in the United States Air Force, and he understands well the challenges and opportunities that veterans face when transitioning from military to civilian life.
Hi, Sterling. Can you tell us about yourself?
I was married back in mid-October 2022 to my amazing wife, Kierstin Vaughan; so, we're going three months strong! We have a two-year-old Aussie named Echo and a cat named Malibu. My sister has been in the police force for roughly five years in the Maryland area, and my dad has been in construction business for well over 15 years. I am a college graduate from a small private Division III college in Frederick, Maryland called Hood College.
Tell us about a project you've participated in that you're especially proud of. 
I've had the opportunity in my career at Jacobs to be a lead recruiter on one of the largest contracts that works with the National Geospatial Agency (NGA). We were awarded a seven-year contract in late 2021. Over the course of the past nine months that I became a lead, my team and I were able to staff over 75 positions including key personnel, team leads and multiple supporting roles.
With this opportunity it allowed me to partner with superb project managers who gave me the tools to become efficient at my job, as well as have the flexibility to lead a team of recruiters to tackle the open positions. As I was recruiting for this program, it allowed me to understand the different layers involved, such onboarding and the process of explaining the roles to my fellow recruiters, as well as the detailed responsibilities of each candidate we were able to hire.
What are some challenges you think military personnel encounter in transitioning to civilian life? In your experience, how does Jacobs help vets successfully make the transition?
Speaking from personal experience, one of the hardest challenges for people transitioning out of the military is certainly the lack of structure. Since Basic Training we have always been told when to eat, where to sleep, this is your job, this is your base, this is when you deploy, etc. – and we get accustomed to that for 10+ years. It's a little bit of a culture shock to not have someone tell you what to do 24/7. You just have to create a path or a plan that will lead you to success.  
Jacobs has become a huge advocate for veterans with the SkillBridge program within the military, which allows active-duty personnel to take a six-month long "internship" before they separate out. These SkillBridge personnel have the opportunity to gain corporate experience while still getting paid by the military. Within the Cyber and Intelligence team, we were able to partner with three SkillBridge folks who wanted to dabble into the recruiting field. After they completed their SkillBridge program with us, we were able to extend full time offers to them as recruiters on the team!
In your opinion, why should cyber and intelligence professionals be especially intrigued by the prospects of coming to work for Jacobs?
I can speak about this from a recruiter's perspective, and I always preach this to everyone that I talk to who is a potential candidate: namely, Jacobs is not in the business to make future employees just a number.
Our job as recruiters is to reach out to people and give them a chance at a better opportunity. We are by no means "money driven" or "power hungry" recruiters; we are not pushy. If the opportunity isn't the right fit for a reason or two, we are respectful and we understand. We don't push people just to hit our numbers. This mindset translates over to the teams and programs across Jacobs.
Our program managers and leadership take their time to get to know the people underneath them because, in a sense, we are a part of their work family. We work with these individuals for a minimum of eight hours a day, and we want to make sure we know each other very well. Jacobs' culture isn't like the other big-name companies in the business.
More generally, what excites you about Jacobs' strategy? How do you share that with potential employees who are looking at a career here? 
This is an easy question. I always tell new employees that Jacobs is opportunistic. Whether you are a contractor on a program or a recruiter, Jacobs doesn't allow you to be complacent. The company gives you the tools and resources to become a better employee. I can speak from leading the NGA contract that we allow growth and promotions within the contract so that way our employees do not stay in the same position for the next 10-15 years. Jacobs' mindset is that we like to look internally before looking externally because we care about our employees.
I always tell people about my personal experience coming to Jacobs. I was brought onto Jacobs with zero IT recruiting experience, but Jacobs took a chance on me. Even though there was an initial learning curve, they allowed me to flourish with the proper training, excellent supervision and overwhelming support from colleagues and other recruiters. I can proudly say that I landed my dream job with a dream company.
About the interviewee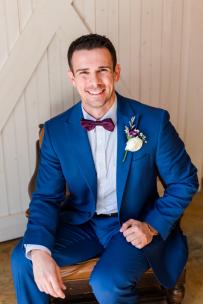 Sterling Vaughan is a talent acquisition specialist responsible for recruiting top-level cleared Information Technology (IT) and Cyber Intelligence professionals for the Mission Assurance and Sustainability (MAS) segment of Jacobs, which provides IT solutions and support for the Department of Defense (DoD). Sterling is a veteran of the U.S. Air Force.
You might be interested in...
Join #OurJacobs team
What drives you drives us as we work to build a better world – together. At Jacobs, every day is an opportunity to make the world better, more connected, more sustainable. We're always looking for dynamic and engaged people to join our team. Bring your passion, your ingenuity and your vision.