Meet our Data Solutions Team: A Q&A with Jason Roberts
He's a software engineering professional entrusted with leading a team in service to one of the most mission critical, information sensitive clients among the federal government. With over 20 years of software and cybersecurity experience, Jacobs Division Vice President of Civilian Intelligence Programs Jason Roberts has built a career firmly entrenched in keeping updated on the latest technological trends in intelligence and analytics.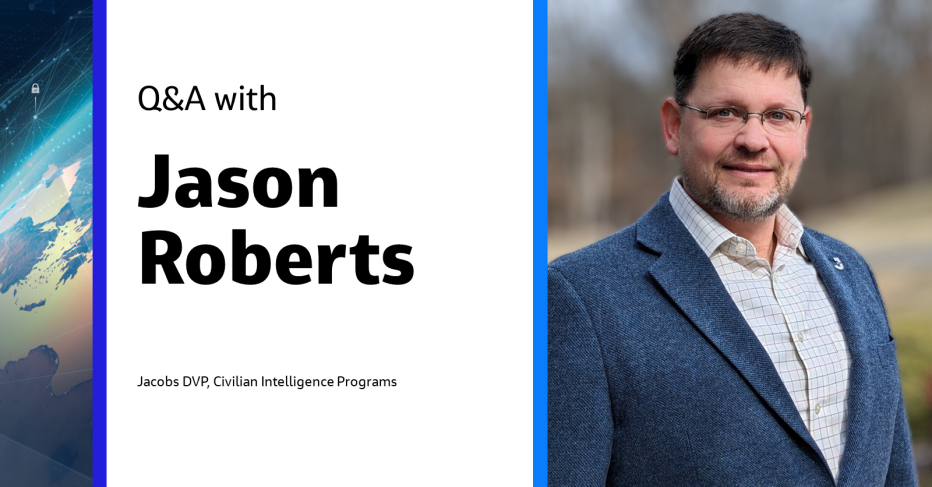 A resident of Virginia, Jason joined the Jacobs family in 2019 as part of the KeyW acquisition and has distinguished himself as part of the Jacobs Divergent Solutions team delivering solutions for clients such as the Federal Bureau of Investigation (FBI).
Let's get to know Jason…
Hi, Jason. Can you tell us a little about your role at Jacobs? I have a computer science background, so I really focus in on IT systems and anything enterprise IT or data driven. I also am closely aligned with the National Security platform of our Data Solutions product suite. I have 20+ years combined with Jacobs and a Jacobs-acquired company, KeyW.
What does life outside of Jacobs look like for you? My immediate family is made up of a wonderful and amazing wife, four kids (all homeschooled by amazing wife,) and a dog. We also added chickens and bees in 2023, to boot. 
Can you tell us about a project you've participated in that you're especially proud of? FBI Sentinel (the case management system of the FBI) comes to mind. It wasn't in a great place when we took it over, but it has since become one of the turnaround stories most cited in our community. I remember fairly vividly when we won the program that the leadership of the FBI made a very pointed statement, "Congratulations on winning this work. Sentinel is the crown jewel of the FBI … Don't mess it up."  Supporting that program has been exhausting , yetexhilarating all at the same time. Our commitment to mission excellence is truly remarkable.
Can you share some career advice you've received that was especially memorable? I don't have a specific quotable, but I do recall a conversation once with a senior leader and mentor of mine who told me, "You know, we make enough money to live comfortably. If you want something, generally you can afford it if you're willing. As you look for your next career move, prioritize your time for your family and yourself, anything that keeps you close to that mission – do it, and always have fun." It was something to that effect, perhaps not those specific words.
What are some of the most pressing client challenges that you and your team are working on? Finding, keeping and retooling the workforce. Our customer has a fairly high bar for talent; our competitors love continuously trying to grab that talent; and we're focused on keeping folks trained on new and emerging tech. If we could do one thing, , it would be to keep our talent trained and engaged. They will tackle the challenges from there.
What excites you about Jacobs' strategy, and the work that Divergent Solutions in particular is doing? Jacobs is leading on many current and relevant issues on a global scale. It is hard to find other companies that are positioned to make those impactful changes. I think with Divergent Solutions, if we get this right (and I think we will,) will be a game changer. Stitching together what we build and design in the physical and digital worlds, being thoughtful about security from all domains, aligning those opportunities directly and meaningfully to a better future – that is exciting to me. 
About the interviewee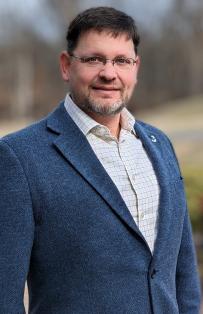 Jason Roberts is Jacobs' Division Vice President of Civilian Intelligence Programs. He's known for anticipating, researching, analyzing and recommending solutions regarding potential challenges from emerging technologies including cloud computing, social media and social networking, mobility and "big data" or information management. Jason is also known for building amicable, working relationships with internal finance department personnel, successful financial planning and forecasting, performing financial analysis for annual reviews, and facilitating subcontract negotiations with software and hardware vendors, consultants and other third-party IT service providers. He effectively translates complex technical concepts into relevant and understandable language; and motivates, influences and acquires participation and full engagement from executives, directors, managers and other support personnel.
You might be interested in...
Join #OurJacobs team
What drives you drives us as we work to build a better world – together. At Jacobs, every day is an opportunity to make the world better, more connected, more sustainable. We're always looking for dynamic and engaged people to join our team. Bring your passion, your ingenuity and your vision.