The Jacobs Internship Experience: A Q&A with Our Interns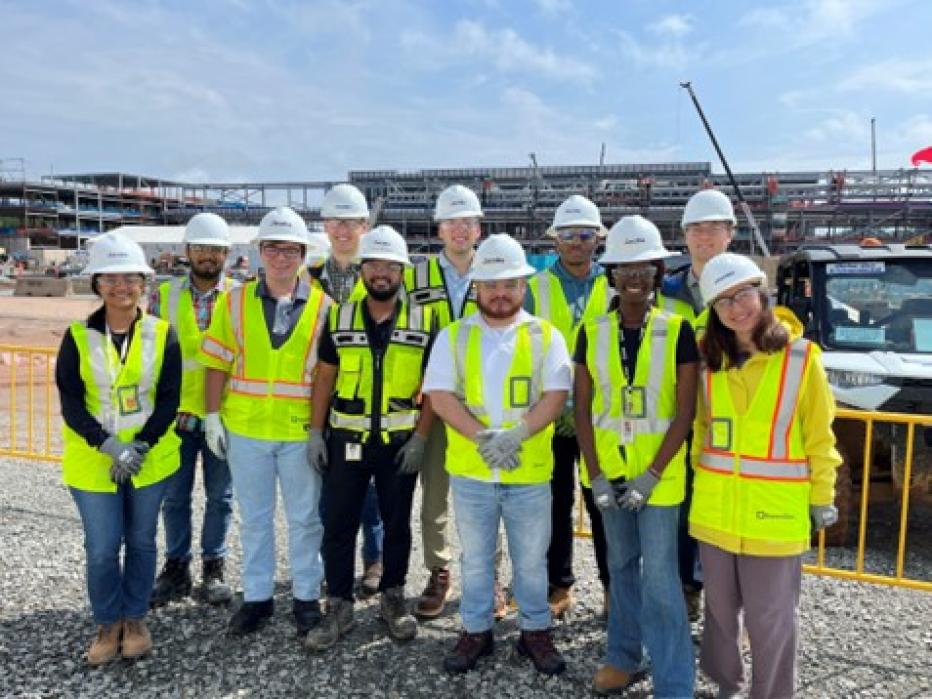 As our interns make their way back to campus, what better time than now to commemorate our amazing summer together!
Our intern champions and mentors recognize that interns learn best when they work on projects and collaborate with team members directly. At Jacobs, interns engage with real-life situations and fully immerse themselves in transformative work.
In addition to learning opportunities and professional development, the Jacobs internship program allows interns to enjoy the social culture here. Our young professionals are invited to happy hours, intern socials, volunteering events and other opportunities where they can develop friendships with coworkers and mentors while having fun outside the office.
Our interns are innovators, collaborators, leaders and #TheFutureofJacobs. In recognizing the powerhouse of our interns, we spent a full week celebrating National Intern Day in the Americas as a way to thank and celebrate over 600+ interns across North America.
We kicked off the week with a mental health discussion and a stretching session, which focused on wellness and building healthy habits, even from our desk. The week continued with our Global Call Series, featuring our new grad panel talking about the transition from an intern to new grad and their unique career journeys at Jacobs. We wrapped up the week with a virtual tour of the San Marcos Wastewater Treatment plant and a fun game of Jacobs Jeopardy, to test our interns on their Jacobs knowledge. Spoiler alert: we had some high scores!
In early August, we held our National Intern Presentation Competition, which tasked our interns with creating a presentation about their internship experience. After a local and regional competition, we invited seven national finalists to our global headquarters in Dallas, Texas to compete in front of a panel of senior leaders.
That wasn't it though! The interns were surprised with an opportunity to meet and ask questions to our very own CEO Bob Pragada and members of the Executive Leadership team. The visit to Dallas ended off with a night of Jenga, bowling and a lot of new friendships before heading back to their respective home states.
As the summer winds down, we've heard from some of our interns as they head back to school.
Samson Msasa, a structural engineering intern in our Morristown, New Jersey office shares, "It was the best internship I have had in all my school years, and I can't comprehend how much I have learned from the projects I have been a part of and the connections I have made through networking events."
We also caught up with Clay Bruce, a returning mechanical engineering intern from our Cary, North Carolina office and Abigail Zola, from our Fargo, North Dakota office, to reflect on their highlights from their summer at Jacobs:
What attracted you to Jacobs for your internship?
"I learned [that] many of my Jacobs team members had been with the company for more than ten years. This really affirmed my decision that Jacobs is a place I could see myself for my entire career." – Abigail
How did you take advantage of internship resources to further develop as a professional?
"Through lunch and learns, I was able to connect with professionals [and] received technical training in Revit and AutoCAD [to apply] on projects. My soft skills have been developed through networking opportunities, and I have built my professional branding on LinkedIn thanks to e3 Learning. This is part of the reason I came back to Jacobs for a second summer; I wanted to fully utilize the internship resources that the company has to offer." – Clay
What Jacobs employee network or strategy initiative connected with you most?
"Our local office volunteered their time and tools to build a Make-a-Wish shed for a 14-year-old boy in July. This really connected with me because my younger brother had received a wish through the same organization." – Abigail
What was your favorite intern event of the summer?
"My favorite experience was when the Cary office interns toured the Fujifilm Diosynth Biotechnologies construction site in Holly Springs, North Carolina. We spoke to the project manager about different career paths for engineers, the difference between management and leadership and the life-saving work Jacobs is doing for Life Sciences across the globe. Talk about impact!" – Clay
What is one major achievement you had as a Jacobs intern?
"My biggest achievement so far was the first day I went into the field on my own. It was intimidating and stressful, but I stood my ground, got what I needed to get down and made new friends along the way. Being alone pushed me out of my comfort zone. For example, I was now the one that needed to ask the questions to make sure the contractor was following the plan, and I was the one doing the reporting and making the phone calls." – Abigail
What was a challenge you faced during your internship?
"The largest challenge I faced during my internship was deciphering the "alphabet soup" of acronyms and jargon. I was able to overcome this by creating my own running list of acronyms along with asking my mentor clarifying questions. This challenge just highlights the importance of clarity in communication." – Clay
We understand that a company is only as extraordinary as its people. Our people, including our interns, are what makes Jacobs who we are today. #OurJacobs aims to be a caring culture that prioritizes inclusion and diversity, career agility and work-life balance. We are ready for the next generation to lead our world into a better future.
Interested in an internship with our diverse and welcoming team? Find out if we're coming to your campus this fall (https://careers.jacobs.com/events). We look forward to meeting you!
Not coming to a campus near you? Check out our Early Careers page here to learn more about open internship and entry level grad roles at https://careers.jacobs.com/early-careers.
Join us in challenging today to reinvent tomorrow. Together, we will aim higher and live inclusion.
You might be interested in...
Join #OurJacobs team
What drives you drives us as we work to build a better world – together. At Jacobs, every day is an opportunity to make the world better, more connected, more sustainable. We're always looking for dynamic and engaged people to join our team. Bring your passion, your ingenuity and your vision.