Meet Bob Pragada
Dallas, Texas, U.S.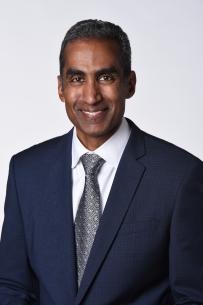 Bob Pragada is Chief Executive Officer of Jacobs. Serving critical end markets such as global infrastructure, advanced manufacturing and national security, Jacobs generates more than $15 billion in annual revenue, and delivers integrated, purpose-driven, multidomain solutions for a wide range of Fortune 500 companies and sovereign governments globally.
In his early career, Bob served as an officer in the U.S. Navy Civil Engineer Corps for nine years where he rose to the rank of Lieutenant Commander. Bob's naval career had many highlights, among which was his time serving the President of the United States as the Facilities Director at Camp David. His time in the service was followed by a 7-year tenure as Chief Operating Officer at Kinetics - a multibillion-dollar global provider of process solutions to the semiconductor and pharma-bio manufacturing industry.
9

years spent in the U.S. Navy Civil Engineer Corps where he rose to the ranks of Lieutenant Commander

2

sons: Bobby and Cahlin, and wife, Jessica

2.5

years serving the President of the United States as Facilities Director at Camp David

$

15

B

in annual revenues under his leadership
Bob joined Jacobs in 2006, and over time he has held several senior management positions such as Senior Vice President, Global Sales; Group Vice President, Northern Region (United States and the Republic of Ireland); and Vice President, Field Services. He returned to Jacobs in 2016 after having served as President and CEO of the Brock Group (a leading provider of industrial specialty services), to take on the role of President of the Global Industrial and Buildings & Infrastructure lines of business and then Chief Operating Officer in November 2019. Bob was appointed to his current role in January 2023. Key highlights of his recent past include the highly successful acquisition and integration of CH2M HILL, which was the largest acquisition in Jacobs' history, and Jacobs' investment in majority ownership of PA Consulting.
Bob earned a Bachelor of Science in Systems Engineering through the United States Naval Academy, and a Master of Science in engineering and management from Stanford University. He complements his career as an executive by serving as a Director on the Boards of Eaton (NYSE: ETN - a $17.9 billion dollar power management company), the United States Naval Academy Foundation, the Dallas Regional Chamber and PA Consulting following Jacobs' investment stated above. In addition, he is a member of the Brightstar Capital Partners Advisory Council, the Navy-Marine Corps Relief Society Advisory Council and the Dallas Mavericks Advisory Council.
Outside work, Bob is an avid sportsman and fan, and loves going to any game of any sport and spending time with his wife Jessica and their two sons, Bobby and Cahlin.
"It is an exciting time for Jacobs. Concentrating our strategy accelerators around climate response, data solutions, and consulting and advisory services, we're anticipating the global trends most important to our clients to develop differentiated, data-enabled solutions that meet their needs. I am honored to take on the role of CEO and advance the compelling work underway to further diversify our capabilities and offerings, increasing opportunities and value for our people, our clients and our shareholders alike. "