Virtual Event Space
Creating a competitive edge
Virtual Event Space is your tailored, interactive event platform that helps you engage audiences globally and convert viewers into customers.  
The challenge
The way people work and live is changing, and technology plays a huge role in this, revealing better ways we can help clients devise and deliver for the future. Teams collaborate globally, meetings operate virtually, users and customers are more environmentally conscious, and companies are looking for their competitive edge.
Our solution
Jacobs manages every aspect of stakeholder engagement and public communication strategies for clients' projects and programs worldwide. Using traditional channels and digital solutions, such as Jacobs' new Virtual Event Space, we help our clients to accelerate and redefine how they connect and consult with stakeholders and end users.
As projects look to continue important stakeholder engagement, alternative solutions to face-to-face events are required. Jacobs' Virtual Event Space can be tailored to deliver deep and meaningful engagement for client, partner or project needs.
Customizing to your requirements, we use the solution to complement or replace traditional methods of engagement and consultation to keep your projects and communications strategies on track.
Jacobs' Virtual Event Space creates personalised, globally accessible and interactive events for almost any type of event, from small to large scale, including: conferences, exhibitions, training and workshops, networking and trade shows. It provides a fully customized, online and rich, interactive user experience that is accessible on any computer or mobile device.
Virtual Event Space by Jacobs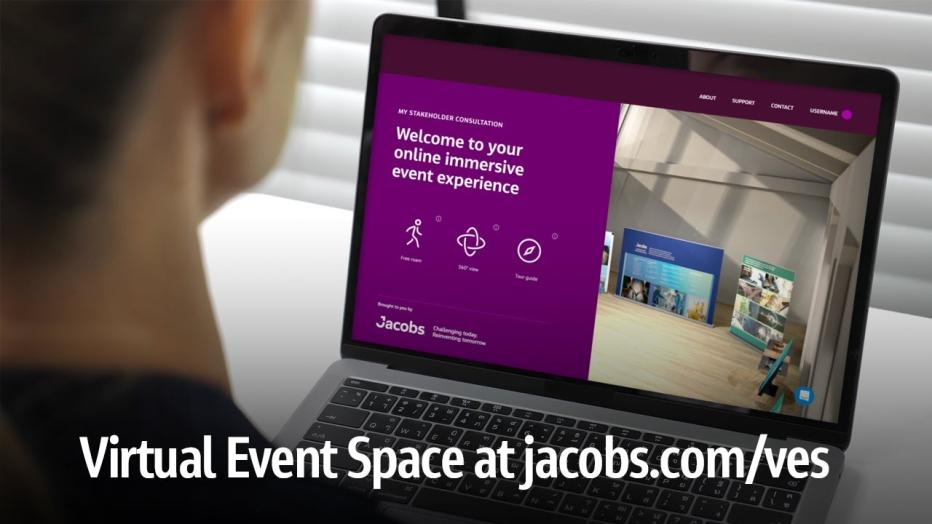 Key benefits
Broader audience reach – inclusive and accessible to a wider audience, particularly those who cannot attend in-person meetings during consultation periods, giving greater access and connecting to more people than ever before.
Reduced program delays – drives continuity in consultation of project development plans, particularly during the current physical distancing measures; informs regulatory processes; and builds relationships that enable sustainable solutions.
Visitor flexibility – visitors can roam around the room as they choose, live chat with project experts, and watch / listen to videos or study exhibition details and plans at their own pace.
Reduced carbon footprint, cost and time – improves speed to market, and reduces the need for project team travel, deliveries of materials, site visits and visitor traffic.
Supports other activities as part of an integrated strategy – this tool can support traditional engagement channels or replace them to ensure widest engagement.
Key features
Bespoke branding – integration of your branding throughout the event experience.
Room personalization – customized down to the view outside the windows. Day-time or evening events can be tailored visually with mood lighting.
Accessible landing page – with private and public options, and integrated attendee registration. Can be integrated and shared through your website, social media and other digital platforms.  
Flexible configuration – open to visitors during specific opening times or open all hours, the room can be configured to provide a replica of the regular event venue, down to the digitally generated views outside the windows. Hosts can manage visitor numbers and respond to questions in real time.
Real-time feedback – enables immediate feedback to be easily gathered during a visit, eliminating loss of feedback forms.
Interactive visitor experience – live question and answer sessions, including video chat, can be scheduled with project experts.
On-demand support team - helping you to manage event
4.57

B

active internet users*

59

%

of global population actively on the internet
Source: Statista (April 2020)
"We're helping our clients to accelerate and redefine how they connect and consult with stakeholders and end users in the future. Leveraging our global digital solutions capability, we are challenging what's possible today and reinventing a new way forward – providing more accessible, more inclusive, more resilient and lower carbon impact engagement."