Monash University Biomedical Learning and Teaching Building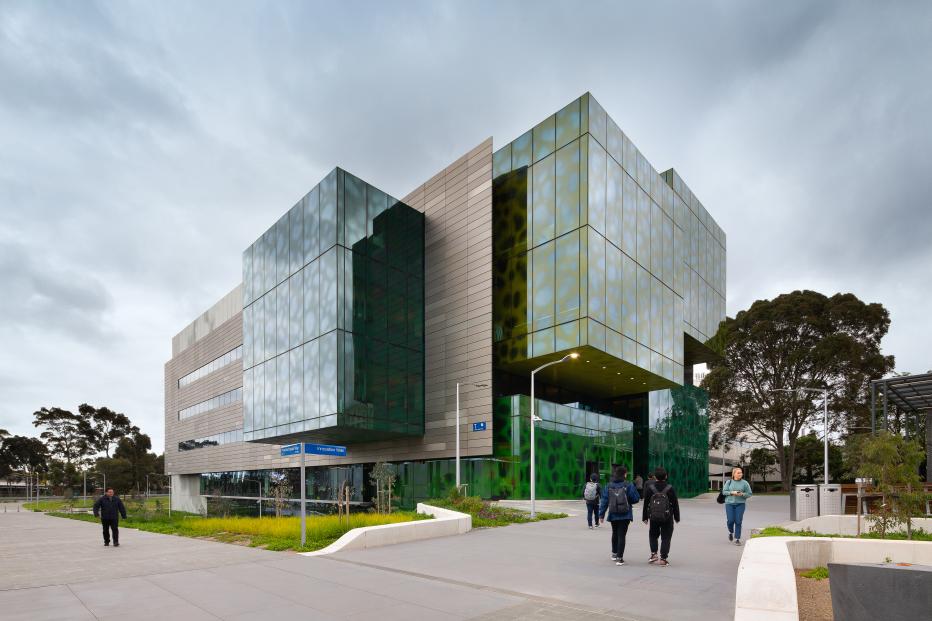 Opened in 2019, Monash University's new Biomedical Learning and Teaching Building (BLTB) on the Clayton Campus provides a world-class learning and teaching space for undergraduate students studying biomedical sciences within the School of Medicine, Nursing and Health Sciences. It's also home to a central energy hub comprising a thermal plant and battery storage that will eventually help power the University's South-West Medical Precinct with renewable energy.
The facility includes 11,400 square meters (m2) of dry teaching laboratories, wet teaching laboratories to containment level PC2, preparation laboratory areas, flexible teaching spaces, learning resource center and breakout space for students across five levels. The rooftop is dominated by a 1MWh vanadium-flow / lithium-ion hybrid energy storage battery system which, along with the all-electric heat pump cooling and heating system, is helping the University deliver on its commitment to achieve net zero carbon emissions by 2030.
Jacobs was the building services consultant for the project, delivering mechanical, electrical and vertical transportation engineering design and environmental sustainability design services.
11400

m2

teaching space

1

MWh

energy battery storage capacity

~

10

%

emissions reduction (modelled GHG emissions against stringent Climate Bonds Initiative benchmarking)
Sustainably Designed Building Recognized with GBCA 5-star Green Star (v1.1) Rating
Monash University's new Biomedical Learning and Teaching Building (BLTB), in the South West Medical Precinct on the Clayton Campus, stands out for all the right reasons. It is a modern, architecturally and sustainably designed facility, fully equipped with all the laboratory, containment and flexible teaching spaces needed to nurture the passion and curiosity of the next generation of medical professionals studying biomedical sciences.
It also houses a central energy hub comprising a thermal plant and battery storage solution that is the first component of an onsite renewable energy microgrid. Completed in 2018, the project is part of the University's transition to net zero carbon emissions by 2030.
The unwavering focus on sustainable design and construction throughout the project has paid off and in late 2020 the project secured the much-coveted 5-star 'Australian Excellence' Green Star As Built rating by the Green Building Council of Australia (GBCA).
For readers outside of Australia, GBCA is the organization responsible for setting the standard for sustainable buildings in Australia, and Monash University aimed to secure its 5-star Green Star As Built rating for the project from the outset.
"Through its Net Zero Initiative, Monash University has committed to achieving net zero carbon emissions by 2030," explains Jacobs Sustainability Consultant Hugh Sheehan. "The new BLTB was to be one of the anchor facilities that will help the University achieve its goals and aspirations and lay the foundation for a more sustainable South West Medical Precinct."
Working alongside project architect Denton Corker Marshall, sustainability initiatives were embedded in the building and services design right from the start. These included a hybrid energy storage battery system, high efficiency all-electric thermal plant, low-embodied material selection, high indoor environmental quality, optimized façade performance via high-performance glazing and insulation and minimizing thermal bridging and an airtight envelope.
Low emissions building services design
When it came to the building services, the design put forward by the Jacobs team was far from standard.
"Rather than the more traditional water-cooled chillers and gas-fired condensing boilers, an electric heat pump thermal plant capable of providing cooling and heating were proposed," says Jacobs Senior Mechanical Engineer and lead designer on the project Margarita Koval.
"This type of thermal plant had a number of advantages; electric energy replaces natural gas for heating purposes and delivers a huge reduction in water consumption for the building by eliminating the cooling towers and reduces the carbon footprint, addressing the University's goals of all-electric design and installation for new buildings. So, we designed an all-electric heat pump system for cooling and heating which was the first large-scale implementation of this technology for district heating and cooling in Australia," she adds.
The thermal plant currently meets cooling and heating requirements of the BLTB facility and includes sufficient expansion space to accommodate five future heat pumps and connect three additional proposed new buildings, with total area of 30,000 m2, within the South West Medical Precinct.
The other dominant feature on the rooftop is the1MWh vanadium-flow / lithium-ion hybrid energy storage battery system.
"We looked at two different options for reducing the electricity demand of the building – a chilled water thermal storage tank and large-scale electrical battery storage," says Margarita. "The large scale battery option was selected because, in addition to achieving the goal of reducing the peak energy demand, it can provide surplus electricity storage which can be used by other buildings on site. It is also a simpler installation with lower capital outlay and reduced maintenance requirements."
At the time of installation, the BLTB system was the largest battery installation of its type in Australia. The batteries charge to full storage capacity within off-peak hours and discharge power during peak load times, reducing the maximum electricity demand.
"I'm really proud of what we helped Monash University to achieve," shares Hugh. "We worked with Monash University's Sustainability Team, architect Denton Corker Marshall, the broader project team to design a sophisticated and sustainable facility that helps the University move down the path towards a net zero carbon future."
"The world-class facility was designed to achieve a GBCA 5 Star Green Star As Built rating and is one of the anchor facilities that will help the University deliver its sustainability goals."
Read more about the project