Linking local communities in the Scottish Highlands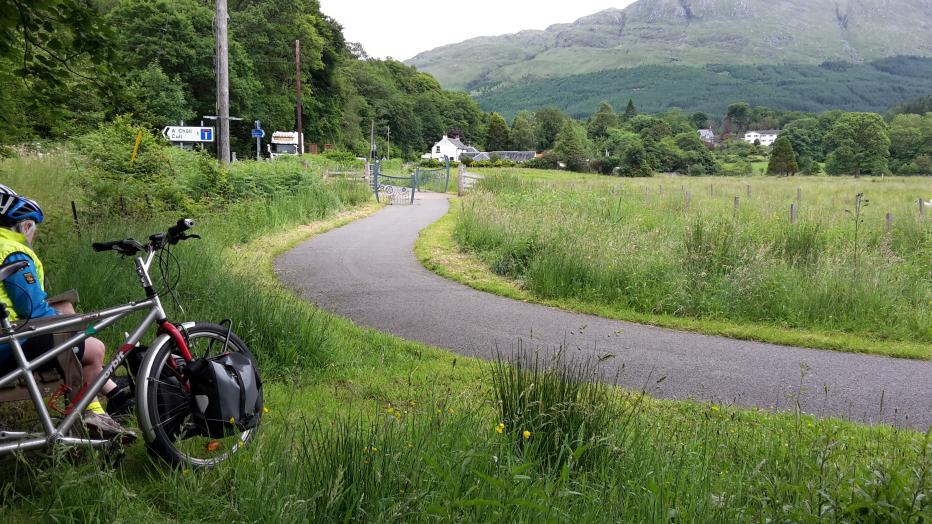 The Caledonia Way is a walking, wheeling and cycling route in Scotland running from Campbeltown to Inverness. Until recently there was a missing link in the village of Duror. Working alongside Sustrans Scotland our team overcame long-standing obstacles to reach local consensus and develop a best-in-class cycle path to benefit local communities and tourists for years to come.
For many years cyclists had been using a busy and dangerous trunk road to complete their journeys. Sustrans Scotland appointed us to navigate discussions with local landowners and community groups and create a safe and effective solution suitable to all parties.
We developed a detailed stakeholder engagement plan and assembled a multi-disciplinary team, resulting in a route that met the needs of the local community, was acceptable to landowner interests and technically deliverable.
Since the cycle path has been constructed it's been highly praised by the local community and is seen as an example for the future roll out of the National Cycle Network and other active travel path projects across the U.K.
"The project has demonstrated the value of collaborative working, both within Jacobs and with external stakeholders. We've delivered a technical solution for two sections of cycle path that have faced strong opposition and deliverability challenges for many years. Our engagement approach ensured long-standing obstacles were overcome and consensus with landowners and local interest groups was reached. "
Meet the Team
Andrew Kelly, Project Manager - Oversaw multiple walking and cycling delivery projects.

Kostas Vavatsoulas, Principal Engineer - Developed innovative technical solutions.

Danny McCluskey, Environmental Consultant - Maximized the opportunity for ecological benefits throughout the project.

Philip McKenna, Structural Lead - Delivered innovative bridge design solutions in a unique rural context.

Gavin Lemon, Construction (Design and Management) Coordinator - Ensured health & safety outcomes were prioritized through design and construction.
0

health and safety incidents during design and construction

3.1

miles (5km) of busy trunk road cycling can now be avoided

112

local elementary (primary) school children who can now walk and cycle more safely to school