Melbourne
Laying the foundation for a resilient, Marvelous Melbourne future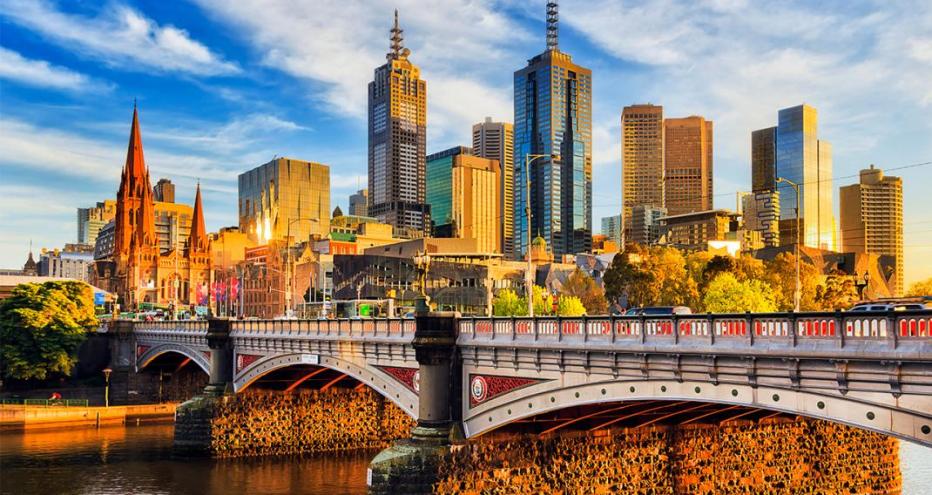 From a modest first census of just 177 people to a total population of over 4.8 million and growing by some 327 people daily, Melbourne, the capital city of Victoria, Australia is on track to pass Sydney as Australia's largest city within the next decade.
Today, Marvelous Melbourne – a nickname remnant from the 1800's gold rush – is known for vibrant laneways, sporting passion, arts scene and gastronomical delights, and is the gateway to one of the most spectacular coastlines in the world.
Rapid population growth in the city has put pressure on aging infrastructure, the quality of the environment and available resources in the area. And these challenges are further amplified by emerging environmental stressors such as sea level rise, coastal flooding, drought and diminishing water resources, and increased shocks from extreme weather events.
Following this growth, there's been a surge of infrastructure investment – the state of Victoria is embarking on an extensive infrastructure development program with over AUD $100 billion worth of projects currently planned or being built. The projects being planned now will shape the city for the next 50 years.
So, now's the time to lay the right foundation for a more resilient future – and Jacobs is partnering across the city to make it happen.
230

+

laneways cut through Melbourne's city blocks, recognized for world-class street art, restaurants and bars

90.8

K

spectators attended Melbourne's world-record holding cricket match for highest attendance in 1961

7

years in a row as The Economist Intelligence Unit's Most Livable City (2011-2017)

22

M+

jars of Melbourne-born Vegemite sold per year globally
"Melbourne is undergoing a structural transformation into an Asia-Pacific metropolis and investment attractor. The wider metropolitan area is large with capacity for further growth, both in peri-urban areas and infill of brown and greyfield areas. Melbourne benefits from the custodial planning of its founders and is recognized for its grand boulevards, strategic infrastructure assets, deep pools of smart talent and neighborhood cohesiveness."
Connecting communities
Times are changing in Melbourne. Mobility is changing too, and we are there to help connect all who travel through and to this marvelous city. Proactively planning for emerging mobility technologies and environmental pressures, we're working diligently to keep communities connected in smart and sustainable ways.
About the program
The original program includes several packages:
Main trunk sewer tunnels, 45-kilometers of gravity based main trunk sewer with internal diameter ranging from 3 to 4.5 meters, that will link a number of areas in the south of Doha to the sewage network. The deep trunk sewer is also comprised of 26 deep shafts. The main trunk sewer will convey the sewage flows to the existing Doha South Treatment Works through a deep pumping station As a result, it'll reduce the environmental impacts through the full control of odors in sewage treatment works and conveying system, and reduce other environmental problems arising from sewage overflow due to excess hydraulic pressure on the existing drainage network, where sewage flows exceed its capacity.
Lateral interceptor sewers 70-kilometers of micro-tunneled pipelines using more than 250 shafts , which will convey flows from areas in the center of Doha, Wakra-Wukair and Mesaieed to the main trunk sewer tunnels.)
Terminal pumping station at New Doha South Sewage Treatment Works (STW) – comprising one of the largest and deepest sewage pumping stations in the world.
Treated sewage effluent (TSE) pumping stations.
TSE return mains.
New Doha South STW, with state of art treatment technology and an initial treatment capacity of 500,000 m3/day and ultimate built-out capacity of 1 Million m3/day.
Some of the salient and innovative solutions employed by the team in this project include:
Use of integrated segment lining that combines the application of the corrosion protection lining and segmental lining. This approach saves time and completely eliminates the need for a cast-in-place secondary tunnel lining construction operation.
Use of Vertical Sinking Machines, for the first time in the region, to construct deep shafts in the congested areas for minimum disruption to public.
Use of advanced earth pressure balancing TBMs considering the complex geology and highly constrained schedules.
Award-winning delivery
The deep trunk sewer tunnel, the DSSIP Main Trunk Sewer MTS-01 Project, received recognition as Engineering News-Record's 2019 Global Best Project in the Water/Wastewater Category. MTS-01 is also the first project in the region to achieve CEEQUAL's Design and Build Good Rating Certification. Also, CEEQUAL awarded the Exceptional Achievement Award to DSSIP MTS in the Water Environment and Resources Category.
DSSIP and Ashghal have received two consecutive gold achievement awards from the Royal Society for the Prevention of Accidents (RoSPA). The award acknowledges the program's outstanding occupational health and safety performance during 2017 and 2018, recognizing a strong health and safety culture across the project team, effective risk management practices and exemplary health and safety track record.
Oracle also awarded Ashghal the Construction and Engineering Excellence Award for Enterprise Wide Standardization in Public Infrastructure for use of digital engineering for process efficiency, resource utilization and record management in DSSIP.
The Doha South Sewage Infrastructure Programme is a landmark program for the region, and its impact spans far beyond the project itself. An important feature of DSSIP is the flexibility to be linked to future infrastructure projects, and when completed in full, it'll enable the decommissioning of more than 30 old pumping stations currently located in the residential and commercial areas in the south of Doha.