Centennial, Colorado
A collaborative partnership, working together to provide efficient and innovative services to the community

With the incorporation of Centennial, Colorado in 2001, the new city began with a clean slate and a desire to create a place their residents were proud to call home. From the beginning, Centennial aimed to be a small government, partnering with other agencies and the private sector for the majority of its services.
Faced with the complexity of creating a new public works department in 2007, Jacobs began the journey to help achieve the city's vision of a model public works department that assists in day-to-day operations all while keeping focus on the citizens.
Working as an extension of the city, Jacobs provides public works services to more than 106,000 residents – delivering a broad range of services from smart city infrastructure and traffic engineering to snow removal – while being flexible to the city and citizen's needs.
Together we have worked to make Centennial a model for what can be done when a city and the private-sector collaborate. Forming a deep relationship with the city allows our team to anticipate needs and work to build a strong track record of success.
38

average miles per plow – nearly two times the average of adjacent jurisdictions

40

%

less time to cover the city's snow route network due to optimized snow routes

100

K

people are better connected to their city

24

/7

citizens may voice their concerns to the citizen response center
"Centennial prides itself on being innovative and doing business differently, which includes innovative partnerships that not only benefit individuals and businesses, but also our community and the environment. The partnership the City has with Jacobs has led to the implementation of effective and efficient programs that benefit the citizens of Centennial."
Centennial, Colorado has created a flexible system to meet community needs.
We're all ears. Decades of experience has taught us how important it is to listen. That's why we begin our partnerships with a conversation. When Centennial told us about their most pressing challenges, we created custom-tailored solutions.
Change is constant – let's plan on it  
No one can predict the future, but we can plan for the necessary wiggle room of life's uncertainties. The Centennial and Jacobs partnership designed a flexible and adjustable service through a value-exchange system. This system allows the city to adjust service quantities based on their changing priorities and demands. So, for example, if a mild winter requires less snow plowing, the city then can decide to use those dollars for additional road striping. The city can now more effectively manage its budget over the contract's lifetime while performance standards enable it to control the timing and amount of service performed and pass the risk of quality and deadline commitments to us. Now doesn't that make planning for the future a little less daunting?
Innovation that can stand up to mother nature
Clearing snow in Centennial was costly and difficult. Jacobs introduced a variety of innovative approaches to optimize the way the city dealt with snow, including updating an old snowplow routing solution, applying updated algorithms and using consumer-grade GPS units to reduce the snowplowing time for city streets by as much as 40 percent. The snowplow optimization allows the city to extend services with its existing fleet to improve speed, frequency and range of snow plowing services – improving community  safety and transportation access during hazardous snow conditions.
Giving the community a voice
Centennial now offers a place for the community to ask questions and voice concerns. Jacobs established a consolidated customer service center that serves as a single point of contact for all resident concerns, not just public works. Residents can call 24 hours a day, 7 days a week or submit requests online. Information is entered into a work-order tracking system along with the requesters' contact information, so a representative may update them on the progress of work through completion of the project.
Smart solutions for tomorrow
To increase level of service (LOS) and deliver comprehensive public works services for the residents of Centennial, we delivered capital planning and grant assistance to parks and community development, transportation, solid waste and storm water management. We created the Citizen Response Center and a work management system for efficient and effective public works operations and improved customer service. And, we helped develop an integrated and flexible intelligent transportation system (ITS)  to enhance roadway safety, mobility, reliability and improve efficiency with smart technologies.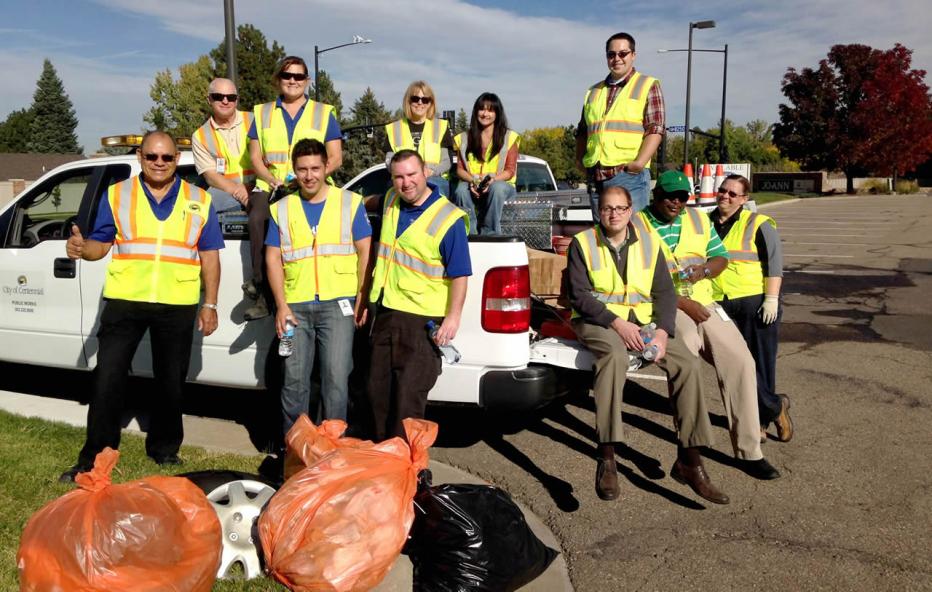 Lasting community impact
In late 2009, Centennial sent 3,000 surveys to residents to measure their impressions of the city's public works operations. The survey had a 32% response rate. Some of the highest satisfaction was in the responsiveness of the city and the overall quality of life. Seventy-nine percent of those who returned the survey ranked the overall quality of life as good or excellent, and 28% ranked the city excellent. These surveys are a great way to make sure we are doing want the community wants.