Bristol Myers Squibb Large-Scale Cell Culture Manufacturing Facility
Bringing life-saving pharmaceutical treatments to the market for tomorrow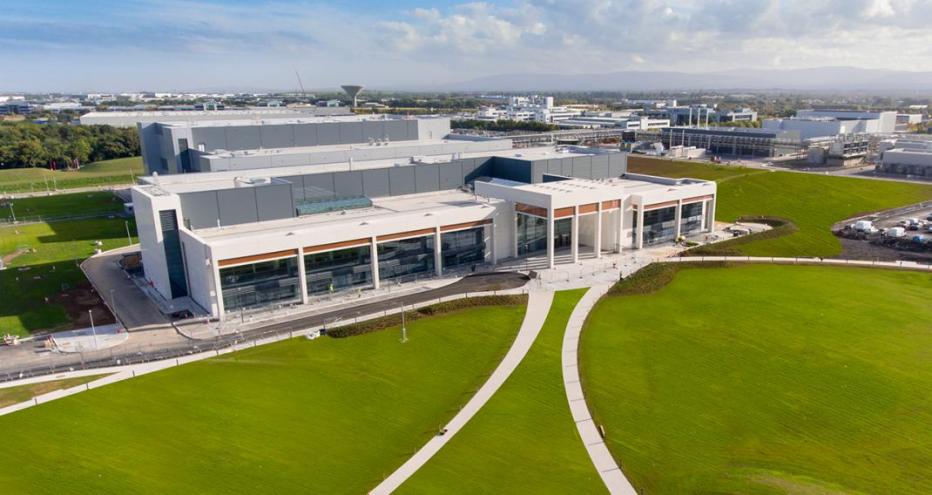 With growing demands for its biologics and immuno-oncology medicine, Bristol Myers Squibb needed to build a facility for the future.
Representing an innovative approach to cancer treatment, immuno-oncology seeks to harness the body's own immune system to fight tumor cells. Now, Bristol Myers Squibb is more capable than ever to provide this cancer-fighting medicine to patients around the globe with its new biopharmaceutical manufacturing facility.
In 2015, Bristol Myers Squibb engaged Jacobs to reimagine an existing plant at its Cruiserath site in Dublin, Ireland to meet its current and growing demand.
Throughout the fast-tracked program, we provided architecture, engineering, construction management and turnover services for the new Large-Scale Cell Culture Manufacturing Facility (LSCC) – all within budget, applying state‐of‐the‐art project/construction management techniques and tools, and achieving an impressive safety record on more than 6,500,000 site hours.
Bristol Myers Squibb LSCC Biologics Manufacturing Facility Project Overview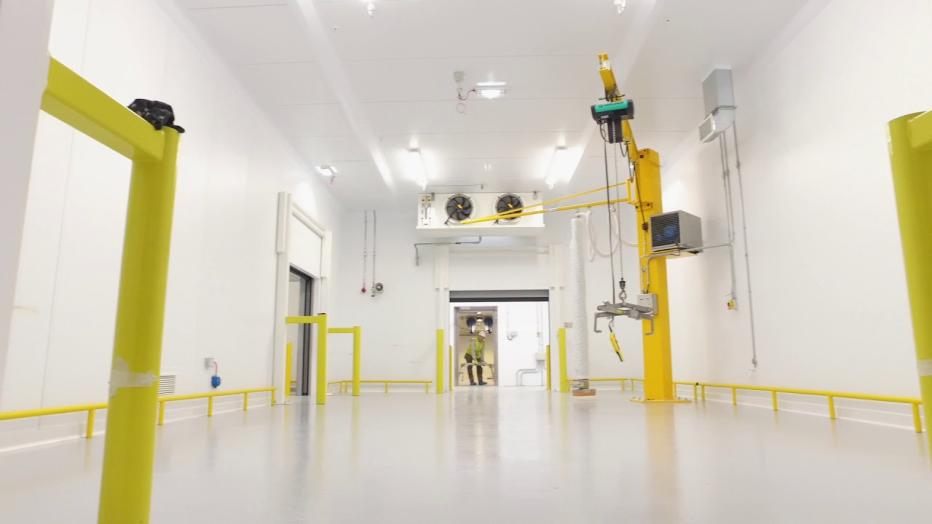 43.7

K

m² total floor area across multiple new facilities, plus upgrading/remodeling an additional 2,200 square meters (Warehouse)

6.5

M

total site hours

<

25

%

of the industry norm for OSHA recordable incidents throughout project

2.2

K

site head-count at peak
"Jacobs was proud to partner with BMS on the LSCC project. For me, the project's success can best be gauged by the exemplary safety record we achieved, the positive influence on the Blanchardstown community, and the overall project goals we met or exceeded on behalf of BMS, most notably meeting demand for a life-saving cancer drug and making it accessible to patients in need."
A Biologics Manufacturing Facility for the Future
Working together to save lives
The project involved the design and construction of a new biopharmaceutical manufacturing facility for Bristol Myers Squibb at its site in Dublin, Ireland. Jacobs led all phases of design, procurement (of equipment and subcontracts) and construction management as main contractor.
Initially, this new facility will manufacture Opdivo, a life-saving Immuno-oncological (anti-cancer) drug. The facility has also been designed to produce multiple therapies for Bristol Myers Squibb's robust and growing portfolio of approved and investigational biologic medicines.
The project scope comprised:
New Large-Scale Cell Culture (LSCC) Manufacturing facility. The manufacturing building includes Inoculum Preparation, Cell Culture, Harvest, Initial Purification, Final Purification/Chromatography and Bulk Fill, Media and Buffer Preparation/Delivery, Clean Utilities Generation, Distribution and Support Areas. These facilities are provided over 3 floors comprising a total of 21,570 square meters.
New Laboratories/Administration building (LOC). The Laboratory-Office Complex (LOC) consists of a three-story, 16,345-square-meter structure containing administrative offices, laboratories, meeting spaces, training facilities, food service, fitness centre, health services and a data room.
Refurbishing/upgrading an existing warehouse (2,200 square meters) on the site as well as construction of a new warehouse expansion (2,400 square meters) accommodating sampling areas and cold room suites, both raw material storage (ambient & cold) and cryogenic finished product staging/storage.
New Central Utilities Building (CUB). This is a two-story 3,405-square-meter building accommodating 3 gas-fired boilers, water pre-treatment, electrical switch rooms, maintenance and office areas.
Expansion/refurbishment of an existing wastewater treatment plant.
Upgrading an existing main electrical building, warehouse, environmental services utility building and pipe racks and distribution systems.
Site works (roadworks, paving, hard/soft landscaping. Scope also included demolition of existing site facilities/services to accommodate the new infrastructure/buildings (for example, the new cub building was constructed on an area previously occupied by a tank farm, which needed to be demolished/removed).
Exemplary Safety Culture
Bringing our Culture of Caring to the LSCC project, we conducted a comprehensive range of training with the extended project team. The sitewide safety culture included numerous initiatives to ensure we achieved the highest safety standards.
We linked site safety goals to the life-saving drug being manufactured and accentuated the "terrible irony" of anyone getting hurt while building a facility that would manufacture a life-saving cancer drug. This was captured in a site signage programme branded as "Working Together to Save Lives" encouraging the workforce to consider "Who are you here for?" (to link their role/attitude to safety, to their dependents/loved ones).
With a total of 6,500,000 hours worked, we achieved a TRIR rate of 0.68 (less than ¼ of the industry norm), qualifying the project for the maximum Safety Incentive award set by BMS at the outset of the project.
With a site population of 2,200 at peak and a total of 6,500,000 hours worked, all initiatives paid dividends in setting expectations and improving the safety culture on site.
An Award-winning Community Asset
We employed significant efforts to make sure the project positively impacted the local community, including:
Maximum re-use of existing (public & community) infrastructure. Bristol Myers Squibb chose an existing Dublin site to sustainably reuse existing buildings and infrastructure. The Irish State's regional investment was therefore successfully re-utilized to support this development.
Sensitivity to residential neighbors. The site is carefully screened by large landscaped berms from all residential receptors. 
Campus as an asset to a community. The campus was designed to be a positive addition to the local landscape. An existing redundant tall production building was demolished, and the replacement Biopharmaceutical Campus was designed to be lower, with less visual impact and very high aesthetics. Now, "I live beside Bristol Myers Squibb" is a matter of identity and pride locally. Secondly, BMS has set up a community outreach and integration program into the local schools and universities to bring out the considerable skill base and talents of Bristol Myers Squibb staff into the community.
Construction mitigation plan. Numerous consultations were held with the local authority before and during the construction permitting process to understand specific needs and sensitivities. The Construction Management Plan effectively analyzed all potential impacts on neighbours and the environment including noise, waste water, traffic, dust etc. This committed Bristol Myers Squibb and the Jacobs project team to a mitigation plan that was rigorously implemented on site, leading to a successful nuisance-free and environmentally robust project.
With such a large, technically complex and fast-track project, our geographically diverse team used a range of technically advanced construction techniques, specifically in modularizing complex arrangements of equipment/systems (skids) for delivery to the site from manufacturers in the U.S. and Europe. The multi-office design teams leveraged a range of collaborative tools including BIM (3-D Modelling (Revit/AutoPLANT), BIM-360 (integrated with field carried iPads), EIDA (collaborative document sharing/tracking platform) and other computational software systems.
Additionally, we used a range of measures to incorporate energy efficiency and sustainability and in April 2018, the U.S. Green Building Council awarded the facility a LEED Silver Rating (for the LSCC and LOC buildings). This achievement is testament not only to the quality of construction and design, but also the high level of coordination/alignment of the diverse design teams, based in offices in Ireland, India and Philadelphia.
The facility topped the Industrial Category at the Irish Construction Excellence (ICE) Awards in 2019 and was named Engineering News-Record's 2019 Best Global Project in the Manufacturing category. Additionally, the International Society of Pharmaceutical Engineering recognized the facility with one of its prestigious 2020 Facility of the Year Awards (FOYA) in the Project Execution category.