Chhatrapati Shivaji International Airport
The pride of Mumbai and a new gateway to India
Mumbai's Chhatrapati Shivaji International Airport is the world's busiest, single runway airport. Its impressive traffic in 2018, the airport set two world records for most flight landings and departures in 24 hours – is made possible by a modernization program aimed at tripling the capacity of the aging terminal.
Mumbai International Airport Pvt. Ltd. (MIAL), a joint venture between the GVK-led consortium and Airports Authority of India, led the effort to modernize and upgrade Chhatrapati Shivaji International Airport, partnering with Jacobs for program management and technical consulting services.
30

K

square meters of skylight – enough to cover Wimbledon's Center Court six times

18

K

tons of structural steel – enough to build 2 Eiffel Towers – comprise the 50,000 square meters of roof space

80

different plant species and giant waterfalls across the 5,000 square meters of landscape area

11.6

meter airport escalator (one of the tallest in India), 72 lifts, 48 escalators and 40 travelators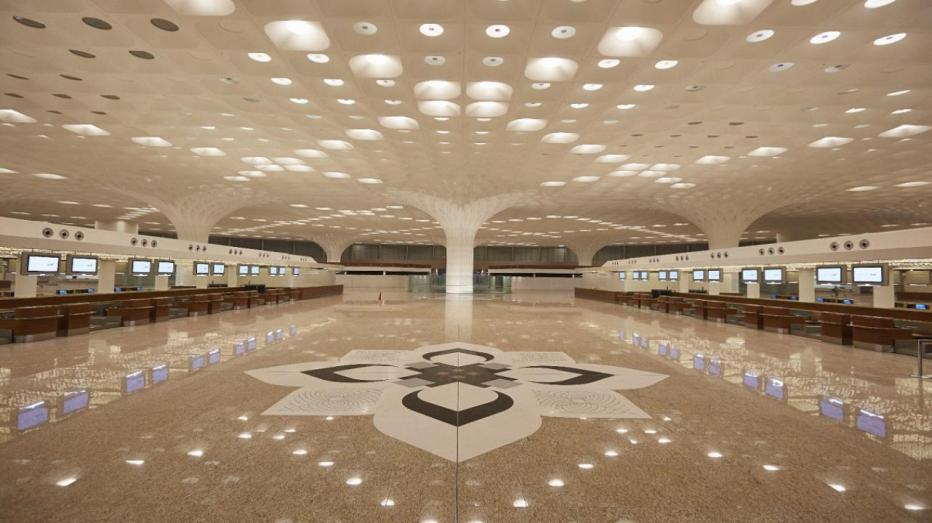 Inside Mumbai Airport's modernization program
The jewel of the ambitious, extensiveairport modernization program is a state-of-the-art Terminal 2 (T2). Reflecting India's diverse and rich heritage, the four-level international terminal, with an area of more than 439,000 square meters, sets new standards for architecture, planning, technology, functionality and service.
Among the many "firsts" for the LEED India "Gold" rated T2, designed by prime architect Skidmore, Owings & Merrill LLP and built by the prime constructor Larsen & Toubro, are:
92,903 square meters of glass in the all-glass terminal – a second layer of glass has been used to minimise noise.
185,000 square meters of granite – enough to cover 27 footballs fields.
7,432 square meters of art walls with nearly 7,000 artefacts, including delicately carved doorways, decorative torans, terracotta horses, lamps, wooden temple chariots, masks, bows of snake boats and mythical creatures.
1,000 lotus-shaped imported chandeliers.
21,000 square meters of retail space, offering everything that money can buy.
5,200-car parking area – India's largest.
50,000 square metres of check-in halls.
188 airline check-in counters.
52 boarding gates (increased from 20) with 10,900 seats.
70 passenger boarding bridges (increased from 11) carrying passengers between the aircraft and terminal.
With the reconstruction of the airside and terminal infrastructure, and the ability to support larger aircraft like the Airbus A380, the Chhatrapati Shivaji International Airport takes its place as one of the most modern and technically advanced airports in the world.
In addition to the flagship T2, Chhatrapati Shivaji's capital projects, which we've supported, include modernizing the existing domestic terminal; widening and strengthening the two main runways; constructing and rehabilitating taxiways and additional aprons; and improving airport facilities, including a new air traffic control tower.